Less is more.
That's the message from Raiders great Alan Tongue after Canberra opened its season with a frustrating 30-28 loss against the Gold Coast Titans on Sunday.
Tongue urged the Raiders to simplify things ahead of their showdown with Mitchell Pearce and the Newcastle Knights at Canberra Stadium on Sunday.
The Raiders twice held an 18-point advantage but a string of second half penalties, given away by an ill-disciplined Canberra outfit, invited the Titans back into the contest.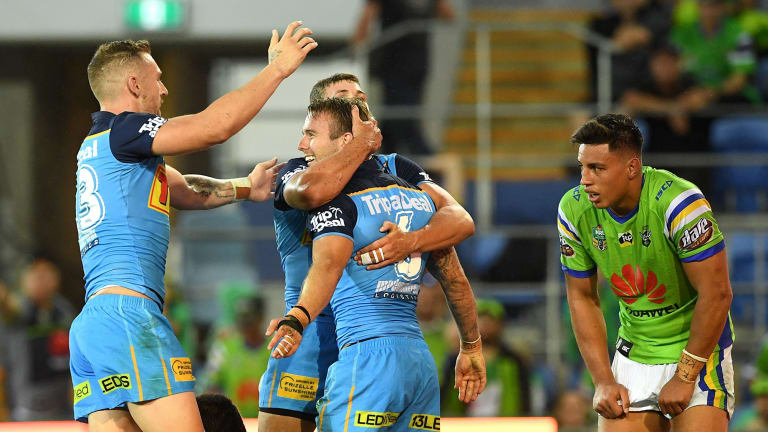 Michael Gordon converted Konrad Hurrell's try with 10 seconds left to snatch victory as the Raiders' horror run of close losses has continued into 2018.
Canberra lost eight games by six points or less last season and coach Ricky Stuart will be is desperate to snap the trend when they host the Knights.
Tongue believes wins early in the season go to the teams which keep things as simple as possible, while their new combinations find their feet.
He said holding onto the ball and restricting penalties were the simple secrets to early success in such a tight competition.
"First game of the year it comes down to controlling possession and how you use the ball. Looking through all of the weekend results and the teams that did that best went on to win," Tongue said.
"You've still got to play footy but teams need to simplify things to win in the opening rounds and build their way into the season."
The Titans had 80 per cent of possession in the opening 20 minutes of the second half and Tongue emphasised you can't win without the ball.
"When you're down on possession and turn it over cheaply or give away a cheap penalty, that whole pressure valve gets released and those little moments can make such a big difference," Tongue said.
"This competition is so close and if you don't have the football you're not going to win the game."
Tongue admitted it was frustrating to watch the Raiders fall into their bad habits of last season.
"When your team is up like that and playing so well and with confidence, you ride with it. But I must admit I felt the Titans were always going to get a chance to come back into the game," Tongue said.
"They let them back in and the Titans made the most of it and turned the momentum and we've seen the last couple of years those momentum swings can be huge.
"It doesn't take much to put on two or three quick tries, so it's about riding that wave or halting it when you can.
"That's when game management comes into it and just being aware of where you are in the position of the game."
Raiders rookie hooker Siliva Havili stepped up in the absence of Josh Hodgson and took less than five minutes to score his first try for the Green Machine.
Tongue was impressed with the young gun and said there were still plenty of positives in the loss, before tipping the Raiders to bounce back against the Knights.
"There was a lot of confidence around Siliva and what he can do and he delivered that early and he's only going to get better with more minutes and match fitness," Tongue said.
"There was some shuffling around in the halves but I thought Blake Austin had some good touches and a real positive was Sammy Williams, some of his touches were outstanding.
"It was a disappointing loss but at the end of the day you've got to learn from your results and we've got a couple of home games now and it's time to hook in.
"I'm just hoping it's going to be huge crowd this weekend. The Knights have spoken about competing for 80 minutes and the Raiders are going to have to do that against them."
NRL ROUND TWO
Sunday: Canberra Raiders v Newcastle Knights at Canberra Stadium, 6:30pm.
Eamonn Tiernan is a sports reporter with The Canberra Times
Morning & Afternoon Newsletter
Delivered Mon–Fri.