It almost cost him his first NRL try through a case of mistaken identity, but Canberra Raiders forward Luke Bateman might continue to wear his borrowed head gear if his form continues.
After fracturing his cheekbone against St George Illawarra, the doctors told Bateman he had to wear specially modified head gear to help protect himself.
Jarrod Croker was the only person he knew who wears it, so he went to his captain and asked to borrow one.
But when he barged over for his first NRL try in the win over South Sydney, he now looks so much like Croker his try was almost credited to the wrong person.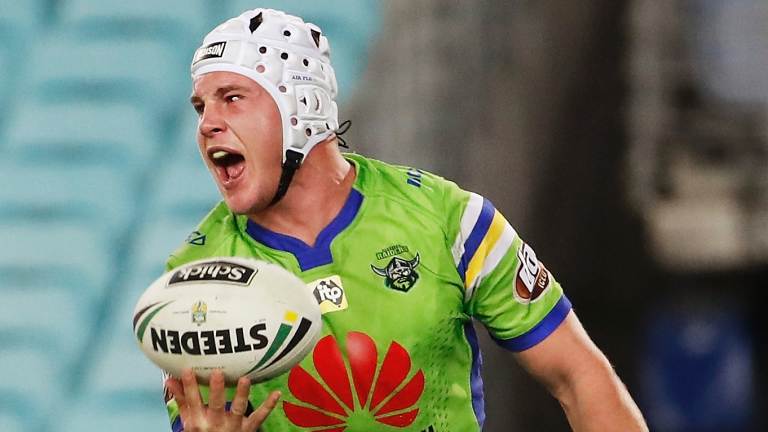 "I borrowed it off Crokes because I fractured my cheekbone about two weeks ago against the Dragons so they said I need to wear head gear and they put a hard, plastic pad over the top of it," Bateman said.
"So I went to the first bloke I know with head gear and said, 'Do you mind if I borrow some? I've got to wear it for the next couple of weeks'. It's caused a bit of confusion actually.
"They came in [after the Souths game] and said Croker scored a double, but it was my first try in the NRL and no one wants to get it taken away from them because of the head gear they're wearing."
But will he continue to wear it even when he no longer has to?
"If my form keeps going I can't see how I can get rid of it really," he laughed.
Raiders prop Shannon Boyd joked Bateman was secretly loving life as Croker's twin.
"He looks a lot like [him] and he always follows Crokes like a bad smell so I think he's trying to be like him as much as he can, I think he's loving the head gear," he said.
Bateman's started seven games at lock so far this season, but watched from the bench as Elliott Whitehead made a brilliant debut in the role.
Whitehead had never played at lock before, but looked right at home with a dominant display in the win over Cronulla.
Bateman couldn't believe what he was seeing and joked he "wasn't too happy about" how well the England international played.
But he said the competition for places amongst the forwards was driving them to perform better on the field.
"He went enormously didn't he. I was going, 'Get him out of lock, he's making us all look bad'. He went really well, he played 80 minutes and I wasn't too happy about it," Bateman said.
"We've got so many forwards and so many blokes that can play big minutes, we might not be getting as many minutes so you've got to make the minutes count.
"Mentally, you might take an extra tackle, an extra hit-up because you know you don't have to be out there as long so you don't manage yourself quite as well when you know you're playing shorter minutes."
NRL ROUND 23
Sunday: Canberra Raiders v New Zealand Warriors in Auckland, 2pm. Live on Fox League.
David Polkinghorne covers the Canberra Raiders, local rugby league, Canberra Cavalry, racing and cycling, along with every other sport, for The Canberra Times.