The Coal Train is set to pull into Canberra Raiders station, but tireless workhorse Shaun Fensom could be leaving to join the Cowboys.
Dave 'Coal Train' Taylor was set to play for his NRL career in the Green Machine's trial against Newcastle at Seiffert Oval on Saturday night, but an ankle injury he suffered playing for NSW Cup side Mounties last weekend derailed those plans.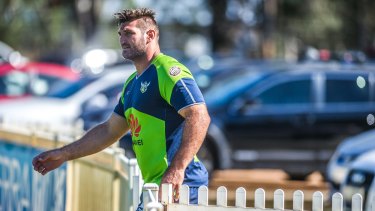 Instead, Raiders coach Ricky Stuart opted to rest Taylor, but will offer him a contract anyway, which Fairfax Media understands is likely to be a one-year deal.
Taylor has convinced Stuart he's determined to get back to the form that made him a powerhouse for Queensland and Australia, playing in eight State of Origins and one Test respectively.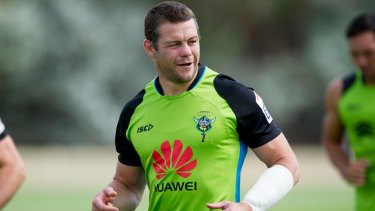 After he was cut midway through a contract by Super League club Catalans last year, the 28-year-old has been on a train-and-trial contract with the Raiders since late last year.
He's impressed not only Stuart, but the strength-and-conditioning staff and his future teammates as well with his work ethic.
Stuart said an offer would be made and it was now up to Taylor and his manager whether they would accept.
"I rang him last night and said it was unfair for me to have to put him through what was a big test for him tonight, not being 100 per cent so I pulled him out of tonight's game," Stuart told the ABC on Saturday.
"I will keep Dave along the lines that his manager agrees to what I need to put in the contract. Dave's done really well in regards to his work off the field.
"He's trained really hard, looked after himself and understands the position he's put him in here now.
"We will offer him a contract, but that will be on the terms of what we need to put in the contract in regards to David, and that's up to David and his manager to decide then."
If Taylor signs the contract it will then need to be ratified by the NRL, who will decide whether his registration will come with any provisions — such as a possible suspension or sanction for his fine for cocaine possession last year.
"He's a very, very talented, skilful football player, but he's got to fit in and blend in to what we need and the way we play," Stuart said.
"He's played Origin, he's played for his country and he's had a couple of years where he let himself go and he understands the choices and the decisions he's made he's probably not as comfortable with today.
"But he's only 28 and he's a good person. The commitment and the sacrifice he's made over the last three to four months shows me that he's serious about turning himself around and getting back to where he was once in the NRL and the level of football he was playing.
"They come back to personal choices and we'll give him that opportunity."
While Taylor looks set to be wearing lime green this season, Fensom might be moving to the North Queensland Cowboys.
They're one of several clubs interested in the 28-year-old lock, who has fallen behind young guns Luke Bateman and Joe Tapine, as well as veteran Sia Soliola, in the pecking order for the No.13 jersey.
Fensom's off-contract at the end of the season and Raiders recruitment guru Peter Mulholland said an early move would allow him to establish himself at another club.
"Shaun Fensom's got a couple of different offers there to look at, nothing's been decided on it yet. We'll just wait and see, it's obviously between him and his manager," Mulholland said.
"You've got to look at your future and you've got to look at your future roster.
"You've got to manage your roster properly and we've got a couple of young blokes there that may come ahead of him, [we want to] give Shaun every opportunity to maintain a first-grade presence.
"It's a position we're fairly flushed in and it's not really fair on Shaun that way if he's competing and coming off contract so it's an opportunity to establish at another club."
There were reports linking Raiders winger Edrick Lee, who's also off contract at the end of the season, to a move to the Cronulla Sharks, but Lee's management dismissed them.
David Polkinghorne covers the Canberra Raiders, local rugby league, Canberra Cavalry, racing and cycling, along with every other sport, for The Canberra Times.