Canberra Raiders teenager Patrick Mago was staring down the controversial and confrontational haka in last weekend's Under 20s Trans-Tasman match against New Zealand, leading the advancing Junior Kangaroos who were determined to prove they were "ready for the battle".
But just days before, Mago was bunkered down in his bed, ready to give-in and return home from Auckland to Canberra, worried about his ill father, Pele.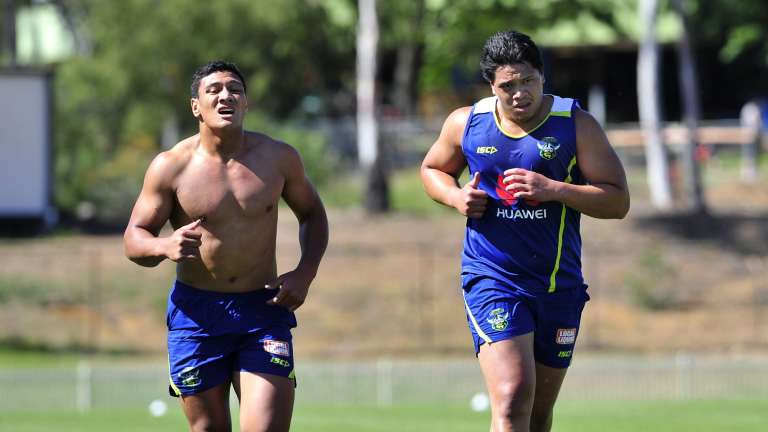 "My dad's been sick for a while and has been laid off work because of his health," Mago said.
"He actually went into hospital when I was in Aussie camp. I was pretty hurt for a bit but I wanted to show my parents why I was there.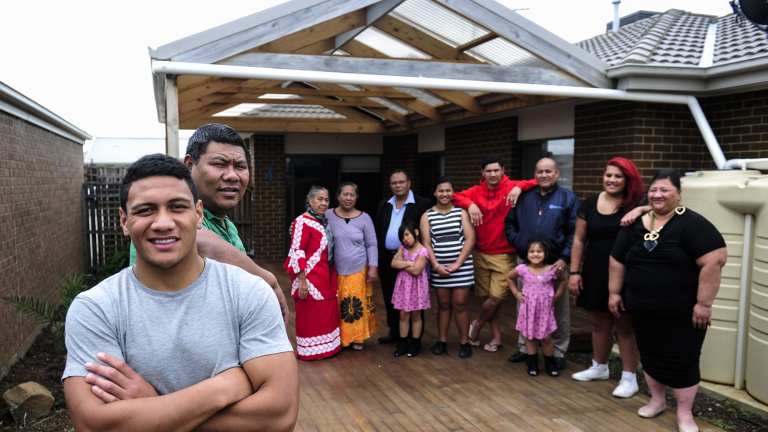 "I wanted to come back home at first, it brought me down ... when I found out I just stayed in bed.
"But on my wrist [strapping for the game] I had Aiga, which means family in Samoan. I always write that on my wrist.
"Every time I looked at that I found some motivation to get up and do the little things in the game when I'm under fatigue.
"My dad's health and my parents, it's one of the reasons I'm trying to make something of footy, to make them proud."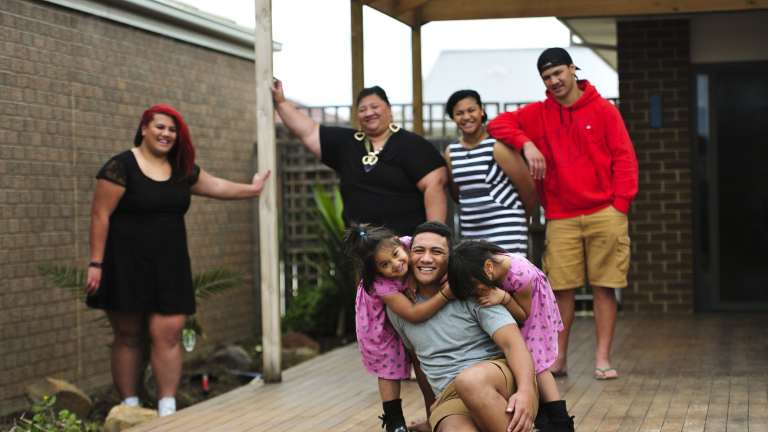 Mago, a 19-year-old back rower, is contracted with the Raiders until the end of 2016 and is rated a big chance to make his NRL debut next year, invited to join the top squad in pre-season training.
Originally from Brisbane, where he used to train with Raiders enforcer Josh Papalii and heavyweight boxing world contender Alex Leapai, Mago's family relocated to Canberra last year to emotionally support him. He, too, is a provider for his family.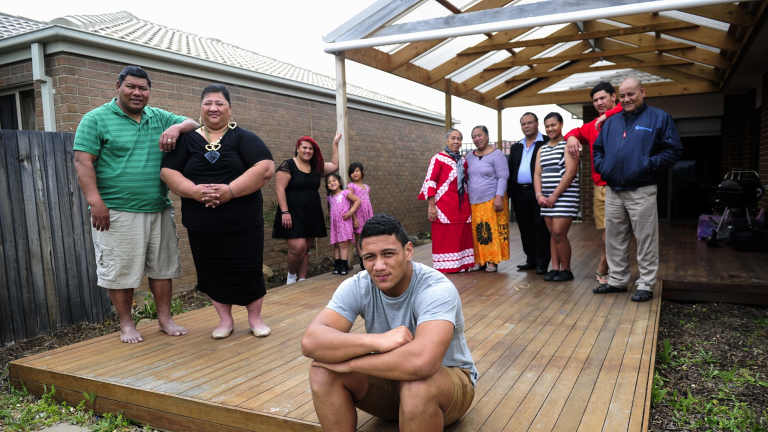 His mother, Rebecca, is looking after his two young nieces Harmony and Precious at their Macgregor home, and will return to her job in airport security once they're old enough to go to school.
In early 2013, the Raiders warned Mago his future was hanging by a thread after he was frequently turning up to training late. He has since made the Junior Kangaroos twice, was awarded Canberra's Under 20s player of the year in 2013 and captained the team this year.
"I didn't take it seriously until then," Mago said of the warning from Under 20s raiders coach Mick Mantelli. "It was making the wrong decisions. I was easily peer-pressured into things, but I should have been stronger.
"I've had a few troubles off the field, I guess that comes with me missing my family. As a footballer and as a person, my family moving down here has been the best thing for me. I love it in Canberra, and they love it too."
Mago was 16 when he would join Papalii and Leapai, for gruelling training sessions. They'd lug heavy boxing bags over their heads for laps of a local field.
"Alex Leapai also wasn't fortunate with things growing up, it shows a lot of hard work can get you to places you aspire," Mago said.
"When I was training with Alex [Leapai] I actually did quit toward the end. It was hard, but it made me stronger mentally as well. "It showed me you can't take the easy pathway to succeed, you can't cheat to make your way through."
"My family, we struggled so much ... My dad was working and mum had to look after us. Sometimes we had no money, it was a really hard upbringing but the support and love from my two parents, I'm so in debt to them.
"I need to do everything to achieve my goals so I can prove to my parents all the hard work they did for us will go to something."
Mago relates to former Raiders star Anthony Milford, who quit Canberra to return to Brisbane with his family, particularly ill father Halo.
"I don't blame him and fully support what he did," Mago said. "Everyone that's Samoan or an Islander tries to make their parents happy, and look after their family as much as we can.
"If that's the best thing for Tony, I respect it, and I would have done the same thing if I was in his shoes."
Mago's younger brother, Jordan, also a back rower, will also play for Canberra's under-20s this season.
Mago was nose-to-nose with New Zealand opponents in last weekend's international Under 20s when the Aussies linked arms and advanced on the haka. It resulted in a scuffle, Mago featuring prominently in the the YouTube footage.
Born in New Zealand, Mago said the Kangaroos had not meant any disrespect.
"They always try and come out and intimidate, we wanted to go into the game as showing them we were ready for the battle, especially in New Zealand," Mago said.
"None of us were trying to disrespect the haka, it was just us guys trying to challenge ourselves."
* Watch the Junior Kangaroos' haka confrontation here