IT MIGHTN'T have felt like it at the time but Cronulla recruit Luke Lewis enjoyed a significant victory on Friday even though his legs begged for mercy, his lungs screamed for oxygen, the blood thumped in his ears, his stomach threatened to erupt and for every step forward he slid back three.
The symptoms which accompanied charging up Kurnell's torturous sand hills with his new teammates were awful, but fighting through to complete the session allowed Lewis to tick yet another significant box after an operation to remove a cancerous thyroid gland from his neck.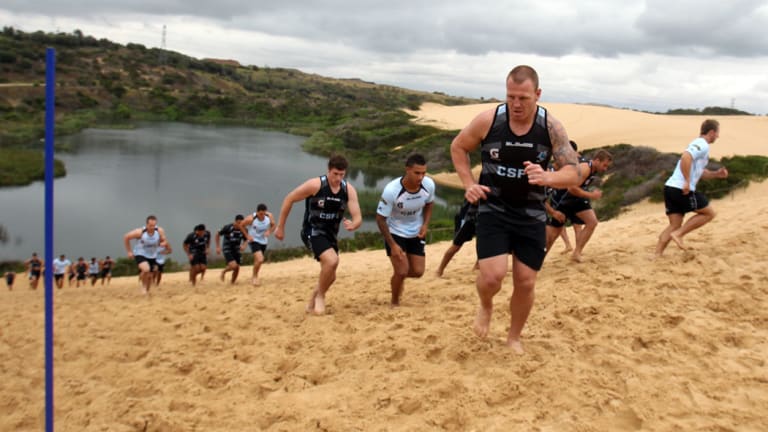 The international, who now bears an eight centimetre scar on his neck, hasn't missed an off-season fitness session be it with the new-look Sharks or his personal hours of power in the gym since he received the green light to train not long after he went under the knife.
"It's been outstanding," he said. "I feel like a little kid and I'm enjoying it. It's been tough, but I'm lovin' it. Some heavy weight sessions and a training program called zuu, which is brutal. Its body weight training and the hardest I've ever done in my life. It's unreal … a great challenge."
Lewis stunned the rugby league world towards the end of the season when he announced on live television that scans revealed the reason why his neck felt so sore in the wake of the Panthers 26-18 defeat to the Tigers in July. He had a lump on his thyroid and the subsequent biopsy identified he had abnormal cells which needed to be analysed. The specialist confirmed the worst, but in that same breath he assured Lewis all would be fine.
"Everything is going well," said Lewis, who was at least spared from having to undergo chemotherapy. "It put me off-track at the start but we got on top of it well. I'm still getting used to the different things I have to do with my tablets. I feel everything is good, though. I'm getting better at training but still have a lot of little things to play around with and ensure I get it right come March next year."
The thyroid, which Lewis described as the "battery pack" of the human body, controls the metabolism and, in his words, charges humans with the energy they need. "It burns the fat and if it's not working right it affects your weight," he said. "The tablets do the job for me."
After explaining he initially overcame the shock of being diagnosed with a cancer which affected more women than it does men by pretending he didn't have it, Lewis said his focus was now on succeeding for the Sharks. "I still love Penrith, it's where I grew up and the community is special to me, but I'm looking forward to the change of lifestyle," he said ahead of relocating to the Sutherland Shire. "Cronulla is everything I thought it would be - and more.
"All our fitness is a challenge. No one wants to be the person who lets down the bloke beside him by dropping the ball. It's a good feeling having all that. The biggest thing I learned about myself in 2012 was to not take things for granted. Obviously I didn't take football for granted but I used to know I would turn up to go to training, but when I got sick … I learned to enjoy every day and to enjoy the company of the blokes you're with because you really don't know how long you're going to have that for. There are things I haven't achieved in rugby league and that's given me a clear focus and a lot of motivation to be successful away from a club I'd been at for so long.
The arrivals of Lewis, another ex-Panther in Michael Gordon, Wests Tigers duo Chris Heighington and Beau Ryan, plus Bulldogs winger Jonathan Wright, complements the likes of Paul Gallen and Todd Carney, who spearheaded Shane Flanagan'steam to last year's finals series. But Lewis has been around too long to believe reputations win premierships. "We have a very good team on paper but paper doesn't win games," he said.
Morning & Afternoon Newsletter
Delivered Mon–Fri.