PREMIERSHIP teams are bred not bought, or so the saying went the last time Sydney Roosters went on such a spree. But while the slogan that adorned T-shirts in response to the Roosters pinching players from the Bulldogs was cheeky and catchy, it's hardly relevant any more.
Even the team that came up with the catchphrase has realised that; the Bulldogs overhauled their roster to the point where, last year, they entered a grand final with a 23-year-old fullback in Ben Barba who was the longest-serving Bulldog. Sure there were local juniors, but there was also a smattering of stars procured from elsewhere. The business of sport, and the occasionally wacky science of the NRL salary cap, ensures change is inevitable.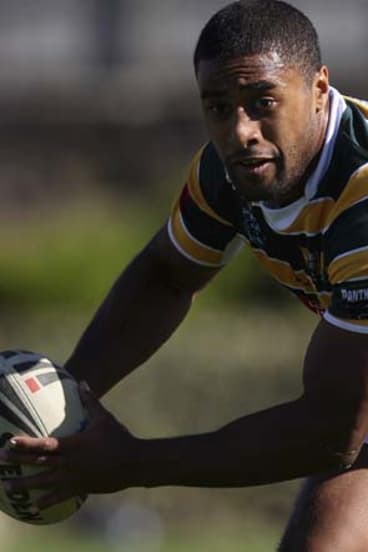 Success is not, of course. But the fact that every club wants success quicker and quicker means a rebuilding phase is more likely completed over pizza in front of a white board than it is patiently over several years. Boards - and therefore coaches - cannot wait for local juniors to emerge.
Which is why, having been poked by the Bulldogs over their signing of Braith Anasta, Mark O'Meley, Nate Myles and Willie Mason, the Roosters have been forced to reinvent themselves again. They have brought in James Maloney, Michael Jennings, Luke O'Donnell and, of course, that other former Bulldog, Sonny Bill Williams.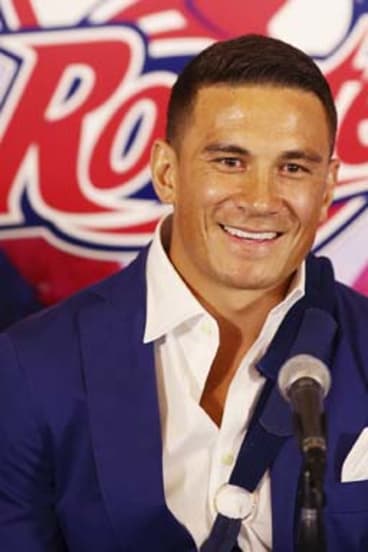 ''We're a performance-based competition, and the club hasn't done all that well over the last two seasons,'' the Roosters' football chief operating officer Brian Canavan said.
It tends to matter not where a team finishes on the competition ladder. The lower teams need to make changes to the roster in order to placate impatient officials and supporters, while the successful clubs are pillaged and need to be replenished. ''We went through it in the early 2000s, when we played in four out of five grand finals,'' Canavan said. ''You can't retain them. It hurts but you lose them.''
The Roosters, who have had two lean years, have made as big a statement as any team through the off-season. But others have been active.
Cronulla have signed Luke Lewis, Michael Gordon, Chris Heighington and Beau Ryan, while Penrith have signed enough players to fill a minibus.
The Roosters also took the honour of securing the first player for this season as well as the last player. The club signed Warrior Maloney in November 2011, and found a place for O'Donnell so late he only arrived back in the country last Sunday.
The Jennings deal, too, was completed in the new year. ''It was just a case of being in the right place at the right time,'' Canavan said.
All of the high-profile signings bar Williams will play against Wests Tigers in the Foundation Cup at Allianz Stadium on Saturday night. The Tigers team will include Anasta, who will no doubt look as peculiar in his new jumper as he did when he pulled on a Roosters top for the first time. While many wonder whether trials are necessary, there won't be many clubs taking the field this weekend who aren't playing someone for the first time. ''We're missing some combination time, with guys coming in late,'' Roosters coach Trent Robinson said.
The club which used to be referred to as the transit lounge, and which has routinely been criticised for poaching talent rather than breeding it, has once against been active in the transfer market. But the transit lounge these days is busier than it has ever been, and every club passes through it. These days, change is not only inevitable, but necessary.
The year's most influential signings
CRONULLA
Gains: Michael Gordon (Panthers), Luke Lewis (Panthers), Jonathan Wright (Bulldogs), Beau Ryan (Tigers), Chris Heighington (Tigers), Tupou Sopoaga (Bulldogs).
Another club active in the market, the Sharks will be eager for quick success. Heighington and Lewis, certainly, are excellent signings in the short term but haven't been brought in for what they can do in 2015 or 2016. Gordon could be a superb addition, and is perhaps a contender for buy of the year. Rating: A
SYDNEY ROOSTERS
Gains: James Maloney (Warriors), Michael Oldfield (Sea Eagles), Sam Moa (Hull FC), Sonny Bill Williams (Rugby union), Michael Jennings (Panthers), Luke O'Donnell (Huddersfield).
SBW … OMG. Whatever you think of the former Bulldog and All Black, his Roosters debut will be the most anticipated first hit-out of any of the newcomers. But in securing Jennings and Maloney, the Roosters also have plenty of other star recruits. Rating: A
BULLDOGS
Gains: Tony Williams (Manly).
The Bulldogs have opted for quality over quantity. And why not. Coach Des Hasler's mid-season pick-ups last year, Krisnan Inu and Sam Perrett, enjoyed huge success, and the Bulldogs did reach the grand final. If it ain't broke . . . Hasler is entitled to be content with his squad, but added one of the most destructive players in the game to his roster, to counter the loss of largely fringe players. Williams looked a little lost last year at Manly, but under Hasler again, it would surprise few people if his best form was unleashed. Rating: A-
NEWCASTLE
Gains: Beau Scott (Dragons), Toka Likiliki (Warriors), David Fa'alogo (Huddersfield), Jeremy Smith (Sharks), Mitchell Frei (Broncos), Anthony Quinn (Storm).
You could argue the Knights' most significant addition this year will be Kurt Gidley, who played just five matches last season. Yet Wayne Bennett has certainly added some steel and intimidation to his forward pack, via Jeremy Smith, Beau Scott and David Fa'alogo.Rating: A-
SOUTH SYDNEY
Gains: Jeff Lima (Wigan), Ben Te'o (Broncos), Mitchell Bucket (Sunshine Coast Sea Eagles), Thomas Burgess (Bradford), Bryson Goodwin (Bulldogs), Beau Champion (Titans).
Te'o is another contender for buy of the year, while Michael Maguire will be confident he can get the best out of Jeff Lima. Beau Champion was a late pick-up but is expected to excel on his return to Redfern after being unable to set the world on fire at Melbourne and Gold Coast. Rating: A-
GOLD COAST
Gains: Dave Taylor (Rabbitohs), Mark Ioane (Canberra), Matthew Russell (Wigan).
Dave Taylor is a significant acquisition, but - perhaps like one of the Titans' previous significant acquisitions, Jamal Idris - the jury will be out on whether his signing is deemed a success or a failure until he starts playing. He might be great, but he might not be.
Rating: B+
PENRITH
Gains: Lewis Brown (Warriors), Dean Whare (Sea Eagles), Sika Manu (Storm), James Segeyaro (Cowboys), Wes Naiqama (Knights), Kyle O'Donnell (Knights), Jeremy Latimore (Dragons), James Roberts (Rabbitohs), Neccrom Areaiiti (Rabbitohs), Moses Pangai (Cowboys), Sam Anderson (Knights), Ethan Cook (Knights), Maurice Kennedy, Tom Humble (Wests Tigers), Shane Shackleton (Eels), Mose Masoe (Roosters).
You could field a team with Penrith's recruits, such is the changeover happening at the club. Lewis Brown is a good pick-up, as is Dean Whare. There are some gambles in among the newcomers, like Wes Naiqama and James Roberts, but there is a heap of talent too. Rating: B+
BRISBANE
Gains: Joe Bond (Redcliffe), Jake Granville (Wynnum Manly), Scott Prince (Titans), David Stagg (Bulldogs), Denan Kemp.
Brisbane rarely dip into the market for experienced players, so often relying on the enormous talent pool the club has, but their late-season fade-out in 2012, and the knowledge they would be losing Petero Civoniceva and Ben Te'o among others, convinced officials that the club needed older and wiser heads. Prince has the potential to be an excellent signing for the Broncos. The pressure will be off both Prince and Peter Wallace to some extent, knowing the other is in the side. Rating: B
MELBOURNE
Gains: Junior Sau (Knights), Junior Moors (Tigers), Lagi Setu (Broncos), Brett Finch (Wigan), Tim Glasby, Kurt Mann (Knights).
The premiers have suffered their usual exodus, with the likes of Dane Nielsen, Sika Manu and Todd Lowrie departing, and appear not to have picked up the same quality in return. But this is Melbourne, and this is Craig Bellamy, who was the most significant off-season re-signing for the club. Anyone who doubts that Bellamy won't once again make a silk purse out of a sow's ear must have a short memory. Rating: B
NEW ZEALAND WARRIORS
Gains: Thomas Leuluai (Wigan), Dane Nielsen (Storm), Todd Lowrie (Storm), Dominique Peyroux (Titans), Harry Siejka (Panthers).
Signing premiership winners from Melbourne will have Warriors supporters enthused. However, the competition is littered with players who have left the Storm and gone backwards. Very rarely do players get better after leaving Bellamy's Melbourne. Rating: B
CANBERRA
Gains: Joel Edwards (Knights), Jake Foster (Bulldogs).
David Furner is another coach clearly content with the squad he is building. Edwards and Foster are both talented and relatively young players, but not yet stars. They have been bought to bolster an already promising squad. Rating: C+
MANLY
Gains: Michael Chee Kam (Raiders), Richie Fa'aoso (Melbourne), Ligi Sao (Warriors), James Hasson (Sharks), Ben Musolino (Dragons), Brenton Lawrence (Titans), Dane Chisholm (Wests Tigers), Jacob Gagan (Eels NYC), David Gower (Dragons), Peter Hiku (Warriors NYC), Jesse Sene-Lefao (Panthers), Kayne Lawton (Titans), Esi Tonga (Eels), Justin Horo (Eels).
It's no surprise the Sea Eagles have opted for players with potential rather than out-and-out stars. They were flat out keeping most of their out-and-out stars last year. They re-signed Kieran Foran, Daly Cherry-Evans, Steve Matai, and appear to be still frantically trying to have Brett Stewart's deal officially signed off. So there wasn't a lot of money to be splashed around elsewhere. As a result, many of the new players have been bought with a view to the future. Rating: C+
NORTH QUEENSLAND
Gains: Anthony Mitchell (Roosters), Rory Kostjaysn (Storm), Curtis Rona (Roosters), Clint Greenshields (Catalans), Scott Moore (Huddersfield).
Cowboys fans might have wanted more, but they got Moore. Who? Well, few know a lot about Scott Moore, the Englishman who is the Cowboys' highest-profile signing, and the likely replacement for the retired hooker Aaron Payne. The Cowboys are convinced Moore can be an astute pick-up, despite a chequered off-field history. Time will tell. Rating: C+
ST GEORGE ILLAWARRA
Gains: Gerard Beale (Broncos), Tyson Frizell (Sharks), Josh Drinkwater (Sea Eagles), Michael Henderson (Titans), Bronson Harrison (Raiders).
Another team whose gains need to be placed in context with their losses, which include Beau Scott, Dean Young and Ben Hornby. Like the Eels, the Dragons struggled to attract big-name players. Many feel they will struggle on the field as a result. Rating: C+
WESTS TIGERS
Gains: Braith Anasta (Roosters), Eddy Pettybourne (Rabbitohs), Bodene Thompson (Titans), Jack Buchanan (Dragons), James Gavet (Bulldogs).
Another club to have lost some talent. Many have been left slightly underwhelmed by the players the club has brought in. Braith Anasta will provide experience, while Bodene Thompson and Eddy Pettybourne are capable enough. But whether this squad is capable of turning around the disappointments of last year is a bit of a lottery. Rating: C+
PARRAMATTA
Gains: Darcy Lussick (Manly), Daniel Harrison (Manly), Kenny Edwards, Lorenze Ma'afu.
It's difficult to rate the Eels' recruitment without considering the players who they could have had. The club went after the likes of Tony Williams and Israel Folau but missed out on both. Darcy Lussick is an aggressive forward and Daniel Harrison also a strong player, but the Eels, wooden spooners last year, don't have Nathan Hindmarsh to rely on anymore. Rating: C-

Glenn Jackson is a Rugby League Writer for The Sydney Morning Herald
Morning & Afternoon Newsletter
Delivered Mon–Fri.