Commission stands by Gallop over Stewart call
THE ARL Commission has backed its chief executive, David Gallop, to continue making decisions that may upset some individuals but are considered best for the game overall after Manly and NSW fullback Brett Stewart criticised Gallop in a newspaper interview.
Stewart was suspended for four games at the start of the 2009 season, a ban the league said was for bringing the game into disrepute by being drunk at a Sea Eagles function to launch the season. On the same day as the launch, Stewart was charged with sexual assault.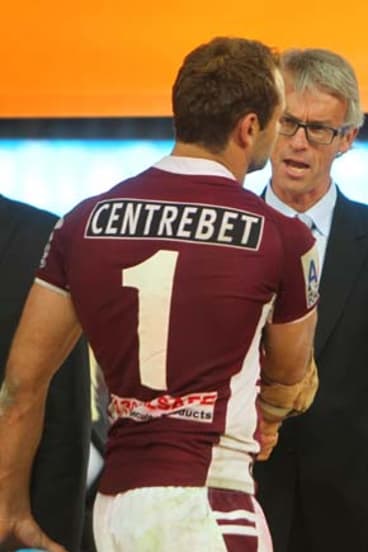 After an 18-month court battle, Stewart was cleared of the sexual assault charge, but he has had an issue with Gallop ever since being suspended and had words with the administrator when the pair came face-to-face on the presentation stage after last year's grand final, in which Manly beat the Warriors.
In the interview published yesterday, the subject eventually got around to Gallop, prompting Stewart to say: ''Who?''
Stewart was then asked if he felt better about Gallop now. His answer was: ''No, not at all, although I've said what I wanted to say to him.''
Asked if he had told Gallop on the stage that the league boss owed him an apology, Stewart replied: ''I'll keep that between him and me. It hasn't been spoken about this year but I haven't forgotten that he turned his back on me when I needed his support most.''
Gallop did not wish to comment yesterday, but commission chairman John Grant said: ''I am not going to revisit the facts of 2009 … but players do need to understand that administrators will take action appropriate to protecting the image of the game.
"David has had to face up to that responsibility on a number of occasions and the commission supports him for doing so.''
The commission will not be disciplining Stewart for his comments, but will no doubt continue to monitor the situation.
Morning & Afternoon Newsletter
Delivered Mon–Fri.