Cronulla coach Shane Flanagan may face another suspension after the NRL integrity unit reportedly uncovered evidence he communicated with the club during his 12-month suspension in 2014.
News Corp reports that Flanagan has been questioned after emails scanned from the Sharks' internet server as part of the NRL's ongoing salary cap probe raised investigators' suspicions.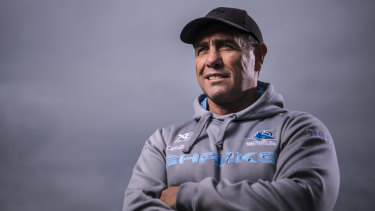 An edict under the terms of Flanagan's suspension imposed after the supplements scandal that engulfed the club stated that the coach was to have no direct or indirect contact with Sharks officials and players.
The report said emails and phone messages during his one-year ban were uncovered and revealed Flanagan communicated with senior staff on issues relating to the 2015 season, when he was set to return.
The independent commission are expected to meet next week at NRL headquarters to consider possible punishments for the Sharks and Flanagan.
Cronulla released a statement on Wednesday afternoon.
"In response to media reports this morning, the Sharks will continue to fully cooperate with the NRL integrity unit to bring the relevant matters before them to a conclusion," the statement said.
"After self-reporting a salary cap indiscretion to the integrity unit, further issues relating to the 2014 season have been uncovered and have come under investigation.
"The NRL integrity unit has informed the club the investigation into the 2014 matter will be finalised prior to Christmas, while the salary cap investigation is unlikely to reach a conclusion until the New Year.
"Shane Flanagan is the Sharks head coach, he is contracted to the club for 2019 and he will remain in his role as head coach."
If Flanagan is found to have broken any rules he could face another ban and the Sharks a hefty financial penalty.
Cronulla were fined $1 million by the NRL over the supplements scandal with $400,000 suspended.
Comment is being sought from the NRL and the Sharks.
It has been revealed Flanagan's son, Kyle Flanagan, could be lost to the Sharks if the NRL slaps the coach with another ban.
Fox Sports reported that the 20-year-old Flanagan has a get-out clause in his new contract extension if his dad is not Cronulla coach.
The playmaker can reportedly walk away from the Sharks at the end of next season when his contract for 2020 and 2021 kicks in if his father is not at the helm.
AAP