Banning Junior Kiwis from playing Origin is nowhere near enough of a measure to protect international football from NSW and Queensland recruitment raids.
All it will do in the medium to long term is discourage kids from playing for the Junior Kiwis - and we'll get more results like last Saturday's 48-16 win by the Junior Kangaroos.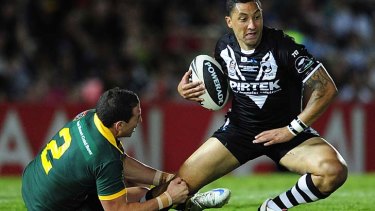 Rugby League International Federation chairman Scott Carter is right: either the Blues and Maroons stop choosing foreigners or they should allow Origin players to represent other countries.
This is why I don't like the Independent Commission being so closely linked to Australia, with John Grant reading out the Test team. What is good for rugby league is often not what's good for Australia - and I'd rather the commission do what's good for rugby league.
It would be great for the game if the umbilical cord connecting Origin to the Australian team were cut. If you qualify for Origin, you are selected and your country of election is a completely different issue. What a wonderful gesture to rugby league that would be.
And another great gesture would be to pay all NRL players who represent in a full Test the same money - whether it's for Fiji, Australia or the United States. The impact on this of players' enthusiasm for the international game would be profound. As of a couple of months ago, we can afford it.
But neither of those things will happen because they are not in the interests of Australia. It's a real shame.
Why the secrecy?
One thing we should have mentioned last week: If Canterbury's James Graham did walk off the field on grand final night to tell his coach and chief executive he definitely did not bite Billy Slater, why was it kept secret for four days?
What on earth would be the motivation for not getting it "out there" that the player vehemently denied committing the offence?
When St George Illawarra's Matt Prior took Johnathan Thurston's head off in May, the Dragons could not put him in front of cameras and microphones quickly enough. Their PR, Jo Banning, even chased reporters around Dairy Farmers Stadium to make sure they had the quotes.
Sure, the judiciary members aren't supposed to be influenced by publicity.
But they would have walked into the Graham hearing without anyone having even suggested to them that the England forward didn't do it. That can't have helped.
Stay tuned for Manila
I'd love to tell you that Bangkok is buzzing with excitement over the Test on Sunday, but the fact is I've not yet interacted with any rugby league people in my couple of days here.
I am told the Philippines boys arrived yesterday and there's a big launch for the match on Friday. In case you missed the news, the Thailand-Philippines match is now on Sunday at the Royal Thai Police Stadium, at 7pm Sydney time.
Referees are Gavin and Kasey Badger, understood to be the first husband and wife officiating team in the history of world sport. Their little milestone has even attracted the attention of the British national press.
I should have a lot more for you next week, when the column comes to you from Manila.
To the comments
OK, comments time and the "Bad Monday" (just read that one recently) drama lingers, but international footy is also at the forefront of people's thoughts.
Scott of London, I would have preferred England tour this year and perhaps play a Pacific Allstars side along with Australia and New Zealand. Whoever promised the players a light post-season acted pretty hastily, but once you make a promise, I guess you have to keep it.
There is no benefit of the doubt in Super League anyway, so repealing it would only affect the NRL. Yes, the NRL is in danger of becoming formula one and being totally removed from what everyone else plays. I think the RLIF should play a more robust role in rule changes worldwide.
Andrew B, we asked John Grant on the ABC this year about stand-alone representative weekends and players who are not from NSW or Queensland returning to their countries for Tests. He said that "could be" ideal. It hasn't happened, mainly because TV in Australia does not want to show other countries playing Test football and also because Wednesday night Origin generates so many dollars.
No doubt, a stand-alone rep weekend or three would help rugby league enormously. For a start, the "brawn drain" to Origin would be slowed if players had internationals on the same weekend.
Graeme, I run with the pack when I think it's worthy of running with. Journalists are their own worst enemies sometimes because they are too busy working and competing with each other to explain themselves. Yet we expect others to explain themselves at every turn and become indignant if they won't. I am committed and passionate about trying to demystify what we do.
That does not mean that I believe journalists are always right - but they are generally not as insidious and conniving as the general public seems to believe. Now, I have explained the motivations and methodology here as well as I can. If you still think the people involved acted wrongly, then that's your opinion and it's one plenty of people share. I actually still have pride in my profession, so I regard "running with the pack" as a compliment, not an insult.
As for Steve Deane's piece, I have intimate knowledge of what went on there as I was part of the Elijah Taylor "all in" and wrote about it for the Herald. The Daily Telegraph, which ran the story Steve is railing against, was not there. It got Todd Balym's story, thought Taylor was talking after Elliott's appointment, and wrote it very hard. Do papers ever distort things deliberately and disregard the integrity and relationships of someone who is on the road and not a direct employee of theirs (Todd works for The Courier-Mail)? Yes. Did it happen on this occasion? I certainly hope not.
As for the opinion piece you mentioned, I enjoyed reading it. But it's paying broadcasters who want interviews at full-time - and that's part of what they pay for. Television needs pictures, not just quotes, during the week. And the main point about the best interviews coming in a relaxed, in-depth atmosphere - they are exactly the situations that the Bulldogs have avoided allowing their players to be part of this year!
Stojo01, to the best of my knowledge the boom mic used was exactly the same as the ones used on all TV news jobs. They just amplified the audio - so you didn't have to turn up your TV.
Paulmac, yes I believe Vanuatu-Greece will be streamed. Nothing doing here in Thailand as far as I know. The Tri-Nations will be on the BBC, so that means video of the games should be floating around. If you are a UK resident you can watch them on the BBC iplayer.