Fed-up Meninga says NSW should stop bleating over Inglis
QUEENSLAND coach Mal Meninga says he has had enough of the taunts from south of the border about Greg Inglis representing the Maroons in State of Origin, telling detractors: ''Get over it.''
Representative week has been tainted by the eligibility debate after Tariq Sims's younger brother Korbin was picked for Queensland's under-20s side despite growing up in Gerringong and New Zealand front-rower James Tamou switched allegiance to Australia.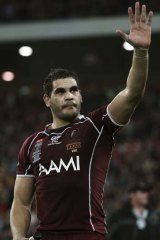 Queensland have long been ribbed about Inglis, raised in Bowraville on the mid-north coast, and previously Israel Folau, born in Minto, being in their line-up. Sims, 20, has since withdrawn from the under-20s Origin match at Penrith on Saturday with a broken finger, but the subject has brought the perennial NSW taunts about Inglis back into focus.
''I'm fed up with the fact that they keep bringing it up,'' Meninga said. ''That was the rule - we played within the rules, Greg played within the rules and he made a decision to play for Queensland. Get over it really.''
Former Blues halfback Peter Sterling yesterday advocated a system in which state and national selection was based on where a player was born. On such criteria, Sterling admitted, he would have played for Queensland, not NSW, having been born in Toowoomba.
The ARL Commission has already moved to settle future debates at an interstate level with the introduction of new criteria that take the decision out of players' hands.
Eligibility rules for the international game are, as showcased by the Tamou saga, not yet as clear cut. Dual-eligible Tamou, 23, was a member of New Zealand's Four Nations training squad last year but will play against the Kiwis at Eden Park tomorrow night after switching allegiances.
Meninga said eligibility for a particular country should not be the player's decision, as the new state rules have ensured. Under the amended rules, Meninga said, Inglis would not be the only player to have played for a different team.
''Steve Rogers would have been a Queenslander, Ken Nagas should have been a Queenslander,'' he said.
''It's all conjecture and the problem with all this is that we never had a really clear criteria to select players from. They've got a criteria and now it's black and white - there are no grey areas. It's what should have happened many, many years ago.''
Unless a player has already represented NSW or Queensland at under-18 or senior level, or City or Country or Australia at senior level, then their Origin eligibility comes down to five categories, with the majority determining what colour jumper they wear.
The categories are: where they were born; where they played the majority of years from under-six to under-18s; where they spent the majority of years at school; where they played their first state-run junior rep competition above under-15s; and for whom they played their first school state rep match.
Meninga said a similar solution must be found for the international game. ''Now the Kiwis are getting involved, it's time it was all cleared up and there is some decision-making,'' he said.
''Take it out of the hands of the players - I think that's a really crucial area. The criteria should be based on what is good for the game, which I think will happen, and take all the pressure off the players from making a decision.''
Chris Barrett is Sports Editor of The Sydney Morning Herald.