Disappointed Cronulla coach Shane Flanagan blasted the ARL Commission as reactive and inconsistent following its decision to suspend centre Ben Pomeroy for two matches for a shoulder charge.
Pomeroy became the first victim of the NRL's decision to change the penalties for shoulder charges resulting in dangerous contact to the head - which happened last week.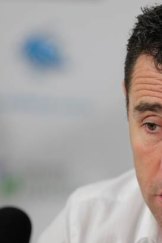 And while Flanagan conceded Pomeroy had been given a fair hearing, and accepted the judiciary's ruling, he couldn't understand how such a drastic change to the game's rules could be made so late in the season.
''The commission are the leaders of this game. They need to lead by example, not be reactive,'' Flanagan said yesterday. ''They need to be proactive. They need to be consistent.
''All good leaders are those two things, proactive and consistent.
''To go to the NRL, change the rules in relation to the shoulder charge in round 26 is reactive and it's not consistent … I hope the commission comes up with some good ideas and runs the game really well for however long they're in charge but leaders have got to set examples and be consistent and they haven't done those two things here.
''There's no consistency in that … putting a rule in in round 26.''
Pomeroy will now miss Sunday's elimination final against Canberra, and the Sharks' next finals match against either Manly or Canterbury should they advance, but NRL counsel Peter Kite had pushed for the centre to be rubbed out for up to seven weeks.
And it was that call Flanagan believes shows how ''out of touch'' the match review committee is with the current game.
''Five to seven weeks for that tackle is ludicrous in my mind,'' he said.
''That's just losing touch with what the game's about. It's a contact sport. It's a tough tackle. To grade that tackle between 500 and 700 points, that for me is just not in touch.''
Flanagan compared Pomeroy's hit on North Queensland's Johnathan Thurston to that of South Sydney's Greg Inglis that left Dean Young concussed, and drew a three-match ban, and Canterbury's Sam Kasiano's hit on Fuifui Moimoi - that didn't even result in a week on the sidelines.
Both of those hits came before the NRL's updated edict from last week, but that failed to placate Flanagan, who hoped to see no more players from any of the final eight teams forced to endure a night at the judiciary like Pomeroy had.
''We couldn't see any [contact with the head] in the footage [so] it's completely different to the Greg Inglis tackle,'' Flanagan said. AAP