The irony certainly wasn't lost on Todd Payten.
Just minutes after winning the premiership in his first year as Wests Tigers Toyota Cup coach, Tim Sheens was one of the first to congratulate him.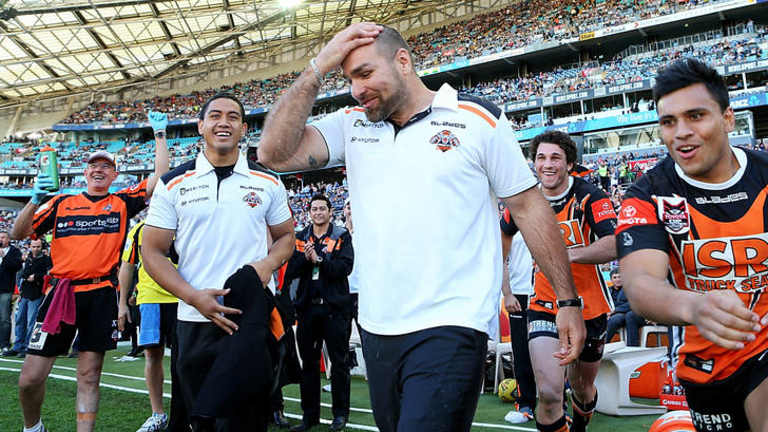 Sheens was sacked after ten seasons as Tigers coach this week, the jewel in his crown the 2005 premiership.
Payten's coaching career is only just beginning but his quest for Sheens-like longevity got off to the best possible start.
Yesterday's 46-6 grand final win was made more surreal by the fact it came against Canberra, where he launched his playing career.
The former ball-playing forward starred in the 2005 grand final against North Queensland. Yesterday was special, but he still rates that victory seven years ago as his highlight.
''I think it was a lot more enjoyable and meant a whole lot more as a player,'' Payten said.
''You dream of playing footy as a kid all your life, and I didn't think about coaching until the back end of my footy career.
''You also have the rewards from working hard with your mates as a footy player, and it's something to strive to achieve all year.''
That shouldn't be misconstrued as Payten taking the win for granted.
Sheens has won four premierships, three at the Raiders, but has only led his sides to the final in three of the past 15 years. It puts Payten's feat in winning a trophy in his first year, while still learning, into perspective.
''I had a really good time at Canberra and owe them a lot, but I've been in Sydney for ten years now and consider myself a Tiger,'' he said.
The Raiders are rated the Toyota Cup's best attacking side, but Payten's game plans have helped the Tigers concede just four tries in three wins over Canberra this year.
''Our team goal was to go set for set,'' he said. ''We knew with their attacking ability and attractive style of play, we needed to control where we gave them the ball.
''Our boys were able to get into the grind and make a real arm wrestle of the game, they haven't experienced it that much.''
Payten was dubbed ''a halfback in a front-rower's body'' for his rare ball skills for a big man during his career.
But he has instilled in his young forwards the importance of forsaking flair for substance when needed.
Yesterday it was the backbone of their victory, with prop Sauaso Sue (235 metres) particularly impressive.
''The forwards really dominated, they ran hard and tackled hard,'' he said. ''[Canberra] play pretty football, and we've had that ability to stay in matches for long periods of time.''
Payten has huge respect for Sheens, and was shattered when he realised it was the last time they would be in a Tigers dressing room together.
But if he forges a coaching career half that of his mentor, he'll be rapt.
''He [Sheens] was just happy and congratulated me, that's about it really,'' Payten said.