Geoff Toovey criticises refs as Manly feel the pain
Manly coach Geoff Toovey has criticised the referees for allowing South Sydney to "wrestle the crap" out of his team on Friday night.
South Sydney's big men dominated the Manly pack at the Sydney Cricket Ground, making easy inroads through the middle of the field in the 23-4 win.
However Toovey insists he was more concerned with the Rabbitohs' wrestle than his side's efforts in the centre of the paddock.
"They were just better than us tonight," he said.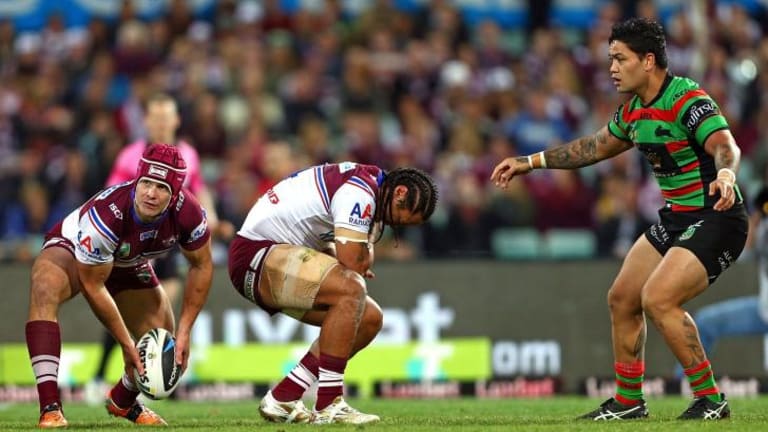 "We were a bit down and I thought they just wrestled the crap out of us that first half and slowed the game right down which suited them obviously. Losing Steve Matai early didn't really help us either.
"I thought they played well. They were allowed to play the game plan they had, slowing us down. They were good and we didn't execute. think we had 60 something per cent, which is just not good enough against a quality side like Souths. They wore us down in the end. We had an opportunity to get close in the second half but we didn't take that opportunity and they just ran away it."
Matai suffered a shoulder injury in the fifth minute of the match, leaving the field and failing to return.
There's a suggestion South Sydney prop George Burgess performed a chicken wing tackle on the Manly centre, however the match officials didn't pick it up.
While Toovey didn't comment on the tackle, he took aim at the touch judges for failing to notice the incident.
"I'll have to look at it and see what happens," Toovey said of the tackle.
"I don't know what the role of the touch judge is any more - they don't worry about the ten, they don't worry about the offsides on kicks, I don't know."

Michael Chammas is a sports reporter with The Sydney Morning Herald
Morning & Afternoon Newsletter
Delivered Mon–Fri.