Ricky Stuart was talking about perception. It was his last address to the players before they departed on their off-season break and the new Parramatta coach was drumming in the message they must continue to act professionally. That long-suffering fans needed to know the squad was doing everything possible to turn around its fortunes.
It was one of those poignant, club-defining moments … which was rudely interrupted by a squeaky voice from the back of the room. ''Heeeeey Wicky,'' halfback Chris Sandow said, in his inimitable way. ''Can you explain what perception means to Fui please.''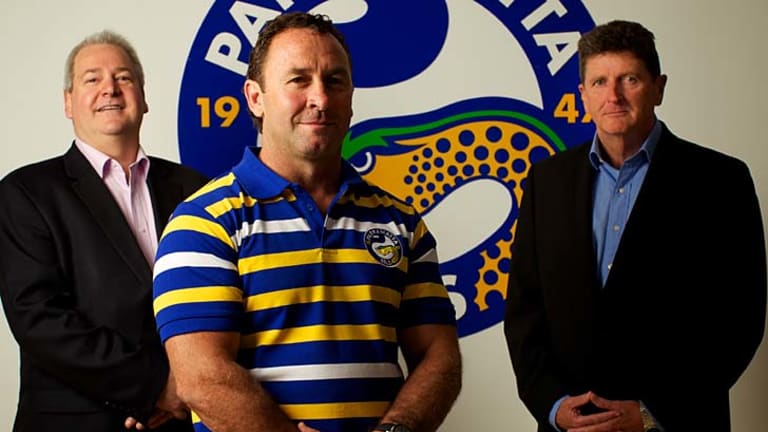 Everyone doubled over. It was one of those (blue and) gold moments shared between two cheeky halfbacks. Stuart, retelling the story at lunch with Eels chief executive Ken Edwards and Parramatta group CEO Bob Bentley, adds: ''I know I'm going to have a bit of fun with him.''
Getting the best out of Sandow, a man he describes as the Aboriginal version of Allan Langer, is one of many challenges Stuart will face at the helm of the wooden spooners. When it was put to him that he wasn't afraid of a challenge, the ex-NSW and Cronulla coach threw back his head and laughed: ''Look at my last two jobs.''
There's another thing he doesn't fear as he attempts to awaken sport's sleeping giant of the west. ''The one thing I'm not scared of is where Parra finished this year. Or hard work,'' Stuart said. ''When I got the job I was more concerned how they finished. I didn't care if they finished 16th, 15th, 14th or 13th - to me it's still last.''
When Bentley and Eels chairman Roy Spagnolo first discussed the role with Stuart, the recurring theme from the premiership-winning mentor was care. ''It's the one word I use, and I use it in State of Origin campaigns, in how much a player cares,'' Stuart explained. ''Cares for his preparation, cares for his teammates, cares for the jumper. If you care about something bad enough, that something will be very good. We've identified areas of our game in which we need to be very much better in. We have to improve. That's why I get back to the individual buying in. Buying in is care.''
Parramatta are winning everywhere but on the scoreboard. Bentley and his board have got a renovated leagues club humming, and the group is expected to post a profit of about $9 million for the second year in a row. Officials recently renegotiated a deal with the Parramatta Stadium Trust which secures their future at the venue on improved financial terms. They have just appointed the respected Edwards, the former boss of ANZ Stadium, to oversee the football department. Already he has set the lofty goal of reaching 20,000 members and producing a strategic plan which ties into the one produced by the ARLC. And there are plans to build a new training facility, potentially on the site of the decommissioned Parramatta jail just down the road.
''There's nothing but upside here,'' Edwards said. ''It's already one of the best brands in sport and studies show that. One of the things the board of directors have said to us is that, over time, they want to create the No. 1 sporting club in the country.''
The only ingredient missing is a winning team. But with the appointment of Stuart, there are already high hopes for a side which finished the last two seasons in 14th and 16th positions respectively. Spagnolo did nothing to temper expectations when, upon officially unveiling Stuart to the press as the new clipboard holder, he compared him to the late great Jack Gibson.
''You were surprised?'' Stuart chuckled when reminded of the comment. ''I just wanted to get in and out. I feel very sorry for [Gibson's right-hand man] Ron Massey. Poor old Ronny got left out. If I do half the job that Jack did I'll be happy.''
Israel Folau is almost certain to join the Eels, but there are plenty of other questions about the side for next year. Such as who will captain the team?
''No idea,'' said Stuart, who conceded he wasn't a fan of the co-captains craze. ''That bloke will jump out. He'll tell me through his actions through the off season. 'Leadership' is used very loosely but their actions will come out and tell us all.''
It's also unclear whether Jarryd Hayne will play in the No. 1 jersey or whether, as Stuart suggested some years ago, he is better suited at five-eighth. Whatever the case, they will be playing a style all their own. Under previous coach Stephen Kearney, they were a pale imitation of the structured system the Kiwi mentor had brought from Melbourne. There will be no cookie-cutter solutions under the new man.
''You can only play to your strengths and weaknesses,'' Stuart said. ''We won't be copying any other teams. There's no good wanting to be someone else, you've got your own DNA. I want the players to buy in. That's the only thing that I want. We don't hesitate in saying it's going to be a real big job. But if we all buy in, the quicker we set the benchmark and the value we want to get to. If everyone buys in, change can occur rapidly.''
Perhaps the most intriguing challenge for the 45-year-old is getting the best out of the halfback. In Sandow he has a brilliant but inconsistent playmaker. A prized signing who spent time in the NSW Cup after failing to live up to his reported $550,000-a-year price tag.
At least in Stuart the ex-Rabbitoh will have a premiership-winning No. 7 to guide the way. More importantly, he will have a kindred spirit. It was put to Stuart that, particularly when attempting to pull off his trademark shoulder charges with varying success, Sandow suffered from ''angry little man syndrome''.
''Don't worry,'' Stuart smiled. ''I've been there myself.''
Twitter - @proshenks
Morning & Afternoon Newsletter
Delivered Mon–Fri.