Harrigan ruling on charge-down justifies Flanagan fury
REFEREES boss Bill Harrigan will confirm today that Cronulla should not have been penalised in extra time and is also expected to investigate whether video referee Steve Clark told the Sharks a disallowed try should have been awarded.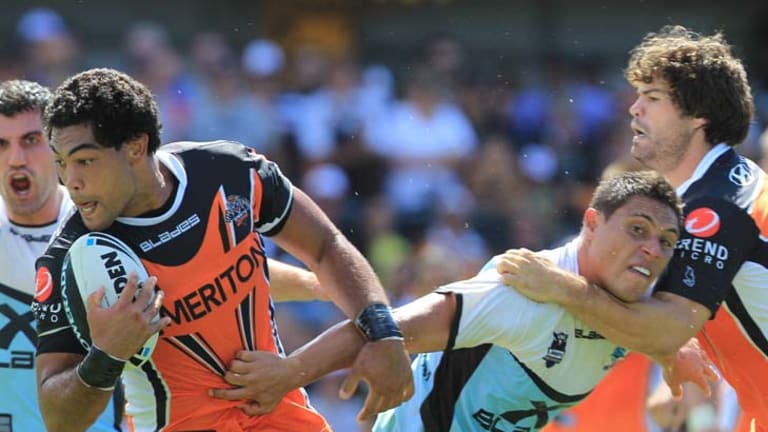 Controversy over the two decisions dominated post-match discussion at Leichhardt Oval yesterday after Wests Tigers five-eighth Benji Marshall kicked a 37 metre field goal to give his side 17-16 win in extra time.
Cronulla coach Shane Flanagan believed the rulings had cost his team two competition points and said Clark had told him centre Colin Best should not have had a 63rd minute try disallowed as it was not a double movement.
''That is a try every day of the week to me, and the video referee is two boxes up from me, and he said it was a try,'' said Flanagan, who called for referees to refer rulings on tries upstairs if there is any doubt. ''He should have gone to the video ref, and he [Clark] said it was a try. You have got a a video ref, so use him. If you are not going to use them, get rid of it and save some money. Give it to the junior league or something.''
Sharks captain Paul Gallen said referee Jared Maxwell had told him he had no doubt it was a double movement but Best believed he had scored. ''It would have been nice to have it but that is the way it goes,'' Best said. ''He [Maxwell] just ruled straight away.''
The Sharks led 14-12 at the time, and with the scores level at 16-all after 80 minutes the match went into extra time. With Todd Carney's kick-off rebounding off the uprights, Cronulla gained possession on the Tigers' line and the new Sharks playmaker attempted a field goal on the second tackle.
However, Tigers forwards Chris Heighington and Aaron Woods charged down the kick, and Maxwell penalised Cronulla for offside after Marshall was tackled with the ball on his own line.
Harrigan, who was not at the game and had not seen a replay when the Herald spoke to him, confirmed Flanagan's view that a player can not be offside after a charge down.
''All I can say is that according to the rules, once a player has charged down the ball he puts everybody back onside,'' Harrigan said. ''Other than that, I won't make any comment until we have done our debrief.''
However, he is expected to ask Clark about the context of his conversation with Flanagan.
Asked if had approached Clark or the video referee had come to see him, Flanagan said: ''He was two boxes up, I could see them and they said it was a try.''
He said the refereeing decisions had cost his team two competition points, telling the post-match media conference: ''In the end it did cost us the game. Referees are under pressure but so is he [Gallen] and so am I.''
Tigers coach Tim Sheens didn't want to offer a view on either decision but he pointed out that a number of controversial calls had gone against his team.
''We are all going to be upset with the officials at some stage but I think we had plenty of chances on both side,'' Sheens said. ''I feel for Cronulla in that respect but we were pinged twice for offside and none for them, so I am a bit disappointed in those sort of things.''
Teammates praised Heighington and Woods for making the charge-down on Carney's attempted field goal. ''It was great work by Chris to get out there and just get a hand to it and push it wide,'' Gareth Ellis said. ''It was a great effort, particularly at that time of the game.''
Prop Keith Galloway said: ''I feel a bit for Cronulla. We probably got a bit lucky with what happened after that, but that's football and we will take the win.''
WESTS TIGERS 17 (B Ryan 2 B Marshall tries B Marshall 2 goals B Marshall field goal) bt CRONULLA 16 (C Best T Carney I De Gois tries T Carney 2 goals) in golden-point extra time at Leichhardt Oval. Referee: Jared Maxwell, Chris James. Crowd: 19,762
Morning & Afternoon Newsletter
Delivered Mon–Fri.