Jason Taylor's first act as an NRL coach was to launch the Hayne Plane.
Now, a decade on, the Wests Tigers mentor needs to at least temporarily stall the trajectory of Jarryd Hayne if his team is a to be chance to make another unlikely run to the play-offs.
Taylor and Hayne made NRL debuts, of sorts, on the same day in May 2006. Taylor had just been handed the reins of a Parramatta team still reeling from the sacking of long-time coach Brian Smith and the season, at least from a semi-final perspective, appeared over.
Realising a drastic shake-up was needed to salvage the year, Taylor selected Hayne, then just a teenager, to make his debut against Penrith in his first game as a head coach. "I wanted to change some things up and that was one of the first things I did, I put him on the wing," Taylor said.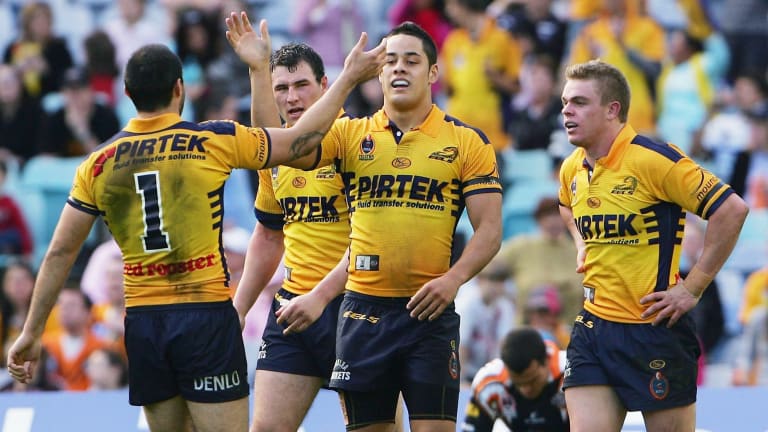 Hayne's potential wasn't lost on Smith, but the former coach didn't want to throw Hayne in before his time. Taylor, who had coached Hayne the previous year in the lower grades, had no such qualms. He had watched Hayne make the adjustment from Jersey Flegg to Premier League, including scoring two tries in the grand final, and decided if he was good enough he was old enough.
"Everyone knew [his talent], it wasn't just me," Taylor said of the then-18-year-old. "Smithy knew what a talent he was as well, he was just trying to do the right thing by him in regards to bringing him through in a controlled fashion. The team hadn't been winning. Anyone who thinks Brian Smith doesn't know how good he was is off the mark, he was just trying to manage it in the right way.
"Brian had a lot more experience than me. I just threw him in there."
History will show Taylor made the right call. While they lost that first NRL game together to the Panthers, the Hayne-Taylor association was a fruitful one. Hayne scored 17 tries in 16 games en route to Dally M rookie of the year honours, while Taylor's team defied all expectations by making it to the finals. The incredible run began in Hayne's second match, against the Roosters. "He came up with some really big plays that game," Taylor recalled. "He was instrumental to how the team played even though he was playing on the wing."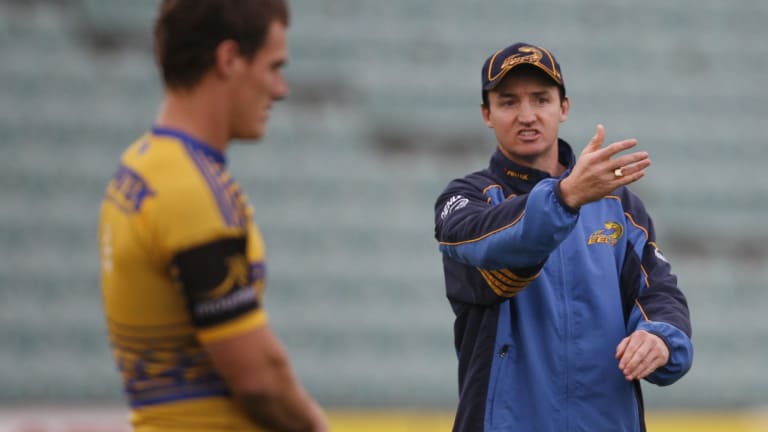 The rest, as they say, is history. Hayne has gone on to win two Dally M medals, represent two nations in different rugby codes and even crossed over to the NFL. But Taylor and Hayne will be on opposite sides for the cross-code star's homecoming at Campbelltown Stadium. The Gold Coast recruit will start for the Titans at pivot for the first time, setting up salivating clashes with the Tigers' star duo of Mitchell Moses and James Tedesco.
Asked what plan he had to stop Hayne, Taylor quipped: "Hopefully he's still a bit rusty. That's all I've got to say.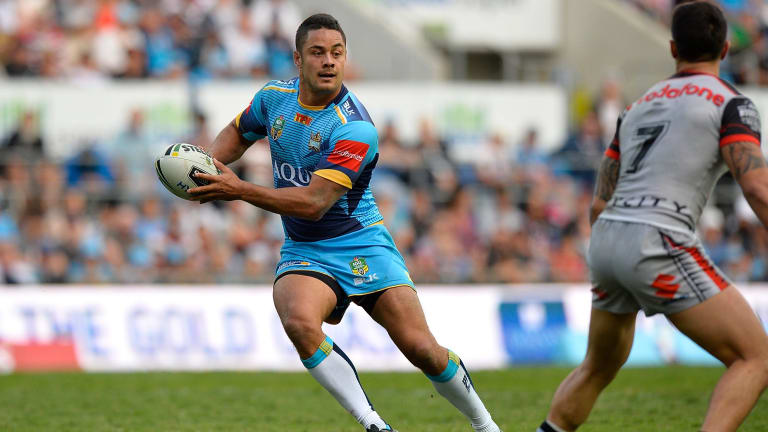 "The biggest thing – and it's great that Jarryd's playing – is that it's a big game for both teams."
"It's a big step for them to have a player that's only been there for a couple of weeks play in that position. But having said that, he looked pretty comfortable playing there at the back end of the game last week; we got a glimpse of what he's capable of. The game will be won by the best team, not the best individual."
Hayne was a standout for the Titans in his first NRL game since September 2014, despite the lengthy lay-off.
"He was really impressive," Taylor said. "He's only going to get better, so the chances of him getting better still this week are pretty strong. He will continue to get better as he gets to know the players in that team and their style of play.
"The only better time to play them would have been last week."
Adrian Proszenko is the Chief Rugby League Reporter for the Sydney Morning Herald.