This week has been a circus and, to be honest, I'm just happy it's over.
Thursday's decision by the Raiders board was the appropriate action; as a senior playing group we directly supported it.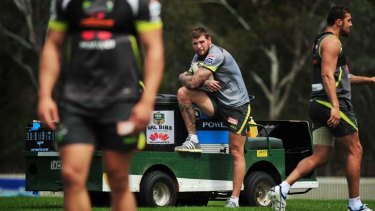 I woke up on Tuesday to a message on my phone about a meeting that morning for the senior players.
Immediately, I assumed something bad had happened so I jumped on the internet and there was the photo of Duges and Blake Ferguson on the front of The Canberra Times.
Of course I was disappointed. I was still filthy about the round-one loss to the Panthers and I knew the drama it would cause to our preparations for the Gold Coast Titans on Sunday.
When I turned up to training on Tuesday, I didn't expect to see Duges or Fergo, to be honest.
Obviously, we're glad Fergo did turn up because it showed us he wanted to be there.
Fergo has been stood down indefinitely from playing, but we also believe he's genuinely trying to turn it around.
This wasn't a one-off offence for Duges.
As a player in a team sport, you need to trust your teammates that if they are injured then they'll do everything they can to take care of those injuries.
It was only a week ago we were given a talk about media awareness and the dangers of posting offensive photos and messages on social media.
As a playing group, we haven't heard a word from Duges. I read in the paper there was an apology on Twitter, but a lot of the players don't even use Twitter.
It's inevitable that Duges will end up playing for another NRL club. It's frustrating to think that a Canberra junior could be playing for another team and possibly carving us up. He's a weapon when he wants to be.
There has been media speculation that this all occurred because of a fallout with the coach, David Furner.
Blaming the coach for your drop balls and missed tackles is the wrong path to go down and any player who is honest with himself would agree.
If you have a problem with a coach, you talk with senior players and something gets done on your behalf.
There's always consistent communication in clubs about those types of things.
But if you're dropping balls, not in position defensively and so on, don't blame the coach.
It's about showing character. The Sharkies had a worse week than us last week and still came out and beat the Titans.
I'm not concerned about the season ahead.
Duges could have been the Raiders and NSW fullback forever, but he's had a rough couple of years in terms of form and injury.
We've got a ready-made replacement at fullback in Reece Robinson.
Our attack with Reece at fullback last year was arguably the best attacking combination we had for the season.
Reece puts in every day at training on the field so we're more than happy to have him there.
Our whole team mentality in the pre-season has been about putting the squad first ahead of individuals.
You need your whole team firing and if you're looking for just one player to produce the goods, that's a losing formula.
David Shillington plays prop for the Raiders.
David Shillington plays prop for the Canberra Raiders.