CANBERRA Raiders skipper Terry Campese hopes to meet a 10-week deadline and be fit for the start of the NRL season, but says he is not putting extra pressure on himself to rush his third comeback from major injury in as many years.
Raiders coach David Furner has indicated the club will take a conservative approach with Campese, predicting the 28-year-old won't be available until at least round four of the 2013 season.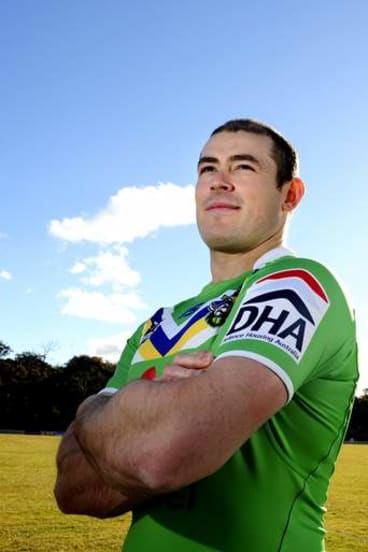 Campese, who has suffered three season-ending injuries since 2010 and has played just eight games in the past two seasons, is also cautious about declaring a return date.
But on the cusp of the new year, the representative five-eighth admitted he hadn't given up on overcoming his second knee-reconstruction and leading the Raiders out for the season-opener against the Penrith Panthers on March 10.
''If everything goes to plan from here on in, there's no setbacks at all, there's no reason why I can't [play the season-opener],'' Campese said. ''It's just something I don't want to put pressure on myself, saying 'I'll be definitely back', then I'll be disappointed if I don't play.
''It's just playing whenever it's 100 per cent. I don't want to give myself a round or a date to come back because it puts pressure on myself, I'll just take it as it comes. When I've ticked all the boxes and completed the training I have to, that's when I'll play.
''It's pretty much any time from the start [of the season].''
Campese has endured a horror stretch with injuries since rupturing his anterior cruciate ligament in the 2010 finals against the Wests Tigers. He tore his groin eight minutes into his comeback game in 2011, then his 2012 season ended with another knee injury in April.
Although Campese will retain the club's captaincy, the former NSW and Australian rep does not expect a free ride.
The Raiders charged into the NRL finals without him last year, Sam Williams and Josh McCrone finally jelling and forming an effective halves combination.
But Campese said he wanted to return to football as soon as his body was ready, even if that meant playing off the NRL bench or NSW Cup with Canberra's feeder team, Mounties.
''I'd just prefer to jump straight back in whenever I'm 100 per cent,'' Campese said. ''I'm not sure if I'll be playing a few reserve grade games or how it will work out, that's up to the coaching staff and what they see is best for the team. I'm happy to do whatever is best for the squad, no one player is bigger than the team.
''I'm not even sure what position is in mind, with Sammy and Joshy the way they finished off last year, they've got a good combination going. So I don't know if it's a position where I might be playing off the bench for the first few games.''
Before joining Canberra as an assistant coach, former Australian half-back Brett Kimmorley had publicly urged the Raiders to extend the contract of Williams and consider shifting Campese to the back row.
Campese has all but dismissed that switch, saying previous attempts to move had failed and he felt Canberra's emerging back row of Shaun Fensom, Josh Papalii, Joel Thompson and Joel Edwards was one of the best in the NRL.
''I don't see myself starting over any of those guys,'' Campese said. ''It's a position at the moment where we've got a lot of depth, our back row, I think we've got one of the best in the comp. I don't think I'll be playing there.
''We've tried it a couple of times, but I've always ended up at five-eighth. I think it's the best position that suits myself and the team.''
The Raiders are yet to begin contract talks with Williams, the Cooma junior off contract at the end of 2013.
Williams, 21, said the start of the season could determine his future in Canberra. ''I need to make sure I'm playing the best footy I can and showing the club I can handle that spot permanently.''
Morning & Afternoon Newsletter
Delivered Mon–Fri.