The sports executive charged with securing Origin matches for Melbourne may become the ARL Commission's new chief.
Brendan McClements, the chief executive of Victoria Major Events Company, is expected to be a candidate for the commission's top job when negotiations over the allocation of Origin matches to Sydney, Brisbane and Melbourne are done.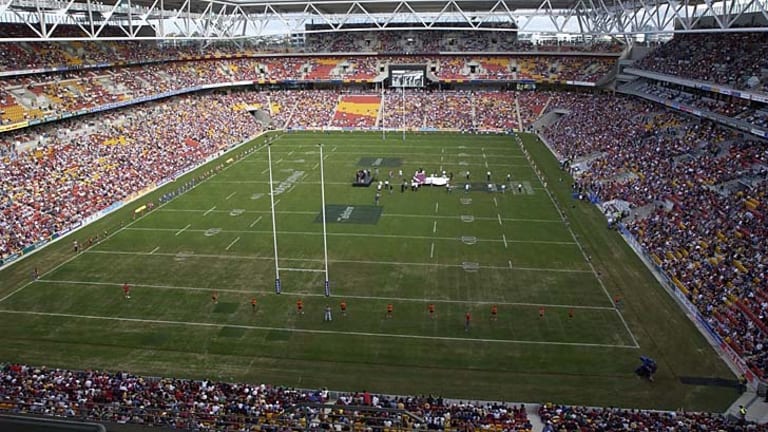 McClements has recently been seen in the company of commission board members, seated beside Wayne Pearce at the Dally M Medal presentation at Sydney Town Hall and in deep discussion with chairman John Grant at AAMI Park in Melbourne on Saturday night when the Storm met the Rabbitohs.
McClements, 46, has told the Herald his meetings with commissioners are related to VMEC's offer to stage an Origin game a year in Melbourne for the next six years.
However, it is understood McClements considers it inappropriate to put himself forward as a candidate for the commission post recently spurned by another Melburnian, Gillon McLachlan, while still in negotiations over the VMEC proposal.
The commission is yet to decide where to stage next year's Origin matches, with Brisbane initially set to host two and Sydney one.
The possibility one Brisbane game could be switched to Melbourne's Etihad Stadium has drawn a brutal response from Queensland's government, which threatened to withdraw $8 million in funding for the development of rugby league in the state.
The commission will have firsthand evidence of McClements's negotiating skills as the Queensland government takes an entrenched position, refusing to join NSW and Victoria in paying for the right to stage big events in their capitals.
The ''why should we pay for something we have always got for free?'' reaction of the Newman government has drawn a wry response from sporting officials, considering the economic rationalism of modern governments where consumers now pay for water (bottled) and air (via a carbon tax).
Furthermore, there has never been a commitment to the Queensland government to stage Origin matches in Brisbane, nor funds allocated to the old ARL for it.
The commission received a letter last week from Queensland's Sports Minister, Steve Dickson, threatening to review all support for league in the state, including grassroots development, unless Suncorp Stadium was guaranteed Origin matches.
It was not a smart tactic to use against the commission's experienced businessmen and McClements can be expected to exploit this.
He has a four- year offer on the table where Melbourne will host one Origin match a year for $2.5 million a match, plus a $500,000 grant to fund the employment of rugby league development officers in the state.
McClements has been successful attracting major events to Melbourne, including Tiger Woods to the 2009 Australian Masters at Kingston Heath and top shows, such as Jersey Boys.
He works with some well-connected board members at VMEC, including chairman Sir Rod Eddington, Collingwood president and media star Eddie McGuire, former International Cricket Council chief executive Malcolm Speed, Storm founder John Ribot and Fairfax boss Greg Hywood. Fairfax is the publisher of The Sydney Morning Herald.
Before joining VMEC, McClements worked in cricket for 10 years, being mentored by Speed. He was a corporate affairs strategist for five years at Cricket Australia under Speed and then moved to London when Speed became chief executive of the ICC.
McClements was part of the leadership team that delivered cricket's World Cup and he negotiated some of the media and sponsorship deals with Indian companies.
''The Indians were hard but I had even harder trouble dealing with Robert Mugabe's people,'' he said in reference to the ICC's objections to the recalcitrant policies of the Zimbabwean leader.
Before joining Speed at Cricket Australia, McClements worked in corporate affairs. One Melbourne-based sports official described him as ''resolute, considered, strategic, well trained and ready to move into a major sporting role.''
Built like a front-row forward, with an Oil Can Harry haircut, he is a dark horse for the ARL Commission job. One colleague said sarcastically, ''If you leaguies think he lacks culture, his sister, Catherine McClements, is one of Australia's leading actors.'' A Google search reveals Catherine played the role of Martha in the 2007 Sydney production of Who's Afraid of Virginia Woolf? The big question is whether her brother would be afraid of Nick Politis and Phil Gould.

Roy Masters is a Sports Columnist for The Sydney Morning Herald.
Morning & Afternoon Newsletter
Delivered Mon–Fri.