When Matt King arrived at Redfern after his three-year stint in the English Super League, he was determined to add a healthy dose of Adrian Morley-type starch to South Sydney's young team.
King played alongside Morley at Warrington and took note of the approach and attitude that allowed the rugged prop to wreak havoc on the NRL as a member of the Sydney Roosters from 2001-06. The dreadlocked three-quarter made his name with Melbourne, played three years with Warrington before returning to the NRL with South Sydney this year.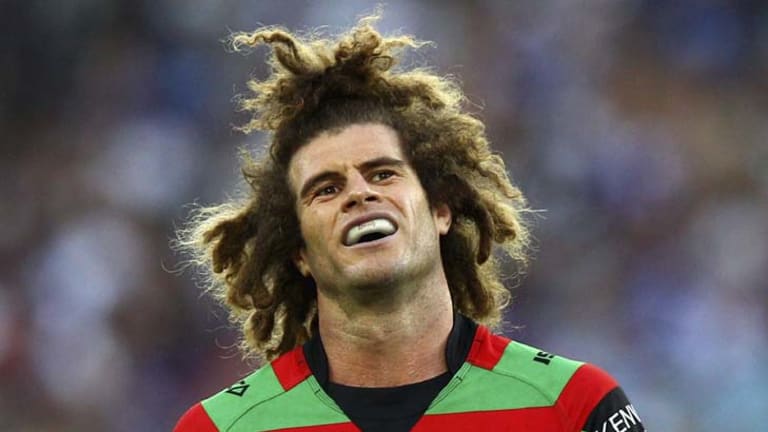 "I'd like to think I've helped some of the young kids at Souths," 31-year-old King said. "I'm working pretty hard to be a good influence around the place. I'm trying to lead by my actions and not so much by what I say. I learned a lot in that regard from Adrian Morley. Moz rarely said much about footy, but as soon as he put his boots on to play, or when he trained, he led by example … and that's what I've tried to do here."
King and his Bunnies teammates play arch rivals St George Illawarra at Kogarah this afternoon and, while the Dragons are without Trent Merrin and Ben Creagh on NSW duty, Souths have lost strike weapons Greg Inglis and Dave Taylor to Queensland. King, who will go up against another former Blues representative in Matt Cooper today, said the loss of the in-form Inglis meant each Souths player needed to lift their intensity. "It'd affect any team to lose a great player like Greg," he said. "We all have to stand up and play that little bit better; although I don't think anyone can come in and play fullback the way Greg Inglis does. It's impossible to replace him, but if we play as a team, we won't miss him as much."
During the opening 10 rounds, Souths have shown glimpses of the team they could be. "From a personal point of view, things are going well," King said. "Overall, though, things aren't perfect but we're working hard to improve. It's evident our defence isn't up to scratch. We let in 28 points against the Sharks in our last game [they won 34-28]. Everyone is talking about us not playing for the full 80 minutes, and I suppose there is truth in that. We let the Cowboys into that game a couple of weeks ago [after Souths took an early 20-0 lead] but, once we get our defence sorted, our whole game will improve." King described five-eighth John Sutton and hooker Issac Luke as their two standouts. "I don't think enough credit has been given to Sutton this year.''
Morning & Afternoon Newsletter
Delivered Mon–Fri.