Canberra Raiders hooker Kurt Baptiste is bracing for a wild reception in Papua New Guinea when he joins the Kumuls for their rugby league World Cup campaign.
Baptiste and Raiders teammate Kato Ottio were picked in the PNG team on Wednesday and will join the squad for its group-stage matches against Wales and Ireland in Port Moresby.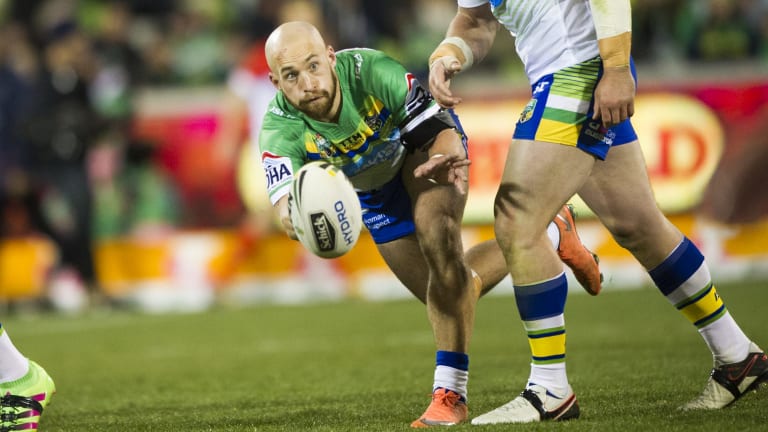 The 26-year-old, whose father was born in PNG, is ready to be part of the Kumuls' wild ride in a country where rugby league is the national sport.
Port Moresby erupted in celebration when the PNG Hunters won the Queensland Cup two weeks ago. Grand final hero Ase Boasa called for PNG to have a national holiday after the win.
But if the Queensland Cup party was big, Baptiste says it will be nothing compared to out of control celebrations if there's World Cup success.
"The boys went well in the [Queensland Cup] so they've got the experience in those big games as well," Baptiste said.
"I saw a couple of highlights and the crowd goes nuts. It's going to be pretty hectic when we get over there and get into those games we play.
"They'll be going mad, it's going to be an awesome atmosphere. I can't wait."
Baptiste missed a large chunk of the Raiders' season after rupturing his Achilles tendon at pre-season training.
He made his comeback in round 14 and played the last 11 games of the season, but says he's got plenty of fuel left in the tank after sharing the hooker duties with Josh Hodgson.
"I'm pretty excited about it. It's going to be my first World Cup and knowing how mad PNG is about their footy, it's all pretty exciting," Baptiste said.
"When I played for the Kumuls against Fiji last year, that's probably when I first started thinking about being a chance to make the side.
"With the injury, it put me back a little bit. When I initially did it I wasn't sure how long I was out or when I would get back.
"Towards the end of the NRL season I felt pretty fresh because it felt like I hadn't played too much."
Baptiste will join Cronulla Sharks rake James Segeyaro in the side while Brisbane's David Mead will be the Kumuls' captain and Boas will be his depuy.
The World Cup will also give Ottio a chance to shine after he recovered from a knee injury this year. The powerfully-built winger is rated a red-hot NRL prospect in Canberra.
"Kato is a big boy who runs hard. He's got all the skills, so I know he's going to go well," Baptiste said.
"We're going to have a fair side and we'll go all right. Hopefully we go well in the pool and we'll see what happens from there."
PAPUA NEW GUINEA SQUAD
David Mead (Brisbane Broncos), Ase Boas (SP PNG Hunters), Enock Maki (SP PNG Hunters), Gary Lo, James Segeyaro (Cronulla Sharks), Justin Olam, (Melbourne Storm), Kato Ottio (Canberra Raiders), Kurt Baptiste (Canberra Raiders), Lacklan Lam (Sydney Roosters), Luke Page (Burleigh Bears), Moses Meninga (SP PNG Hunters), Nene MacDonald (St George Illawarra Dragons), Nixon Put (SP PNG Hunters), Paul Aiton (Catalans Dragons), Rhys Martin (Canterbury Bulldogs), Rod Griffin (Canterbury Bulldogs), Stanton Albert (SP PNG Hunters), Stargroth Amean (SP PNG Hunters), Thompson Teteh (Redcliffe Dolphins), Wartovo Puara Jnr (SP PNG Hunters), Wellington Albert (SP PNG Hunters), Watson Boas (SP PNG Hunters), Willie Minoga (SP PNG Hunters).
Chris Dutton is the sports editor at The Canberra Times.