Where to start. That's a brilliant end to a high-quality game of football to start the double-header. A try to David Williams in the final minute gives Manly the 24-22 win and it really could have gone either way. Corey Parker was immense for the Broncos but will feel like he lost the game with the boot - he missed his first four shots before handing over to Corey Norman. Talking points galore...
Cometh the hour, cometh the Wolfman David Williams makes his comeback from a hamstring injury and scores the winning try. He had a big game on the Manly wing and is right in NSW contention. But let's face it, who isn't in NSW contention?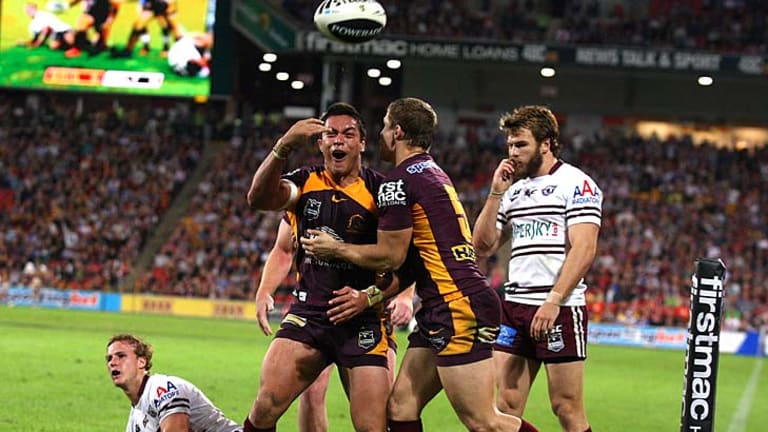 Watmough and Stewart Both of Manly's key forwards are in a spot of bother for different reasons. Watmough went off late in the game with a painful shoulder injury and Stewart was penalised for a high shot on Norman, although it wasn't put on report.
Razor sharp Matt Gillett had a few defensive woes, particularly one that helped Matai get clear for the winning try, but he scored two himself and did enough to surely earn a spot on the Queensland bench. Parker and Ben Hannant were big-time for Brisbane, which means if Dave Taylor is a cert, there's the Maroon bench.
FULLTIME Manly 24 Brisbane 22.
80th min What a try for Manly! They have come from the clouds and it was Matai's break that set it all up. Beat Gillett on the left - that's a bit of a worry for Meninga if he picks the kid - and then it went over to the right and Williams scores a sensational matchwinner. That's the sixth lead change and this time it's permanent. Lyon misses but who cares.
79th min Last chance for Manly! Williams scores! They're going to win it! TRY to the Sea Eagles!
78th min No head clash. Glenn hammered Watmough on the first occasion and his arm went limp right away. The Te'o went over the top and bashed Foran. Watmough off the field now and that's a sad end for him and potentially more bad news for the Blues. He's been terrific tonight. Broncos 22 Manly 20.
77th min And here's Petero now as the Broncos cling madly to that lead. Manly right down their own end and will need to go 50m to score. They are finding some room though. Watmough and Foran have clashed heads and this looks very bad. Here comes the stretcher. Looks like a shoulder for Watmough.... hold the fort. Broncos lead 22-20.
74th min Civoniceva has only played 15 minutes for the Broncos tonight. Not a great warm-up for Origin and I'm still thinking he gets a run. At least he's fresh. Not sure if there is any injury so will chase that up. It could be the case that McGuire and Hannant have just been too good. But McGuire undoes the good work and Manly get a golden chance to steal this. Brisbane still lead 22-20.
67th min Some key performers so far: Hannant, Parker, Gillett and McGuire have been absolute animals for Brisbane in the forwards. Their individual run metres far eclipse anything from Manly, although the visitors right in this one up to their eyeballs. Nice game from David Williams as well, something to keep in mind for the Blues. Watmough has been the pick for Manly though. He can get fitted for his NSW jumper now. It's 22-20 to the Broncos.
62nd min Gillett! Gets it down! That's a TRY for the Broncos and they are back for the third or fourth time. Origin auditions do not get any better than this. Parker has been sacked as kicker and Norman bashes it over from in front. Brisbane back in front 22-20. More stings in the tail yet, I'm sure.
60th min That ball from Gillett was insane. Just flung it out the back with a no-look flick to his winger. He's got some rare skills and has surely done enough to play off the Queensland bench tonight. No love from the scoreboard but a game of real class on show tonight. Manly lead 20-16.
57th min A big play from Te'o forces the turnover but Manly do very well there on their line. They needed some serious defensive firepower to stop McGuire, who has been a real handful when he's been on the park. They hold onto their 20-16 lead.
55th min The boot of Lyon finds the back of net again. He kicks his fourth from as many attempts and the lead is 20-16 to the Sea Eagles.
53rd min Wonderful TRY to Manly and David Williams powers over. Watmough has been a powerhouse so far and tore Brisbane apart on the left before a brilliant inside ball from Lyon sent Williams on the way on the other side. Brilliant stuff and they are back in front. It's Manly 18 Brisbane 16.
51st min How about that tackle from Andrew McCullough. Saved a certain try as Watmough slashed through a hole in the middle. The Broncos hooker came out nowhere to grab the ankles and bring him down just centimetrers short. Could be a key moment. Manly pressing but trail 16-14.
49th min Parker has been strong again tonight (despite the whole thing about not being able to kick) and he drives over under the posts. But he's held up and Manly survive. Reed goes close off the cross-kick there but fumbles at the death. Brisbane lead 16-14 as the Sea Eagles get a penalty midfield.
47th min Corey Norman and friends just assault Cherry-Evans and drag him about five metres and into touch. In the space of a few minutes, you've seen how to get picked in an Origin team and how to not get picked in an Origin team.
44th min TRY to Matt Gillett! You can't time them better than that. Check that out, Des Morris. Another Norman kick off the left and he leaps and takes it almost without opposition. Matai was off with the fairies there. Didn't even get close in one of the worst attempts to grab a bomb you will ever see. And Parker misses again! He's 0-4! Another easy one! He's been working with Daryl Halligan at Red Hill. I think I sniff a saving for the Broncos CEO. It's Brisbane 16 Manly 14.
41st min A thundering charge from Josh McGuire to start things off in the second half, with Brisbane trailing by two points despite scoring an extra try. Last chance saloon for a few Origin candidates in the next 40 minutes.
HALFTIME Manly lead it at the break to the tune of 14-12.
38th min Gillett caught out of position on that occasion to let Matai pin his ears back behind his dreadlocks. Lyon has a tough conversion but... he makes it three from three with a sumptuous effort to curl it in from the sideline. Gets Manly back in front to lead 14-12 just before halftime.
35th min Manly really getting a spanking but they manage to defend a set on their line after it bended to give away two quick tries. Now they get a penalty to "relieve the pressure", as is the popular term. They'd love to grab a reply before the break. And they do. TRY to the Sea Eagles for Steve Matai. It's 12-12.
32nd min Glenn Stewart goes high on Corey Norman and the Broncos get a penalty. A few in the press box think he's in Origin doubt after that but he wasn't put on report. I don't think it was too bad to be honest. Be interesting to see what happens from here. Brisbane 12 Manly 8.
31st min Parker can't buy one tonight. Misses from the sideline and that score remains 12-8.
30th min Another TRY to the Broncos and they are crushing them at the moment. It's Alex Glenn with a great run down the left and he is turning into some sort of footballer. Goes over the top of Cherry-Evans, which isn't brilliant for his Origin resume. Broncos lead 12-8.
26th min TRY Brisbane! Corey Norman stabs a kick across for Beale and he goes over for the try. Ordinary effort from Jorge Taufua. Only half bothered to contest the kick. Didn't really decide whether to go up for the catch or make the tackle. In the end, he did neither. Parker misses again though but we're locked at 8-all.
25th min George Rose runs off the hip of Watmough but coughs it up just as it looked like he was through the line. Had 50m to go to the line. Doubt anyone would have caught him.
22nd min Parker misses a simple chance. Could be costly - I love that one. Of course it could be costly! Also, it may have no impact at all on the outcome. Brisbane get a penalty after the re-start and continue their march back into the game. It's 8-4 to Manly.
20th min TRY to the Broncos. Jack Reed continues to provide a beacon of red-headed hope to bricklayers with big dreams across two nations. Scoots over on the left and Parker lines up the kick. It's Manly 8 Broncos 4.
18th min That bomb from Cherry-Evans was ridiculous and the Broncos wanted nothing to do with it. Let it bounced and hoped for the best. Doubt the coaching staff had that play written on the whiteboard. They've found some tempo though Brisbane but Manly winning the ruck battle and getting quick ball after the tackle. The lead remains 8-0 to the Sea Eagles.
14th min Manly decimating the defence on Brisbane's left side. Fast ball is good ball and they skip clear again, although this raid is foiled before the tryline. Some bad signs for the Broncos early. That kick's a better one though and they can exert a little pressure if they can stop the Manly go-forward. Much to the delight of my tragic dad, Manly lead 8-0.
11th min A break for Brisbane perhaps. Kite loses the ball in the tackle and Brisbane finally get a chance to attack. Kite tried to blame that one on Civoniceva. No dice. Brisbane find a man loose on the wing and Ben Hunt tries the grubber. Instead, it almost knocked out the wall of the stadium. What what he thinking there? I'm not sure even he has any idea. Bizarre end to the set. Manly lead 8-0.
9th min As I EXCLUSIVELY REVEALED in my last post, it is in fact 8-0 thanks to that Lyon penalty. Manly looking the business in Brisbane's house.
8th min Alllllll Manly. Super run from Watmight right up the pipe and he draws the penalty right in front as Ben Hannant flops in more ways than one. Lyon can't resist this one. It's about to be 8-0 you'd reckon.
6th min Hell of a start from Manly. Lovely kick ahead from Matai and the chase was suffocating. Brisbane forced to do all of the hard work so far in this game. It's 6-0 to Manly and they start their set 30m out from their line. No Wallace tonight for Brisbane spells trouble in the kicking department if you ask me, although nobody has asked me.
3rd min Lovely little play from DCE to set that up. Drifted across, threw and sold some dummies, sent it wide through the hands and Williams found himself in space. Ended with a simple draw and pass against Hoffman and Lyon canters over to finish a 70m sweep. Easy conversion. Manly lead 6-0.
2nd min The other cool thing about having 18 Origin potentials playing on the one ground one after the other is the high probability of some sort of carnage. Could be injury, maybe a possible suspension. Who knows what goodies await? And what a start for Manly. That's a runaway TRY to Jamie Lyon. It's 4-0.
1st min Brisbane kick it off and the Sea Eagles, in their lovely, fresh white jumpers, cart it back to get this one cranking. No Hodges is a big blow for Brisbane but that's played right into the hands of Gillett. He will get a full game now to try and knock down the door to Origin.
7.03pm We've got a pair of teams on the park now so we're just minutes - possibly seconds - from a start. Stay tuned.
Preamble Good evening on a night where too much football might almost just be enough. I'll be here in the unnaturally cold press box at Suncorp Stadium to bring you questionable descriptions of what's happening the field, puncuated by regular score updates, a bit of banter with you lot, dim sims between matches and a warm thermos of coffee to keep my fingers from turning blue.
Two good games here tonight. Brisbane host Manly first-up and the bad news for the Broncos is that Justin Hodges is out with a foot injury, although it's precautionary rather than serious. So he's likely to be fine for Origin. Matt Gillett moves into the centres with Scott Anderson onto the bench. Manly sees Daniel Harrison start in the second row, with NSW Origin hopeful Jamie "Ferris" Buhrer on the bench.
Lots of Origin intrigue. A total of 18 potentials on show over two games. Gillett v Cherry-Evans could decide a bench spot for Queensland, although Corey Parker won't give that seat up without a hearty debate. Brett Stewart will want a monster of a game to get that Blues fullback jumper.

Sports reporter
Morning & Afternoon Newsletter
Delivered Mon–Fri.