Canberra Raiders halfback Mitch Cornish admits the pressure from fans to be the side's saviour once consumed him.
And while he's doing everything possible to steer clear of the hype before his NRL debut on Sunday, the emergence of Wests Tigers youngster Luke Brooks has given him belief he can make an immediate impact.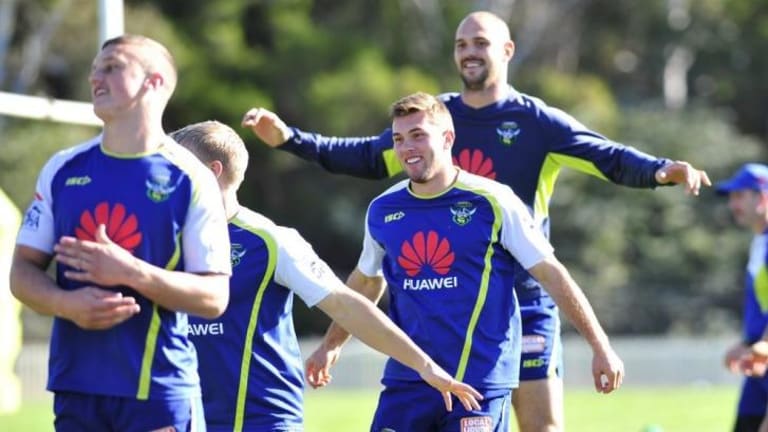 Good mates Cornish and Brooks played in the halves together for the NSW under-20s side last year, Cornish winning man of the match honours. Cornish also skippered last year's Junior Kangaroos when Brooks was unavailable through injury.
"It [Brooks' rise] does give me confidence, playing in the same games we were similar players, and similar skill-wise,'' Cornish said.
"I wasn't jealous but it definitely made me more determined.''
As a kid growing up in Goulburn, halfback Cornish would jump on the trampoline with younger brother Tyler and pretend he was legendary Raiders Ricky Stuart and Laurie Daley.
He described it as ''pretty awesome'' to now be coached by Stuart, who has helped Cornish ignore the fanfare which has him rated Canberra's ''next big thing''.
The 21-year-old is rated Goulburn's hottest prospect since Todd Carney, whom he credits for helping him a lot as a junior.
"I did worry about it [outside pressure] for a while, but having a few talks with Ricky definitely eased that,'' Cornish said.
"You try not to read it because you don't want to get caught up in it.
"It's all over the place, sometimes it's best to turn the phone off like I did yesterday [when my selection was announced] after telling the family.
"I only turned it back on this morning, I'll be sitting down for a while and replying to a lot of people.''
Brooks was blooded last year into a Tigers side which performed poorly last season, and has been a major factor in their 2014 resurgence.
The former Raiders under-20s captain was picked to make his debut in the final round against Cronulla last year, but second tier salary cap rules shattered his dream.
But it has helped him avoid any butterflies before he enters the big time off the bench against North Queensland at Canberra Stadium, the Raiders looking to avoid a fourth straight loss.
"That's one of the best things to come out of it, I was nervous all that week and had a few sleepless nights,'' Cornish said.
"This week's been fine, I'm more excited this time.''
The 86kg Cornish has long been rated one of the game's best young playmakers, but it's his defence which has delayed his NRL initiation.
Playing against grown men for NSW Cup affiliate Mounties has toughened him up, but he knows he'll be a target against the Cowboys.
"As a half you have to know how to defend,'' he said.
"I have no doubt [they'll run at me] and I expect that, obviously I'm not the biggest half and it's something I've worked a lot on with blokes like Josh Papalii running at me.''
Cornish has been spared matching wits with Johnathan Thurston, one of four North Queensland players unavailable this week due to State of Origin commitments.
It says plenty about the humble but quietly confident playmaker thst he would rather the Cowboys maestro be playing.
"He's the best player in the world and it takes a bit of pressure off knowing he's not playing,'' Cornish said.
"But it would be awesome to play against him at the same time.''
Cornish is likely to replace Josh McCrone at halfback. McCrone will shift to hooker where he's played most of his football this year.
"If he can do something like Luke Brooks, that would be awesome for us,'' McCrone said.
"Hopefully he's not reading too much into it. You can't expect to come in and fix it all yourself.''
SUNDAY
Round 11: Canberra Raiders v North Queensland at Canberra Stadium, 3pm.

Jon Tuxworth is a sports reporter at The Canberra Times.
Morning & Afternoon Newsletter
Delivered Mon–Fri.