PARRAMATTA chief executive Ken Edwards has slammed suggestions the club's star recruit Josh Papalii will turn his back on the Eels amid speculation that he signed with the club under duress. The young Raider put pen to paper with Parra on a three-year deal during the week but the Raiders have been trying to get him to change his mind. ''We are fully aware of suggestions that he signed under some kind of duress but that's totally wrong,'' Edwards said. ''Those kind of comments wouldn't be coming from the kid himself. There's no way that would happen and I can understand if the Raiders are upset because he is a very, very special talent. We did this by the book, to the letter of the law, and then some. I can tell you how far we went to make sure he was comfortable even after he agreed to our terms. Ricky [Stuart] told him to go back to the Raiders one more time to see if they could match our offer and keep him but they didn't get anywhere near it. To say he signed under duress is almost laughable. His mum was there when he did the deal and, like him, she was delighted that he signed to come to us.'' This column understands that Papalii and his management actually approached the Eels to see if they were interested in signing the 20-year-old forward. ''What I want our fans to know is that Josh will be at Parramatta and we are delighted to have him join the club,'' Edwards said. ''It's an indication that the club is moving in the right direction that a player of his ability and obvious potential wanted to sign up with us.'' Several attempts were made to contact Raiders boss Don Furner but he did not respond.
Mum's the word
JARRYD HAYNE'S mother Jodie says the captaincy will be the making of her son, not just as a footballer but as a man as well. The three skippers anointed by Eels coach Ricky Stuart during the week all have amazing stories behind them. Tim Mannah's brother Jon died last month, Reni Maitua was banned from the game and Hayne was raised in a housing commission home and avoided a bullet in Kings Cross before dominating the code as a 22-year-old. ''I never thought of Jarryd as a captain, never in my life, but it is something I know he will embrace,'' Jodie said. ''It is something that will change him as a player and a person. I've seen him mature over the last three years away from the field … just the way he is with me and the way he is with his family and it makes me so proud. I get emotional talking about him because I am so proud … the happiest mum in Australia. I think that Ricky Stuart knows him and understands him - he has spent a lot of time with him in rep teams and I remember when he refused to put him in the Australian side or even play him in one game because Jarryd didn't put in at training. He taught him lessons about hard work and I hope he learns more about being a good person from Ricky.'' Hayne turned 25 last week and Jodie hadn't had a moment to see him. ''He asked me to come out with some of his mates … but what am I going to do that for?'' she said. ''I just told him to get his diary out and pencil Mum in for a short visit. I'm sure he will.''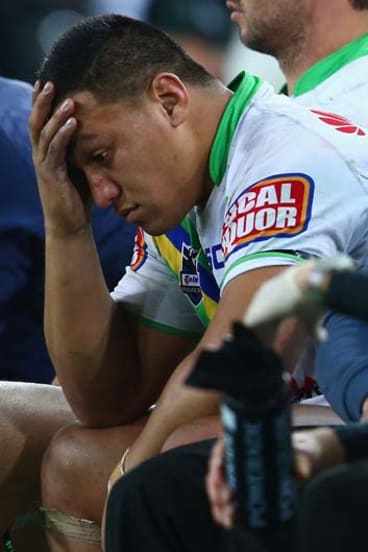 Monkey business
HOW bizarre is this? Swimmer Kenrick Monk was showing fellow revellers at a bar during a holiday a few months ago at Hamilton Island a photo of himself and a mate using hair dryers to replicate his infamous photo from a trip to an American gun shop. National team coach Leigh Nugent is seen in the background of the picture laughing at the stunt. Monk and Nick D'Arcy copped plenty of criticism last year and were banned from using social media at the London Olympics after D'Arcy posted the guns picture on his Facebook account.
Nose dive
SWIMMING in Australia started to head downhill once Alan Thompson was moved on as head coach. He had the respect of all he worked with and ruled with a mix of tough love and compassion. Kevin Neil, the man who oversaw his demise, and our failed Olympic campaign, has not been in the firing line at all, which is beyond bizarre. Neil did not want to comment about any of the swimming dramas when contacted by Fairfax Media on Saturday. Also, talk in the swimming world is that James Magnussen was keen to front the media conference. Not as happy was Matt Targett, who didn't like the idea.
Size does count
IT'S hard not to marvel at the size of South Sydney's Burgess brothers. The newest addition, Tom - twin brother of George - looks to be the biggest. I had the misfortune of standing behind him at a Cleo magazine swimsuit parade, and it's fair to say I missed the show. Tom weighs 120kg, though he's lost about 10kg since he arrived a couple of months ago. He is no longer sleeping in his brother Sam's spare room; he has a place he shares with George within walking distance of Redfern Oval. And it's lucky he lives close to training. His mum Julie borrowed his car recently and has been clocking up the miles, driving up to Coffs Harbour to watch the Bunnies play in their trial against Newcastle last week.
The next Clarke?
THE coach who shaped the careers of Michael Clarke and Phillip Hughes has unveiled his next star - Campbelltown local Damien Mortimer. ''He's got what it takes,'' said Neil D'Costa. Mortimer is 18,and has been coached by D'Costa since he was 11. At the recent Australian Under-19 Championships he was the star for NSW - scoring a ton and an 80 - and he's part of the Australian under-19 side. ''It's funny being coached by Neil and growing up as he coached Michael Clarke because he has been my hero … to be in his company has been a real highlight and that's just a bonus of being coached by Neil as I've grown up.'' Mortimer has no relation to the famous rugby league family but he went to a strong league school: St Gregory's at Campbelltown. ''I played soccer and rugby league … I'm a big Roosters fan, but all I've ever wanted to do is play Test cricket for my country and I hope one day that I get that chance.''
Roo-ing lack of play
KANGAROOS coach Tim Sheens is without a club gig for the first time in more than a decade and his predecessor at national level, Ricky Stuart, is amazed his old Canberra mentor has not picked up a start somewhere. ''I still think Tim Sheens is one of the best coaches in the game. I can't believe he has not got a job in the NRL. There is a real role in the game today for Tim Sheens. I think the game is moving increasingly to having coaching directors. Head coaches need them, going down the track.''
Pearce steps up
MITCHELL PEARCE finally appears to have embraced his position as a senior figure in rugby league and at the Roosters. You can't help but get the feeling this season will be his best. He handled the media on Wednesday with refreshing honesty and ease. The Roosters are full of hope that he will deliver on his obvious ability and have noticed a real change in approach and attitude. Pearce is the player the Roosters power players want to build the club around not just for the next four years but for the majority of the next decade.
Celebs unite for PNG
RUGBY League Against Violence, which is working to educate and eliminate domestic violence in PNG by engaging local communities in their favourite sport, have organised a Celebrity Swim to PNG fundraiser. Corporate teams can enter and will be paired with a celebrity, such as Andrew O'Keefe, Jason Stevens or Lauryn Eagle, to swim 1km each. The event will be held on March 16 at Bondi Icebergs.
Fatty back on air
IT WILL be great to hear best buddies Paul Vautin and John Gibbs team up on 2UE on weekend afternoons to talk sport. The pair have an amazing rapport and strong views. Sports fans will love the show but there will be stiff competition - 2GB have their own popular weekend show which has a huge following and Triple M are throwing plenty at league, not just on the weekends but also weeknights with The Rush Hour, a program that is up against 2UE's other show, which Gibbs hosts with Greg Alexander.
Duo dressed for success
Sharks winger Beau Ryan and Geelong's Jimmy Bartel have been snapped up by suit maker Shoreditch London for its latest campaign. The pair took time out from their busy schedules to model for photographs shot in a penthouse with the Melbourne skyline as a backdrop. It is the first time Shoreditch has used sportsmen instead of professional models in a marketing campaign. Both players said they had benefited from the experience. '' I am into the AFL and working with such an elite athlete gives me a chance to get an insight into how Jimmy trains and prepares,'' Ryan said. ''Hopefully we sign J. Bartel and he can teach some of our players how to kick!''
Lips tightly sealed
The Panthers have made no comment about the departure of Arana Taumata, but it appears he had run his race at the club. He has missed the odd session with their feeder club Windsor and didn't attend the trial match in Newcastle. The feeling the club had was that he had lost interest in playing. Penrith have signed former Warriors and Wakefield utility Isaac John to boost their halves.
Say my name
Commentators beware. Rabbitohs recruit Ben Te'o wants his name pronounced the correct way: it's ''Tay-oh''. When Nathan Peats heard about it, he told Ben he now wants to be know as ''Pi-arts''. That's what teammates are for.
Morning & Afternoon Newsletter
Delivered Mon–Fri.