As a pre-schooler, no one could convince Sami Sauiluma to take off his Canberra Raiders jersey.
Sauiluma played his entire junior career with Josh Dugan, and he's finally got his chance in the NRL at the expense of suspended star Blake Ferguson.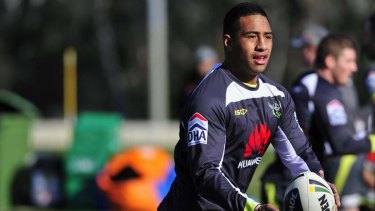 But this is the photo that shows the now 22-year-old winger has always dreamt of wearing the lime- green jersey with pride.
Sauiluma was raised in a three-bedroom home and a household that numbered up to 18 people in Canberra's Richardson, and his extended family will pack into Campbelltown Stadium to watch his NRL debut on Saturday night.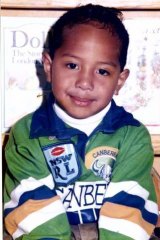 He will even be directly opposite his cousin, Wests Tigers flyer Tim Simona.
''It's all a bit surreal, realising your dream's about to come true and playing for the club you've gone for since you were young,'' Sauiluma. ''It's pretty daunting, actually. I used to wear my Raiders jersey to pre-school.''
Sauiluma (pronounced ''Sow-il-ooma'') is as proudly Samoan as he is Canberran.
He has talked with Raiders teammates Anthony Milford and Josh Papalii about his goal of representing Samoa with them at this year's World Cup.
First, he must earn a new deal with the Raiders. Off contract at the end of the year, the Raiders have made an offer - and in the past he has turned down rivals.
''I really wanted to debut here, being the club I always supported,'' Sauiluma said. ''Playing all the local [junior] grand finals at Canberra Stadium, hopefully I get a crack there, too. Hopefully I get to stay here next year.''
Sauiluma was playing all those local junior grand finals with Dugan, who will controversially represent NSW in State of Origin next Wednesday after being sacked earlier this year by the Raiders. Brumbies fullback Robbie Coleman was also on the same junior team.
They began at the Valley Dragons together, before switching as a group to the South Tuggeranong Knights. From Under-13s to Under-16s they were unbeatable, taking out every junior premiership.
''My junior coach Richard Keeley rang me [this week] and congratulated me,'' Sauiluma said.
''I probably wasn't the best player back then, there were a lot of better players than me.''
Keeley agreed, but said no one was more deserving of success from that team.
''From all kids I've coached over the years, I'm more pleased for him than anybody that he's cracked a first-grade spot,'' Keeley said.
''He's one of the most polite kids you'd ever meet. He probably didn't have the natural talent of some of the others; it's been pure perseverance.''
Sauiluma's parents relocated to Australia not long before he was born, firstly living in Sydney.
But before long the extended family was living in the same house together in Canberra - three generations, and up to 18 people.
His parents, father Sepania and mother Vaivasa, remain together and there is 20 years difference between Sauiluma and his youngest sister, Florence, 2.
''That's Sami's background, he was always surrounded by family, that's cultural,'' his aunty, Lieta Sauiluma-Duggan, said.
''In Samoa … we could have 20-25 people living in the same house. We basically brought Sami up like he was one of our children.
''He's been a fan of the Raiders for a long, long time; it's a dream come true that he's playing for the Raiders.''
The Raiders, struck by injury and suspension, are looking to bolster their outside backs by signing an established NRL player before the June 30 deadline. Sauiluma gets first chance.
''We're looking into some different areas, but I like the idea of giving someone like Sami the opportunity to prove himself,'' Raiders coach David Furner said.
Sauiluma has the backing of his direct partner in the Raiders back line, Jarrod Croker. The pair played together at Erindale College and in the Raiders Under-18s.
''He's got great footwork for a big fella, and he's very powerful and hard to stop,'' Croker said. ''Hopefully we can get him some ball and involved.''
Sauiluma hopes it is just his first step.
Chris Wilson is the sports editor at The Canberra Times.