The Canberra Raiders already have one of the most imposing forward packs in the competition, and they've got a "Coal Train" waiting for another NRL shot.
The return of Joe Tapine means the bulk of Canberra's forward pack is fit and it creates competition for spots with Dave Taylor crying out for another first grade game.
Stuart says Taylor wasn't left out of Friday night's clash with Brisbane on form. Instead Tapine's comeback allowed him to send the "Coal Train" back to reserve grade to get "big minutes" under his belt.
Taylor played around 60 minutes for Mounties in their 12-4 loss to the North Sydney Bears, South Sydney's feeder club, on Saturday afternoon.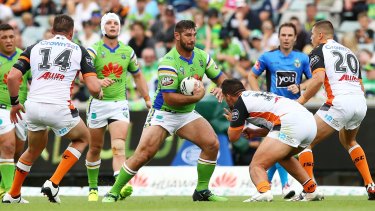 Mounties coach Steve Antonelli "pushed [Taylor] out as long as [he] could" against a physical Norths outfit with NRL experience.
Taylor's initial Mounties stint may only last a week, with Elliott Whitehead's possible suspension opening the door for a first grade return against the Parramatta Eels at Canberra Stadium on Saturday.
The club is yet to determine whether they will challenge Whitehead's grade two tripping charge. He will miss one game with an early guilty plea, but will be slapped with a two-game ban if he fights the charge and loses.
Stuart was pleased with Taylor's return to the NRL but expects it will be some time before the former Test and State of Origin representative finds his feet.
"He's certainly not going back because of performance. I thought he was really good last week in his first game of NRL for a number of years," Stuart said.
"He had a lot of pressure on him. He really is committed to the off-season this year and he's fitted in well. I was happy with his first performance last week, but now he'll go back and get big minutes.
"He hasn't gone back because of performance, just gone back because Joey Tapine was available and it gives me a good opportunity to get some minutes under his preparation."
The Raiders have struggled to find continuity in the opening stages of the season with injuries and suspensions forcing Stuart to change his side regularly.
But Tapine's return creates competition for spots, a luxury the Raiders haven't had in the opening month of the season.
"It's just healthy to have people competing for positions in a team," Stuart said.
"That's the way you want to train - you want to train with a competitive attitude. If you've got people vying for spots it creates that competitiveness."
Tapine returned around a fortnight ahead of schedule, just two weeks after having surgery on a broken finger he suffered against the North Queensland Cowboys in round one.
Stuart was pleased with the Kiwi international's "wonderful" return and says there are no complications with his hand.
NRL ROUND FIVE
Saturday: Canberra Raiders v Parramatta Eels at Canberra Stadium, 5.30pm. Tickets from Ticketek.
Caden Helmers is a sports reporter for The Canberra Times
David Polkinghorne covers the Canberra Raiders, local rugby league, Canberra Cavalry, racing and cycling, along with every other sport, for The Canberra Times.