It's time. Time for an NRL backflip. Time to change the rules so the Canberra Raiders can play preliminary finals at home.
In the wake of a weekend of disappointing crowds, chief executive Todd Greenberg needs to change his stance on where the Raiders host grand-final qualifiers.
Currently, they have a long bus ride to Sydney, but if this weekend's finals are anything to go by, then they should be playing them at Canberra Stadium.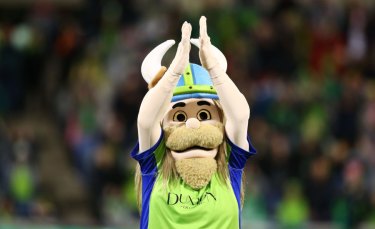 Especially with the advent of the Viking clap.
Better crowds, better atmosphere.
If Cronulla and Penrith can only draw 19,211 to Allianz Stadium for an all-Sydney affair on Friday night then what sort of crowd would the Green Machine draw in the Harbour City?
Small enough to be played in Canberra.
It's not like the NRL's going to get the same crowds as the AFL will this week, where a prelim between Richmond and Collingwood at the MCG will be a 100,000-plus sellout before tickets even go on sale.
Saturday's semi-final between South Sydney and St George Illawarra was meant to be a blockbuster with talk of 65,000 descending on ANZ Stadium.
While the actual figure of 48,188 isn't bad, it's well short of that.
The bottom line is, there's less than a handful of teams that would justify moving a Raiders home prelim to Sydney.
But they're the same teams it would be worthwhile shifting the Melbourne Storm or North Queensland Cowboys for as well.
Yet they get the privilege of hosting in their home cities.
Obviously, it's all contingent on the Raiders earning the right to host a prelim - something they haven't done since 1994.
They came close in 2016, when they lost to the Sharks by just two points in their home semi, but they've finished 10th the last two seasons.
Fairfax Media asked Greenberg if there were any plans to change the current rule before the 2018 season and he saw no reason to.
"I'm comfortable with where the policy sits. We've always considered a week-three final should be a very, very big game - the penultimate game of the grand final," he said at the time.
"The way the rules are structured those teams can get home finals in weeks one and weeks two, and that's the current policy."
At the very least, he needs to reconsider his stance.
The Raiders could find an ally in Penrith supremo Phil Gould, who called for the Panthers to be allowed to host their home semis against non-Sydney clubs at Panthers Stadium.
They had to trek into ANZ Stadium to play the New Zealand Warriors - in front of 17,168.
It would've been a bigger crowd in Penrith. A sellout.
The same as would be the case for most opponents the Raiders would come up against for a grand-final qualifier.
"That Warriors Panthers game should've been at Panthers Stadium. That was the wrong thing by the game," Gould said on his podcast last week.
"They owed the fans and people of Western Sydney that semi-final out at Panthers Stadium."
It's time Raiders fans were given the same courtesy. It's time an outdated rule was abolished for what's mean to be a National Rugby League.
David Polkinghorne covers the Canberra Raiders, local rugby league, Canberra Cavalry, racing and cycling, along with every other sport, for The Canberra Times.