First came the bake, then the bacon. The missive from Ricky Stuart that he didn't have time for blokes like Shannon Boyd from what he had heard, then the acceptance of the country kid warts-and-all – even if it includes his famous pig hunting pastime.
"He got a little bit lost in the system and then Ricky Stuart came along and I thought, 'Christ, how's he going to go with this?' Ricky got him aside and said, 'look Boydy, I've heard you're a bit lazy and are carrying a bit of weight and to be perfectly honest we don't have the time or the energy for blokes like you'," laughs Boyd's father Peter.
"Believe it or not Sticky now promotes [the pig hunting] with him. He asks, 'how's the pig hunting going? And make sure you do it and do it well because that's your release'."
But not so much this year. The "pigging", as Boyd refers to it, has taken a back seat in the last couple of weeks. The dogs and knives have been idle and the wild beasts that sometimes remarkably do more damage on the scales than the man chasing them have been given a reprieve.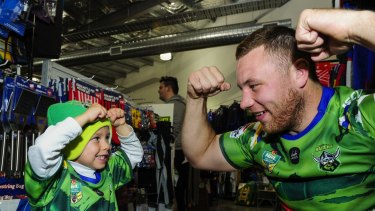 "I back it off now that we're in the finals," Boyd said. "I haven't done much the last couple of weeks. I try to get out there at least once a week and take the dogs for a run. It's good fun."
Boyd looks like the the type of robotic prop that has just rolled off a rugby league production line – 122 kilograms of bulk with the leg speed to match – so much so he has been jokingly referred to as "the lab experiment" on a radio broadcast during several Raiders matches this year.
Boyd's mother Ann-Maree won't remember fondly the experience of giving birth to a 5.2kg baby – "you don't want to know what I said ... 'he's a bit ugly, but I guess we'll love him'," Peter cackles – and the never-ending search for custom-made size 16 footwear these days.
It is why Boyd is forced to wear the unique Grasscats, the only skates capable of filling those gigantic feet. But having the biggest kid in school has also been a blessing for the Boyds.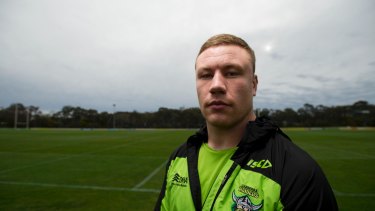 The farming couple from the central west town of Cowra are self-confessed workaholics who needed their son to play NRL to get off the land occasionally. They've been to Darwin, Cairns, New Zealand and everywhere in between since.
While Peter, although far more wiry than his son, still looks down on Boyd he is starting to get used to the idea of looking across the fence at him, too.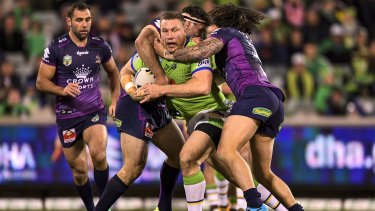 The 24-year-old has just combined with his brother to buy a plot of land next door to the family's 500-acre farm, a melting pot of irrigation systems, crops, lambs and a metalworks shop on site for good measure.
It is located between Cowra and Royce Simmons' hometown of Gooloogong and was Boyd's first employer after he left school in Year 10. And the first place he will return to when the Raiders have a day off.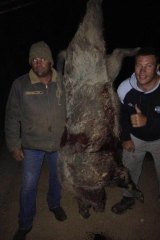 He'll come home and shear sheep, mark lambs or bail hay ... whatever.

Shannon Boyd's father Peter
"He'll come home and shear sheep, mark lambs or bail hay ... whatever," Peter said. "He generally comes home to do a day's work. He loves the land and knowing what's going on at home."
The farm doesn't keep Boyd in shape for footy, footy keeps him in shape for the farm.
"Work all day until about seven o'clock in the arvo and then go back to work the next day," Boyd said of his life before the Raiders. "I miss it, mate. You're always going to miss it when that's what you know and where you're from.
"I really enjoy going back there to do those types of things. Footy keeps you in condition a bit [for it]."
On the other neighbouring property is a dairy farm run by Ian Hindmarsh, the former Eels and Raiders forward who also used the land as a release during his days in the nation's capital.
Hindmarsh tutored Boyd briefly as a junior in town, desperate for the man-mountain to hunt a rugby league career as vigorously as he now pursues wild boars.
"He probably had an extraordinary amount of talent when he was younger and he was always going to go on and be successful ... if he wanted to," Hindmarsh said.
"The Alan Tongues of the world were determined they were going to be successful no matter how good he was, whereas Shannon was gifted with size and speed and he had such a good motor for a big bloke – he just had to say, 'this is what I want to do and do it'."
Stuart finally heard it. And he wouldn't have him any other way.
with Michael Chammas
​
Adam Pengilly is a Sports reporter for The Sydney Morning Herald.