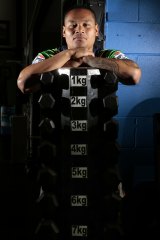 It was the beginning of the end of his Knights career but he is keen to repay the Raiders for their show of faith.
"I missed it by three seconds. I was trying to get those two weeks off and had to come back and do more training than the other boys, but I feel good," he said.
"[I'm in good nick] compared to what I was when I first came down yeah. I'm feeling fit and I've still got a bit to work on with my fitness, but when March comes I'll be ready.
"During the off-season I took care of myself, didn't have burgers as much and laid off the carbs, just ate a lot cleaner.
"I just stopped eating fast food to be honest, was more aware of what I put in I've got to burn.
"When I finished the season I was 107 [kilos] and I still want ot be around 105 by the time the season comes, but more muscle and leaner.
"I'm loving it here, the place is lovely and the boys are good, the change from Newcastle [is what] I needed and I'm really happy."
Ashley-Jones called Leilua "his favourite subject".
He said the Samoan international hadn't put a foot wrong and he would not apologise for not bending the rules with the near miss at testing.
"We probably still love each other but there was a moment there when he found out he was here for two more weeks [he wasn't pleased]," Ashley-Jones said.
"He handled it very professionally and just ripped in.
"At the end of the day if we are lenient we're not doing them [players] a favour.
"He seems happy, and happy players work harder for you. I don't want to delve into the past, we can only comment on what we've found and Joey has done nothing but put his hand up for everything we've thrown at him."
Ashley-Jones said the Raiders had been careful to ensure being trimmed down did not affect Leilua, whose game is based mainly on power running.
"One of his big strengths is his physical size and what he does with it, that's one thing we didn't want to muck around with," Ashley-Jones said.
"His engine is now a big focus."
Leilua played just six games for the Raiders last season after he was suspended twice for shoulder charges, and was also banned from playing Newcastle as one of the conditions of his release.
"These things happen for a reason and those one or two extra weeks we got with him have helped him survive the early pre-season," Ashley-Jones said.
"Every team works pretty hard but he's fitted in so well and he's going to have a great year."
Jon Tuxworth is a sports reporter at The Canberra Times.