He's been labelled a once-in-a-blue-moon player, but Canberra Raiders young gun Nick Cotric would happily cook pizzas at his family's restaurant every day if he had the chance.
The 18-year-old rookie's also been cooking up a storm on the training track and says he's ready to play NRL - an assessment Raiders coach Ricky Stuart agrees with after naming him on Tuesday on the left wing to face the North Queensland Cowboys in Townsville for round one on Saturday.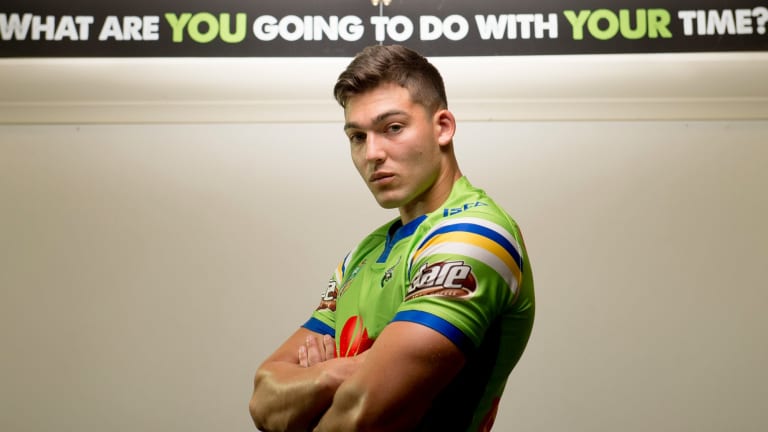 He'll have plenty of experience helping him out with England international Elliott Whitehead, who's quickly becoming Canberra's Mr Versatile, inside him at centre.
Cotric has shot through the Raiders ranks and he was named in the National Youth Competition under-20s team of the year last season when he was just 17.
A knee injury to captain Jarrod Croker, followed by the departure of winger Edrick Lee to the Cronulla Sharks, opened the door for Cotric to make his debut and he was confident he could do the job.
He was one of the few shining lights in the Raiders' trial against the Newcastle Knights at Seiffert Oval, where he relished the chance to play alongside Josh Papalii, Aidan Sezer and Blake Austin.
Cotric said that trio, along with veteran Sia Soliola, had been mentoring him since he'd joined the senior squad.
"I'd definitely take the opportunity with both hands. I think I'm ready, but it depends what Ricky wants," he said.
With the Raiders heading to Townsville early to adapt to the heat and humidity, Cotric has had to get some time off from his other job - helping out at the family restaurant in Isabella Plains in his spare time.
He started playing for the Valley Dragons - the same club as St George fullback Josh Dugan - and came through the Raiders' Harold Matthews and SG Ball cups, before moving into the NYC competition as a 17-year-old.
The former Erindale College student finished school last year and joined the Green Machine for his first pre-season, despite being eligible to play a couple more seasons in the under-20s.
"I'd work there every day if I could, but now it's pretty hard with training so I just go once or twice a week and just do what Dad says," Cotric said.
"I just bake the pizzas, make pizzas and just serve customers sometimes or just clean up out the back."
Raiders recruitment boss Peter Mulholland looked at Cotric when he was working in the same role for Newcastle a few years ago.
He said the centre, who can also play on the wing or at fullback, had ability, size, maturity, physical presence and good feet.
"Cotric's probably a once-in-a-blue-moon type player. He's done very, very well to be where he's at [but] he's still got a good way to go yet," Mulholland said.
"In my 30 years in the game he's probably one of the most level-headed kids I've met.
"He never forgets where he's come from, he's very respectful to people, he's appreciative of everything that's been done for him and I know for a fact he probably could've gone for more money to other clubs."
Cotric admitted he was a bit star struck when he first moved into the senior squad, but now he just sees everyone as his mates.
He's already started to gain the respect of his teammates, having impressed acting captain Josh Hodgson over the pre-season.
Hodgson didn't want to put too much pressure on the 18-year-old at the beginning of what he hoped was a bright future.
"He's a young kid who's got a lot of energy, he just loves rugby league. That certainly goes a long way," he said.
"I don't want to go too much into Nick because sometimes when you're getting a lot of stories written about you as a young kid it can feel like a lot of pressure, but he doesn't seem like that type of kid.
"He's a very down to earth and hard-working young man and hopefully he's got a bright future ahead of him. He's still got a long way to go, but he's put his best foot forward so far."
NRL ROUND ONE
Saturday: Canberra Raiders v North Queensland Cowboys at Townsville, 7pm. Live on Fox Sports 2.
David Polkinghorne covers the Canberra Raiders, local rugby league, Canberra Cavalry, racing and cycling, along with every other sport, for The Canberra Times.