To their credit, Sydney Roosters coach Brian Smith and captain Braith Anasta said controversial decisions by the match officials - the majority of which went against their side - didn't cost them the game.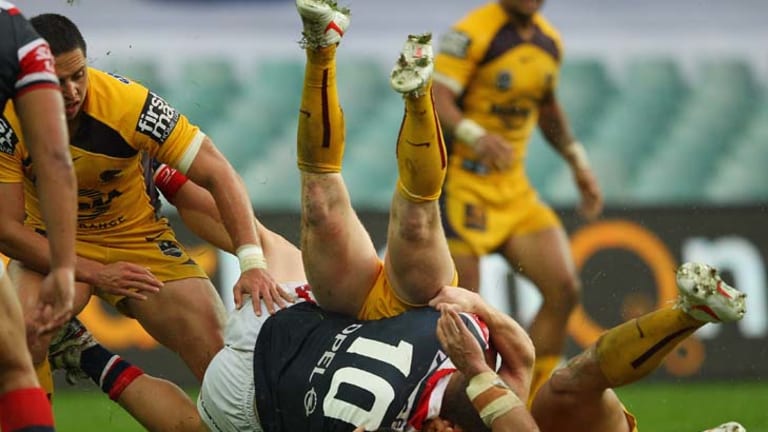 It would be stretching it to make that excuse when you have been beaten by 18 points, but, hey, this is rugby league. Plenty of reasons have been thrown up to justify even bigger margins over the years.
''It turned the game a bit, but we did that to ourselves way more often than the referees did it to us,'' Smith said of the try by second-rower Alex Glenn, which came in the 43rd minute and with the Broncos leading 16-12. Brisbane winger Lachlan Maranta stole the ball, after an eternity, from Roosters centre Joseph Leilua and raced away without the referees stopping play. Glenn scored on the next tackle.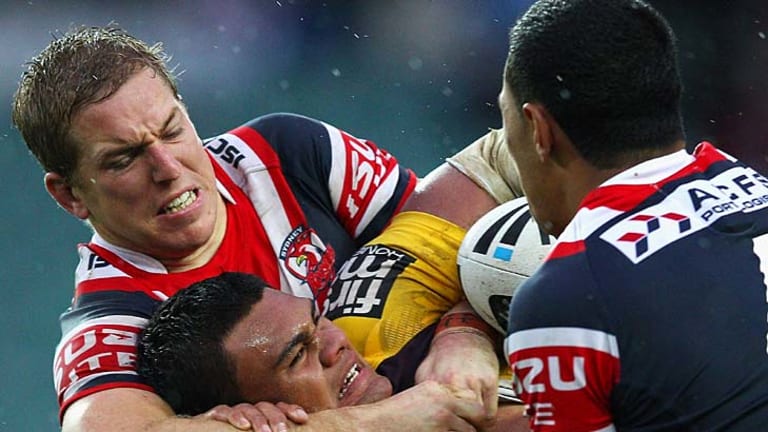 Anasta added: ''I wouldn't say it's cost us the game, because we cost ourselves the game. But it doesn't help and it's frustrating, and I don't know how to approach it any more.''
We're hearing you, Braith. No one knows how to approach some of the decisions that were made by the match officials yesterday, but referees bosses Bill Harrigan and Stuart Raper are going to have to try to find some way of working it out.
But if the match officials didn't cost the Roosters the game, and they had only two players - halfback Mitchell Pearce and centre Shaun Kenny-Dowall - out compared to nine for the Broncos, then what does it say about how the Roosters are going with 12 rounds left before the finals? Nothing good, when it comes to their chances of doing something this season. They have lost four straight games and six of their last seven to fall to 14th place.
Asked if he thought the season was slipping away, Smith replied: ''Yeah, it feels like that. We've probably got to win seven games from where we are now, maybe eight. There's plenty of time left if we're good enough.''
But the next five rounds for the Roosters go like this: Wests Tigers away, Manly at home, bye, Cronulla away and South Sydney at home. On present form they would start as outsiders in each of those four games.
When the Roosters won four of their first six games this season, it didn't appear a true reflection of where they were at. Things looked more realistic when they lost the next two, leaving them with a win-loss record of 4-4, but now they are 5-8.
Brisbane put the heat on the Roosters early, and scored first to make it 6-0. The Roosters fought back to level things up, and then the Broncos made it 10-6. But the Roosters looked like going to the half-time break with the lead, 12-10, until Brisbane halfback Peter Wallace was awarded a controversial try when it appeared he may have been guilty of a double movement.
In the second half, the Broncos got away to a 22-12 lead that the Roosters cut to six, and a 28-16 lead that the Roosters also cut to six, so it is clear the Roosters kept trying. But two tries in the last five minutes to Brisbane finally blew the score out.
A Roosters fan could be heard making abusive comments directed at the Roosters' coaching box late in the game. Asked whether he had heard it, Smith said: ''I heard the abuse, but that goes with the territory. I don't think there was anything offensive, it's just what coaches commonly get when their teams aren't winning.''
BRISBANE 40 (G Beale A Glenn L Maranta C Norman J Reed B Te'o P Wallace tries P Wallace 6 goals) bt SYDNEY ROOSTERS 22 (T Arona J Friend J Leilua T Moga tries B Anasta 3 goals) at Allianz Stadium. Referees: Matt Cecchin, Adam Devcich. Crowd: 9738.
Morning & Afternoon Newsletter
Delivered Mon–Fri.