Rugby league superstar Paul Gallen's actions surrounding his potential boxing career have been much louder than his words, with revelations the Cronulla captain flew to Perth and trained with four-time world champion Danny Green before he played his role in Australia's World Cup triumph.
Gallen, who will box on the Fight for Life charity boxing promotion in Auckland on Saturday night, impressed Green with his willingness to learn and his obvious respect for the sport. However, Green stressed that contrary to rumours, the State of Origin legend had not yet committed to a deal with Green Machine Promotions.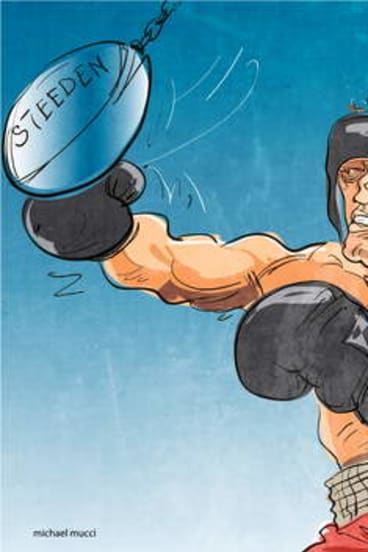 ''I've known 'Gal' for a while and I had discussions with him about it,'' Green, regarded as Australia's best fight promoter, told Fairfax Media.
''He came to Perth with his family and in our discussions it was obvious he genuinely loves boxing and he has a few things weighed in his favour - he's a competitive bloke and is very driven. He asked for a few training sessions and I realised [in the gym] that he picks things up very quickly, which is good.
''There's no questioning his toughness, he's proven on the footy field hundreds of times that he's a tough bastard. I respect the fact he's well aware boxing is a completely different entity [to rugby league] because of its one-on-one nature.''
Green, who defeated future Hall of Famer Roy Jones jnr by a first round KO in 2009, did not spar with Gallen but he taught him a few tricks of a brutal trade.
''He got in the ring with a young fighter from Perth,'' Green said. ''I just showed him some in-close fighting techniques - being a shorter guy he'd come up against taller guys in that [heavyweight] division. I showed him some inside stuff; brawling and rocking and rolling in close there.
''The truth is he's very raw. He's a real bull and has a lot of force but he needs to try and work on technique.
''He's been shown very basic technique but needs to sharpen up his fundamental skills. Just a few little things would turn him into a puncher rather than a rugby league player throwing a punch.
''Gal is craving to learn more and once he learns the art of punching, his power will be even more evident. Take it from me, the big fella can whack. [My advice to him was] the only way you can learn to fight - and to improve - is to fight.''
Green said what he'd gauged from his talks with Gallen was he needed to decide whether at 30 years of age he wanted to commit to the discipline and challenge of the sport.
''I want to make it clear we haven't agreed to anything, we haven't signed anything. All [Green Machine Promotions] have said to Gal is we'd love to go forward together if he wants to,'' Green said. ''If he thinks he has a future in the sport we'd love to be there with him.
''All we have spoken about is whether he wants to do it and whether he can do it. If he fought, it wouldn't be an exhibition fight [which means fighters wear headgear and there is no result] and I believe if Gal did fight he'd want to do the right thing by the sport and he'd give it his best shot.
''I guess his first step is to get through the Fight for Life promotion in New Zealand and if he enjoys the experience, that might make him want to do some more and we might be able to go forward.''
A number of former rugby league players including world ranked heavyweight Solomon Haumono, former world champion Anthony Mundine, former St George Illawarra and Cronulla forward Lance Thompson, world title contender Garth Wood, New Zealand heavyweight champion Sonny Bill Williams and Blake Ferguson have tried their hand at the fight game.

Daniel Lane is a sports reporter and video journalist with Fairfax Media.
Morning & Afternoon Newsletter
Delivered Mon–Fri.