CANBERRA were not happy even after beating Parramatta yesterday, which doesn't say much for the Eels.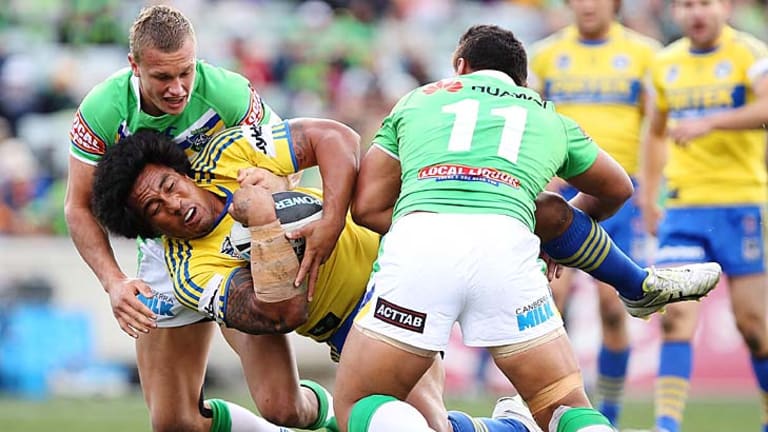 It is a developing trend in the game. Two weeks ago, Wests Tigers coach Tim Sheens was unhappy after his side had led Parramatta 31-0 only to concede five tries and 30 points in the last 13 minutes. Yesterday, it was Canberra coach David Furner's turn, after his side had let the Eels come back from 24-6 down to 24-18, and again from 36-18 to 36-34. The Raiders scored the last try, in the penultimate minute, to finally wrap up the win.
Asked if his overwhelming feeling at the end of the game was one of relief, Furner replied: ''Yeah. Probably just getting the two points, I'm happy with that. I'm certainly happy for about 60 minutes [of the game].''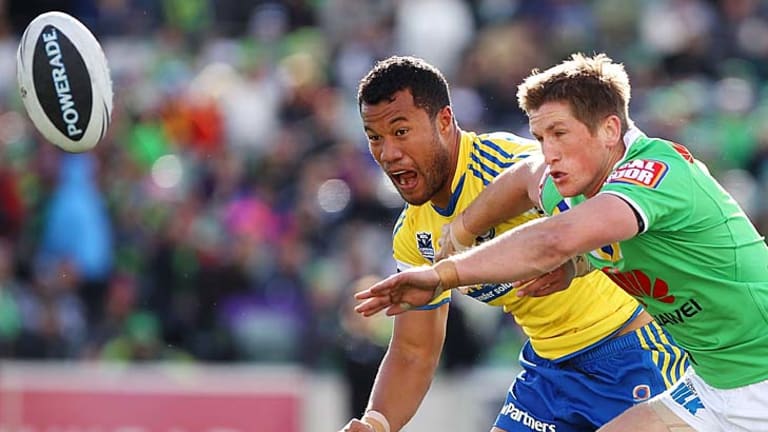 He said he felt it was more his side losing focus than the Eels lifting that forced the game into a contest during the second half.
''I think it was more that [lack of] concentration and sticking to our principles in defence,'' Furner said. ''You know, meaning decision-making. Possession was a big reason the game went the way it did in the last 10 minutes, but I think our team should be good enough to hold those points.
''So, the two points we'll take, but certainly there's some areas there that I'm not happy with in the last 20 minutes. Credit to Parramatta, they executed some of their plays very well, but I've got a pretty good mental picture of why it happened the way it did out there, and we need to work on that.''
It was 36-18 to the Raiders entering the 73rd minute. But then the Eels scored three quick, converted tries, which left the game up for grabs with a couple of minutes to go. But Parramatta couldn't go one step further, and Raiders centre Jack Wighton made it a six-point gap at the end.
Parramatta coach Stephen Kearney, who has seen his side lose nine of their first 10 games this season, said they could not take any consolation from having fought back to a position from which they could have actually grabbed a stunning win. He pointed to the fact they led 6-0 midway through the first half, only to trail 24-6 with five minutes to go before the break.
''Yeah, it seems very familiar,'' Kearney said. ''The message to the lads in there is that until we start taking ownership of the lapses … And, you know, every action out on the footy field has a consequence, good or bad.
''Just after the 20-minute mark in the first half we gave away three tries and there were, I thought, a couple of soft tries there.''
Talking about the rush of tries from his side towards the end, Kearney said: ''We had given ourselves an opportunity. Again, that's what we spoke about at half-time, you know, trying to restore a bit of pride back in our performance and trying to take ownership of our performance, and I thought for the most part in the second half the lads showed some fight and gave themselves an opportunity with a couple of minutes to go.
''But it wasn't good enough. Like I said to the lads in the dressing-room, there is no consolation out of today. My point is that until we start taking ownership of our actions and our jobs out there - and that's everyone for 80 minutes - we're going to find ourselves in those positions. For me, I'm still, again, very disappointed and frustrated.''
RAIDERS 40 (R Robinson 2 J Thompson 2 B Ferguson J Papalii J Wighton tries; J Croker 6 goals) bt PARRAMATTA 34 (R Morgan 2 K Sio 2 C Blair C Sandow tries; L Burt 5 goals) at Canberra Stadium. Referee: Gavin Badger, Adam Devcich. Crowd: 9210.
Morning & Afternoon Newsletter
Delivered Mon–Fri.