The goal posts on the Jessop family farm in the Bega Valley serve as a constant reminder of son Noa. A reminder of how much he loved rugby league and how he spent almost every day kicking the ball.
So two years after his death, rugby league decided to rally around the Jessops when they needed it most.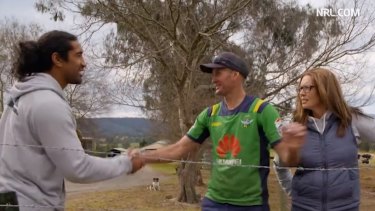 The Canberra Raiders and Sia Soliola made a surprise trip to visit Coolagolite dairy farmers Brett and Anne Jessop last month to offer a helping hand.
Soliola arrived at the farm unexpectedly and he was followed by 24 tonnes of hay to help them through the drought and pulled out of his pocket tickets for an all-expenses paid trip to the NRL grand final.
"I've been sent here by [Raiders coach] Ricky Stuart ... to check out the landscape for our pre-season," Soliola joked. "...I notice you've got some posts out there."
Brett, a Raiders fan, added: "Yeah, the young fella used to get out there kicking goals flat out. He got run over down the road ... haven't got around to taking [the posts] down yet. Loved his footy."
Then the trucks started to roll in carrying 24 tonnes of hay as part of a joint Victoria Bitter and NRL promotion. "You sneaky buggers," Brett said.
"I felt extremely fortunate to have it given, knowing there are so many other farmers doing it tough in this challenging time ... I knew we were getting tickets to the grand final, but I didn't know I was getting the hay.
"The hay is something I was always going to buy, but a trip to the grand final was probably wasn't something I was going to do, because of cost cutting in the drought."
Soliola said: They just want to load you guys up for being such hard workers. You guys really earned that, so enjoy."