If all goes to plan the Canberra Raiders will begin preseason next year at their new $19 million training facility at Northbourne Oval in Braddon.
Canberra chief executive Don Furner spent the past three years working to fund the project and the Raiders are now preparing to return to Braddon after 18 years at the club's Bruce headquarters.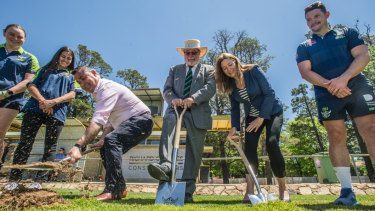 The two-storey building will include state of the art sports science facilities, a gym, room for community programs and a training field.
Furner said he'd visited colleges and professional teams in the the United States to develop the design and added it was a 51-week build after the first sod was turned on Monday.
Raiders skipper Jarrod Croker then ran the numbers and said that would put them at day one of preseason next year, but only if they make the NRL finals.
Teams have later preseason starts if they play finals football and Croker backed his men to begin theirs at Northbourne next year.
"It will be good to come back in here and I think it's a bit of a freshen up for the whole club, a lot of the players and staff that have been here, it's a good little change up and exciting times ahead," Croker said.
"A goal of ours is to play finals football and if we play finals footy we start preseason later and I reckon we'll be starting here day one next year, it's very exciting.
"It's a beautiful spot around here and if you're a young kid just starting to train with first grade it's the perfect spot, close to the city. Everyone is really pumped about the facility."
Furner admits he thought the project may never eventuate after he was initially knocked back for federal funding.
But the Raiders joined forces with the ACT government ($5 million) and NSW government ($4 million) to finance the project and the contract has been awarded to Canberra builders.
"We're coming back to where we were. This is our spiritual home, junior footy has been played here as long as I can remember," Furner said.
"When we first built our centre of excellence out at Bruce it would have been in the top three [in the NRL] and it's like new government buildings, there's an arms race all the time, you've got to keep up with everyone else."
Furner backed the facility to help with recruiting and keep talented juniors in southern New South Wales from heading to NRL clubs in Sydney.
Eamonn Tiernan is a sports reporter with The Canberra Times