His father is coach and one of the Canberra Raiders' best-ever hookers, but Simon Woolford insists his son Zac is ready to forge his own reputation when he makes his first grade debut for Queanbeyan Blues on Sunday.
A spate of injuries has opened the door for the 18-year-old - who played SG Ball for the Raiders this year - to start in the No.9 jersey against Tuggeranong at Seiffert Oval.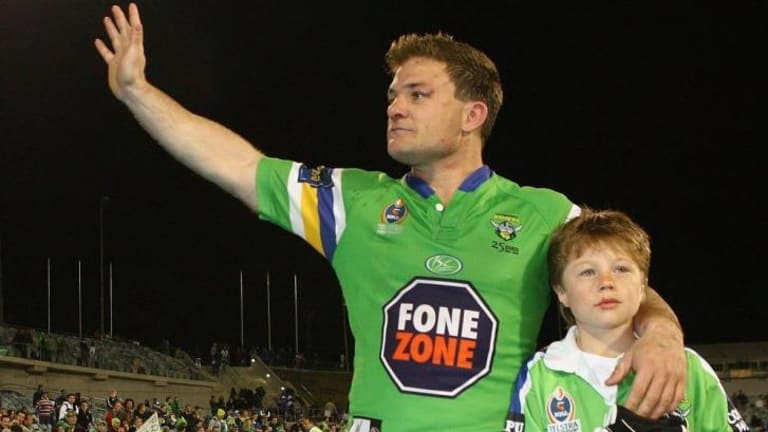 Playing dummy half under your famous dad who made the Raiders spot his own carries its own pressure, but Woolford says Zac is well equipped to handle that burden.
"He's always going to get that and be under the microscope, I suppose. It's his determination and work ethic which has got him there,'' Woolford said. "Whatever he achieves is certainly on merit, that's for sure.''
The Blues' first choice hookers Kieran Tranter and Peter Nibbs are both out for the season, and third-string No.9 Ben Nicoll has shifted back to the halves with former Raiders playmaker Marc Herbert still recovering from a broken hand.
The original plan was for Zac Woolford to play at under-18 level for Queanbeyan, and while injuries have forced his hand, former Raiders skipper Simon is confident he's up to the task.
"He was always a chance to be there [first grade] if we had some injury problems in that position, and as its turned out, it's a bit earlier than I would have thought,'' Woolford said.
"With the SG Ball kids coming back [to Canberra Raiders Cup], it's good for them to get a gauge of how they're going by playing first grade against men.
"Zac's still growing and he was very small, but a couple of years ago he got a growth spurt and that's built his confidence.
"He's still got a fair bit of maturing to go in terms of his body in what is a physically demanding position.
"He's on a pretty solid weights program with the [Raiders] high performance unit for the rest of the year.''
Last year's grand finalists have bounced back from a shock loss to West Belconnen with back-to-back wins over Belconnen United and Gungahlin.
"To be honest we wrote off that [West Belconnen] game,'' Woolford said. "We had no interchanges by half-time and a player stayed on with a torn bicep.
"It was just one of those nightmare games where you couldn't believe what was unfolding.''
In other matches, Queanbeyan will be looking to keep its undefeated record intact against West Belconnen at Freebody Oval, Belconnen will be searching for its first win of the year against Gungahlin at Northbourne Oval, while Goulburn hosts Woden Valley at Goulburn Workers Arena.
All games kick off at 3pm on Sunday.

Jon Tuxworth is a sports reporter at The Canberra Times.
Morning & Afternoon Newsletter
Delivered Mon–Fri.