IF you listen to Kevin Sheedy, the GWS Giants did Ricky Stuart a favour by poaching Israel Folau to play in the AFL.
''I couldn't believe the NSW people never rang and said thanks for getting him out of the Queensland State of Origin side,'' Sheedy joked at Thursday's press conference to announce Folau's decision to quit the AFL.
But the truth is that Stuart, who was the Blues coach for the two seasons that Folau was with the Giants, will be doing the entire game a service if he can lure the former Storm and Broncos star back to the NRL.
The impending return of Folau and Sonny Bill Williams, who visited Sydney Roosters headquarters on Tuesday, is a huge vote of confidence in a competition that for the past decade has become used to losing superstars to rival codes.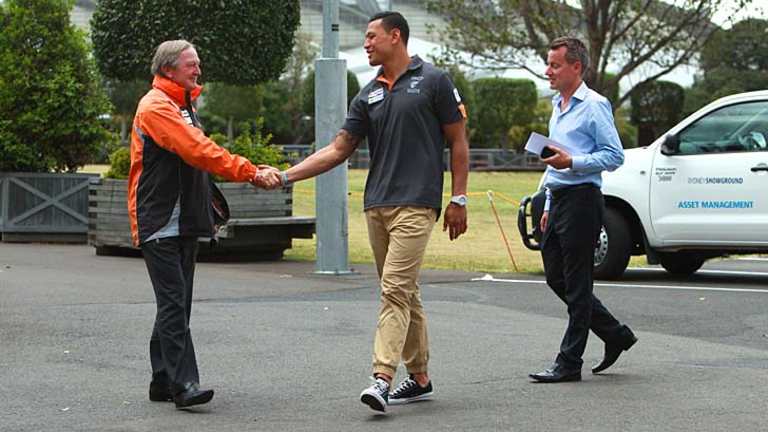 Sure Wendell Sailor, Mat Rogers, Lote Tuqiri, Timana Tahu and Mark Gasnier also rejoined the NRL after stints in rugby union but all were past their best when they did so.
In contrast, Folau is just 23 years old and Williams, 27, is arguably the biggest rugby star in the world.
They are returning to the NRL at the peak of their careers and the prospect of Folau and Williams playing next season has got just about everyone in the game excited.
''Rugby league is his sport,'' seven-time premiership-winning coach Wayne Bennett said of Folau. ''A lot of us were disappointed to see him go and it's great that he is coming back. He is a unique player.''
So is Williams. The All Blacks superstar is yet to put pen to paper with the Roosters but playing against them in his first game in the code he walked out on five years ago has been the subject of intense lobbying from South Sydney and Canterbury.
Bulldogs officials even offered to pay the Roosters to transfer the match from Allianz Stadium to ANZ Stadium but Channel Nine has drafted the Roosters-Rabbitohs clash to kick-off the season in March.
For his part, Folau said he was yet to talk to any NRL clubs and Fairfax has been told it is not a done deal that he will join Parramatta - but if he does it will be a major coup in the battle between the codes for western Sydney.
ARL Commission chairman John Grant and interim chief executive Shane Mattiske were diplomatic towards the AFL when asked to comment but were also clearly pleased by the prospect of Folau returning.
''We're happy for Israel and delighted to see him and the AFL able to agree on an outcome that is in his best interests and will see him have the option to return to the game he played so well and is so passionate about,'' Grant said. ''It's a great example of doing what is right.''
Mattiske said: "This is about people working in the interests of an individual in good faith and letting someone play the game that he is passionate about. At its heart that is what sport is about and I'm happy that Israel and the AFL have been able to work to that outcome."
It was a courageous decision to walk away from the remaining two years of a contract worth more than $1 million per season, but the NRL's new $1.025 billion television deal enables the code to offer players comparable deals. Fairfax was told that Folau did not want to stand in the way of good young players coming through the ranks at GWS and sources also said there were concerns about whether he would hold his spot next season.
Bennett told AAP: ''We've had that many players go to other codes like rugby union and come back - Brad Thorn, Wendell Sailor, Mat Rogers and Lote Tuqiri. One thing about rugby league - we're not snobs.''
Brad Walter is Sports Reporter for The Sydney Morning Herald