Outrage. We love it, everybody's doing it and a day doesn't go past without it popping its angry, ranting head up as social media fans the flames over the latest trending "disgrace".
Yesterday it was Nick Kyrgios and today it's Mitchell Pearce. But no matter how often I watch the Pearce video or read the commentary surrounding Dog-gate, I just can't get outraged.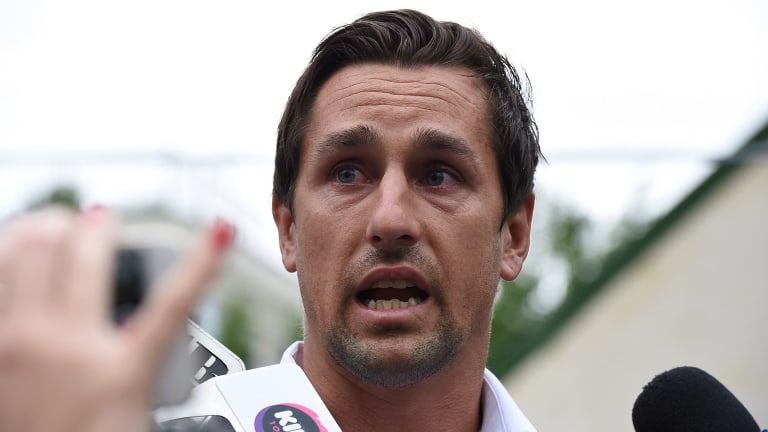 My outrage abandoned me, right when I needed it the most. From the moment the story emerged I'd been promised a "depraved" act performed on a dog.
My mind went into overdrive, no doubt fuelled by the picture of Joel Monaghan in an apparently compromising position with a dog five years ago that ultimately led to him quitting the Canberra Raiders.
But it wasn't that I'd lost my outrage at all as I found sitting in a cinema on Thursday night watching Spotlight, a film about the systemic child abuse in the Catholic church.
Now that's something to get outraged about, something deserving of universal condemnation.
It made me realise why I wasn't outraged about Pearce - it just didn't seem like he'd done too much wrong.
Sure, he shouldn't have kissed the woman after she'd said no and thankfully he got the hint and left her alone.
Sure, his "lewd sex act" with the dog was crass and made Pearce look like a drunken tool, but - at the risk of earning the wrath of dog psychologists - he didn't actually harm the dog.
His pants were on and there was no genitalia involved.
It was an action that could no doubt be seen performed at B&S's around the country almost every weekend.
There's no actual footage of him wilfully urinating on the couch and incontinence is quite a common problem - albeit normally for those who are a lot younger and older than Pearce.
As a white fella, I admit I didn't notice the casual racism, but if a proud Indigenous man like Anthony Mundine says there was casual racism, then there was.
But when the Pearce video is stacked alongside a topic such as paedophile priests it just doesn't seem worthy of my condemnation.
The main thing I saw was someone struggling to deal with the demon drink.
Again, he's no Robinson Crusoe there with thousands of Australians battling the call of the bottle on a weekly or daily basis.
The hard-to-resist urge to have another drink was what got Pearce into this mess.
He found himself in the zone, where going home isn't an option and all that matters is the next beer, bourbon or wine.
It's a positive step he came out on Friday and admitted he has a problem, but until he does something about it those words won't mean much.
But I can't help thinking he's not the only one with a problem - the rest of us have a problem with keeping our outrage in perspective.
While everybody raged about Pearce in multiple column inches, and continue to do so today, his teammate Martin Kennedy received minimal coverage as he was banned for two years and nine months for being a drug cheat.
Former Brisbane Lion player Albert Proud pleaded guilty to grievous bodily harm after bashing his now ex-girlfriend Richelle Kadadi, who ended up in hospital with severe brain injuries.
Sure, Proud isn't a big name, having only played 29 AFL games for the Lions, and he plays a code that sits well behind the NRL in NSW and the ACT, but the domestic violence he's admitted to makes me much more outraged than an unwanted kiss and some drunken tomfoolery with man's best friend.
Thankfully, a former colleague who lives in Brisbane assured me the Proud case was given the prominence it deserved up north in comparison to Pearce.
It's not just Pearce who is on the end of misplaced outrage.
Canberra tennis star Kyrgios also gets the neck veins bulging in Australia for being the "bad boy" of world tennis.
Sure, THAT sledge was worthy of outrage, but every time he sneezes now he's ridiculed by someone for being a bad role model who is destroying the very fabric of society.
Even though his behaviour is no different to numerous players currently playing on tour, not to mention the ones who have now called it a day, including the original "Super Brat", John McEnroe.
Throw a racquet, the bad boy is at it again. Argue with an umpire, he's such a bad sport. Yet the same behaviour is happening on courts around Australia every weekend - even before Kyrgios ever lifted a racquet.
Clearly Pearce made a fool of himself and clearly the Roosters captain didn't act like the role model he's meant to be to his young teammates.
His antics should cost him his captaincy, but is what he did really that outrageous?

David Polkinghorne covers the Canberra Raiders, local rugby league, Canberra Cavalry, racing and cycling, along with every other sport, for The Canberra Times.
Morning & Afternoon Newsletter
Delivered Mon–Fri.