IF YOU were to have placed bets at the start of the season on which coach would be the first to face the axe, Shane Flanagan would have been on the top of most people's list.
Imagine being the captain of a ship with very few crew members and an ever-widening gash across the side of the vessel - you're destined to go down with it, unless you were Costa Concordia skipper Francesco Schettino.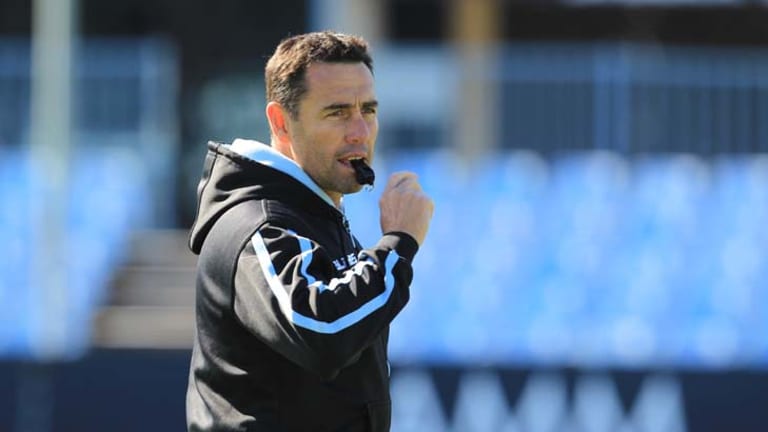 Either way, the outlook was grim for Flanagan.
For years, HMAS Cronulla has been feeling the effects of a shortage of finances needed to maintain its upkeep and a dwindling number of crewmen required to keep it afloat.
It's a club with no chief executive, no recruitment manager, and, until a week ago, a professional organisation without a major sponsor.
''Up, up, Cronulla'', they chanted from the stands of Toyota Stadium last week. Those words have never been more of an accurate reflection of the club's current predicament.
Things are finally on the up in Cronulla and Flanagan is a testament to that.
''I love this team and I love this club,'' he told the Herald. ''This is my life. I need to make sure this works.''
And make it work he has. The Sharks have won four on the trot, crowd figures are on the rise and a two-year contract extension for the coach is a week away from being finalised. Suddenly that gash on the side of the ship isn't as calamitous as initially feared.
Flanagan hasn't enjoyed a lot of good times, losing more games than he's won both as a player and as a coach, but the tide looks like it's beginning to turn as the fog threatens to clear away from Cronulla for the first time since 2008.
It's an unenviable job, coaching. But sometimes, like after Cronulla's 12-0 win against St George Illawarra last Saturday night, it offers a reminder of why one dedicates their life to such a demanding career.
''The highs are so infectious and contagious, you live for those days,'' Flanagan said. ''Like after our game on Saturday night, the weekend was so unbelievably enjoyable and coming to training you enjoy that so much more. Those times are really good and you need to enjoy them while they're around, because when you do lose it's a very, very lonely place.''
Of all the Sydney teams, Cronulla arguably attract the least attention. The club is the little brother of Sydney's south, constantly overshadowed by the Dragons. Cash is hard to come by, the junior stocks aren't as fruitful as other regions, and when you aren't winning games of rugby league, staying afloat is a constant struggle.
While Flanagan has the immediate future of the club in his hands, there is a long-term vision he can't help but get excited about.
''If we keep winning football games, and we get approval from the state government for our development, this club could become a real powerhouse of the competition in the next five to 10 years,'' he said.
One man who's jumped on board to help change the fortunes of the club is Canberra and Sydney Roosters discard Todd Carney.
Whatever he's worth to them on the field, he's got the potential to be worth double to the club off it - as long as he keeps out of trouble. He has the ability to make the Cronulla jersey fashionable and more marketable than it has ever been, and it won't be long before kids all over the Sutherland Shire are asking their parents to get the No.6 stuck on their back.
Then there's the tattoos - but that's a debate better suited to families at a dinner table.
Like many who considered offering Carney a lifeline in the off-season, Flanagan too had concerns.
''You do have your doubts, of course,'' Flanagan said. ''You find yourself asking can we really change him? Will he be good for us? Why couldn't the Roosters do it? You always have those doubts. I'm not saying he's over all that stuff, but he understands what I expect of him and what the club expects of him and hes doing a good job.''
There's no doubt Carney has star qualities, and that gives Cronulla the allure it has lacked for quite a few years.
Flanagan is the first to admit he's been ''lucky'' when it comes to recruitment, which he and football operations manager Darren Mooney have added to their list of responsibilities at the staff-stricken club, but believes they now have all the right ingredients to be attractive to off-contracted players.
''We got real lucky with Jeremy Smith becoming available at the right time when the Dragons were looking to free some money up for the [Mark] Gasnier deal and we got real lucky there with the [Bryce] Gibbs and [Andrew] Fifita deal, as well as Todd,'' Flanagan said.
''The only missing ingredient before was the winning. I think it's a great area to live, a great area to train and we've got real good facilities. The missing factor has been the winning and we're doing that at the moment.
''The players I mentioned are all good selling points to attract players to our club. Players want to go somewhere they know they can win and play with good players. We've got the core there now.
''Whilst we'd like to be able to go after some of the players on the market, we haven't got the luxuries and the resources the Brisbane Broncos have in third-party agreements and so on. I can't do that. What we really pay a player is what we pay a player with what's in our cap.''
The club were recently forced to sack Albert Kelly after a number of off-field misdemeanours. He burst on to the scene as an 18-year-old in 2010, but fell out of favour at the club this year as he struggled to keep on the straight and narrow.
While Flanagan was disappointed that it had come to his contract being terminated, he hoped Kelly could get his life back on track soon.
''Albert had his chances,'' he said. ''Albert and the club tried very hard to make it work but it just wasn't working … talent was never the issue. We would've loved for him to have his head on and playing football for us, but we couldn't get him to do or he couldn't get himself to do it here. I hope he gets his life back in order, that's for sure.
''It's not about his football, it's about his life. If he can get his life back in order, I'll be very happy.''
Morning & Afternoon Newsletter
Delivered Mon–Fri.