Playing 300 NRL games was never on Chris Heighington's radar. In fact, at the time, he couldn't believe he was playing his first.
The veteran back-rower will become just the 26th player in game's history to reach the 300-match milestone when Cronulla host Newcastle on Saturday.
The underrated and unsung Heighington has had a career most players can only dream of.
A two-time premiership winner with the Wests Tigers and Cronulla, Heighington has made representative appearances for the Prime Minister's XIII, Country Origin and the NRL All Stars. He was also eligible to represent England at the 2011 Four Nations, thanks to his British passport, playing three times.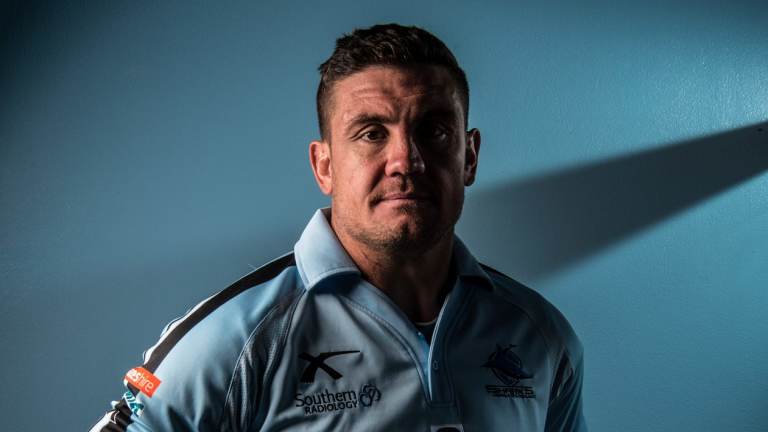 He has come a long way from the starry-eyed 21-year-old thrown in by Tigers coach Tim Sheens to make his debut in the opening round of 2003.
"To be honest, I couldn't believe I was making my debut," Heighington said. "I was still travelling from the Central Coast to Concord to train. Tim Sheens gave me an opportunity in round one, 2003, to play in the double header. We played against the Dragons and got the win.
"It was a great experience. It came so quickly. I only started the pre-season at the end of 2002. I got seven games in 2003 and it happened too quickly.
"It was like an addiction, I just wanted more of it."
A tough and uncompromising forward, Heighington learnt the ropes watching players such as John Skandalis, Mark O'Neill and Ben Galea at the Tigers. The older heads didn't have to say much to the youngster, as he watched them lead by example, an education for which he is thankful.
Heighington was disappointed to leave Wests Tigers when he was shown the door at the end of 2012. A mark of his loyalty, he had envisaged he would finish his career a one-club man.
But the Tigers' loss was Cronulla's gain, with Heighington joining the Sharks just when they needed his strong, positive character.
Heighington is modest about his achievement. His name now sits with some of the greats of the game – something that makes him uneasy.
"Just my name alongside the people who are there. [Steve] Menzies, [Nathan] Hindmarsh, Terry Lamb, Andrew Ettingshausen … it doesn't sit well with me, my name next to theirs. I'll take it," Heighington said.
"It's a great achievement. Who would have thought I would play 300? Two-hundred popped around at the Tigers and I moved on from there to here, and it's come around really quick.
"It's an honour, I feel really grateful to get the opportunity. I've won two grand finals, which is more like a team and club effort, but this is a bit more personal, more of an individual achievement."
Cronulla will celebrate Heighington's milestone with a function on Friday night before their clash with the Knights. His teammates and coach speak highly of him, not just as a player or about his achievement, but as a man.
Sharks coach Shane Flanagan signed Heighington for the simple fact he was playing good football and Flanagan desperately needed some experience in his forwards.
Heighington, along with James Maloney, Matt Prior and Luke Lewis, was one of only four Cronulla players who had premiership-winning experience as the Sharks went on to win their historic maiden title last season.
But along with his performances and experience on the field, Heighington's personality off the field has been equally as valuable to Flanagan.
"I think where 'Heighno' contributes the most is through his mateship and through making work an enjoyable place," Flanagan said. "He always bounces out onto the training field, bounces into the gym. He's always got a smile on his face, there's always a joke or something going on, which makes him enjoyable to be around.
"He's one of those people you want to hang around with because you have an enjoyable day.
"He is a real club person. He gets everyone together. Some of those boys might turn up and not feel like training. It's going to be another tough day and he just gets in there and pumps them all up, encourages them to get out and enjoy how lucky they are to have one of these jobs. He's said many times how lucky we are to have a job like this, and he embraces it.
"To play 300 [games], I think, is a testament to his durability, his popularity and his professionalism. There is no more popular player in the group. Everyone loves him. He's always bubbly and happy. He loves being in this environment. He's a pleasure to coach."
Chris Heighington – career statistics
299 games (201 Wests Tigers, 98 Cronulla Sharks)
41 tries (39 Wests Tigers, 2 Cronulla Sharks)
Two premierships (2005 Wests Tigers, 2016 Cronulla Sharks)
156 wins, 142 losses, 1 draw
NSW Country (2008, 2011)
England (three appearances, 2011)
Prime Minister's XIII (2008, 2009)
NRL All-Stars (2013)