Winning the grand final means Storm captain Cameron Smith and his teammates will no longer have to answer questions about whether a premiership would make up for the ones taken away for salary cap cheating.
Three years after the scandal that cost Melbourne the 2007 and 2009 premierships, the Storm are now free to move on - both mentally and physically - and some key figures may do so, including Craig Bellamy.
The master coach and his players insist that avenging those lost titles wasn't motivation for them, but reports former captain Robbie Kearns told fans at a post-match party the win was Melbourne's fourth premiership - not their second - highlights the sense of injustice that has pervaded at the club.
Perhaps that is understandable given how the matter was handled, with News Ltd sacking the independent directors who wanted to challenge the penalties that the media company - which owns the club and at the time had a 50 per cent stake in the NRL - had played a role in determining.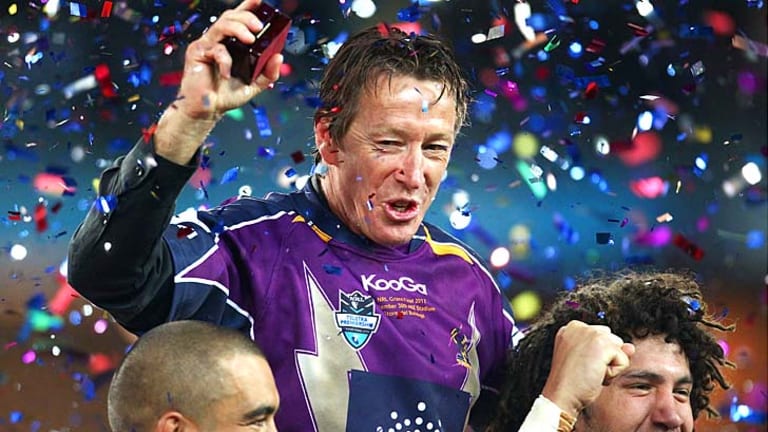 Threats to take action against former chief executive Brian Waldron, the so-called "king rat", and others responsible for the salary cap rorting did not eventuate and the only people punished have been three banned player agents and the Storm's coaching and playing staff.
However, the 14-4 win over the Bulldogs should provide closure for everyone at the Storm who has lived through the past three difficult years.
If, as their critics say, Melbourne only won those two premierships, three minor premierships and played in four successive grand finals between 2006 and 2009 because of salary cap cheating, they have now proven to be the best after competing with the other 15 clubs on an even playing field.
Since 2010, they have lost the likes of Greg Inglis, Aiden Tolman, Brett White, Jeff Lima and Brett White, but Bellamy and football manager Frank Ponnisi have managed to rebuild the team.
Watching the way the Bulldogs were out-coached and out-played by a Melbourne team that just seemed to want it a little bit more was a reminder of past grand finals when the post-match discussion would be of a Storm dynasty.
However, there were also thoughts afterwards of what Bellamy and the Storm have to achieve now.
The departure of players such as Sika Manu (Penrith), Dane Neilsen and Todd Lowrie (Warriors) and Jaiman Lowe (retirement) underlines how hard it will be for Melbourne to win back-to-back titles next year, and maybe Bellamy will succumb to a lucrative offer to coach elsewhere.
The 52-year-old, who is off contract next year, said last week he had no intention of leaving the Storm after 10 seasons in the job, and didn't feel he needed to go elsewhere to prove he can coach.
However, he also said the next contract may be his last and with his manager John Fordham recently securing a $800,000-a-season deal, plus bonuses, for Ricky Stuart at Parramatta, negotiations for Bellamy's services are expected to be fierce.
"Twelve months is a long time and things can happen," Bellamy said.
"You always hear people say it's not about the money. But if it's not the top of the list, it's probably second."
While the rest of the interview was about how he was happy at the Storm and didn't want to coach against the big three of Smith, Billy Slater and Cooper Cronk, those comments would be music to the ears of Warriors owners Owen Glenn and Eric Watson.
The Warriors have already talked up a big money offer for Bellamy and while they couldn't get him as coach in 2013, the strong mail out of New Zealand is that they will appoint one of his Melbourne assistants, David Kidwell, on a short-term deal and try again.
St George Illawarra have also been linked to Bellamy, whose contract with the Storm expires at the end of next season, as a replacement for Steve Price in 2014, and other clubs are sure to chase him.
After the way the Storm bounced back from the salary cap scandal to win this year's premiership, Bellamy can now virtually name his price.

Brad Walter is Sports Reporter for The Sydney Morning Herald
Morning & Afternoon Newsletter
Delivered Mon–Fri.