It's a bromance even their respective partners are jealous of. A reformed bad boy and a code-hopping Mormon, who cut hair to make ends meet, joining forces to form "Leipana".
And Joey Leilua and Jordan Rapana have vowed to use the disappointment of their qualifying final loss to the Cronulla Sharks last weekend to drive them in their do-or-die semi-final against the Penrith Panthers at Canberra Stadium on Saturday night.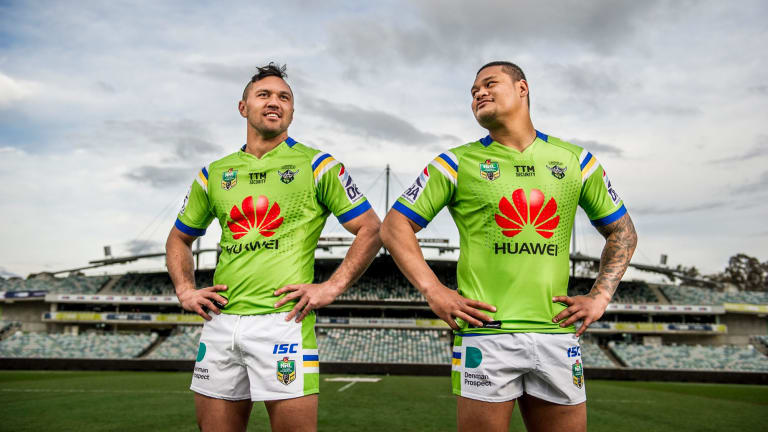 While their backgrounds might seem worlds apart, it's their similarities that have brought them together to form a family with a combined 16 brothers and sisters between them.
In a way, they symbolise the resurgent Canberra Raiders, who have seen a group of players brought together from all around the world to form the most potent attack in the competition.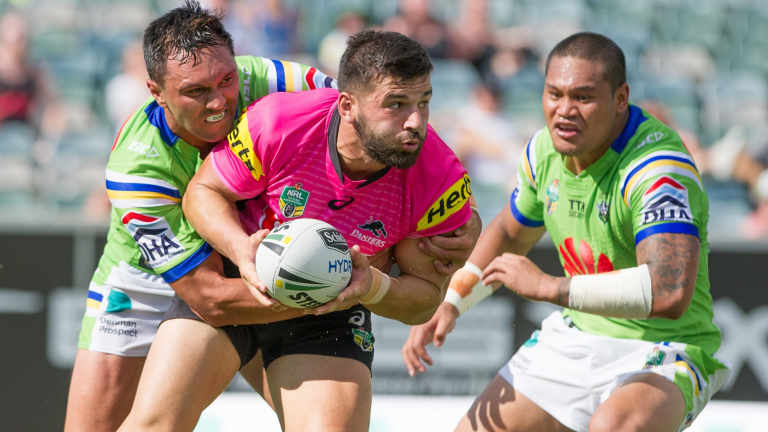 The NRL has been ablaze with talk about the lethal combination between Leilua and Rapana, but they see no difference between themselves and any centre-winger pairing.
But that doesn't do their friendship justice. Not only are they close on the field, but off it as well – rooming together wherever they play, shopping for engagement rings together and spending their days off on the golf course together as well.
In a throwback to their childhood, they move the furniture around in their hotel, too.
"He puts his bed right next to mine in the hotels, saves him reaching over showing me something on his phone – he can just roll over [instead]," Rapana said laughing.
"It's kind of smart when you think about it," Leilua responds.
The fact they not only spend their days together at the club, but also their spare time together is something their partners struggle to come to terms with.
"My missus gets angry. On my day off when I want to go hang out with Joey she says: 'You see him every single day at training, why do you want to hang out with him on our day off'?," Rapana said.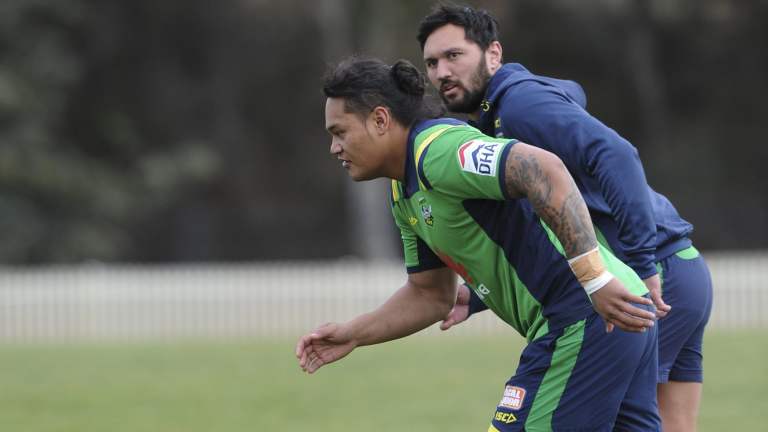 But hanging out on their days off sometimes bears fruit for their partners as well, like the day they went shopping for an engagement ring.
Leilua decided he was going to propose to his now fiancee Tiana, so the pair headed to a jeweller in Civic.
But just because he'd invited Rapana along didn't mean he was going to take his advice when it came to picking out a ring.
"It happened just up here. Me and Raps were just chilling and I was thinking of proposing to her and I didn't know what ring to get her," Leilua said in a cafe in the city centre.
"He had his input and I didn't end up getting that one because I knew she wasn't going to like that. Luckily I chose the right one, she loved it."
Leilua also showed Tiana the ring his winger picked out and it was lucky he'd gone with his own gut feeling.
"It just shows she doesn't have good taste in ring selection," Rapana quipped.
It hints at the competition that drives their friendship. It doesn't matter what it is, neither of them likes to lose – whether it's a game of rugby league, a game of golf or even which of them has more try assists than the other.
And that competition is one of the reasons why the Raiders have developed into one of the team's to beat in the NRL.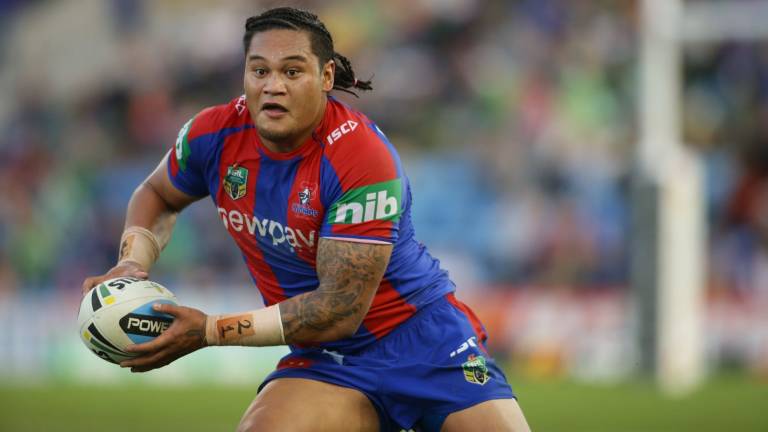 Time and time again the pair work in tandem to drive the Green Machine out of their own half.
First one will take a hit-up and then the other, working tirelessly as if they are a front-row pairing like Shannon Boyd and Junior Paulo.
And don't think for a minute that they aren't counting those metres gained and comparing them against the other.
"Because we're both real competitive blokes too, everything we do, playing golf and that, we always push each other. Even if it's just the little basketball game of horse we just hate losing," Rapana said.
"If he's taken a run, I'll take the next one. If he makes 10 metres, I've got to make 15m and vice versa.
"It's not until after we sit down to do the review and they go through our stats we'll sit there and be like, 'I beat you in the metres or I beat you in the tackle breaks'."
That competitive spirit took a hit last weekend, with Leilua leaving Canberra Stadium devastated with the loss to the Sharks.
He's using that pain of "letting go" a game he felt they "hand in our hands" as motivation to ensure it doesn't happen against the Panthers.
"We spoke, me and Rapa, and we're going to get our game back on this week because we're coming up against [Tyrone] Peachey and [Josh] Mansour and they're a great combo as well," Leilua said.
"They've been killing it I've been hearing – I don't watch too much footy – but I've seen the video this week. It'll be great."
Whenever they're on the Gold Coast they visit Rapana's big family – he has 10 brothers and sisters – and it's the same in Leilua's native Sydney, although he only has six siblings.
A big, close family is one of the similarities that overshadows the differences seen by those looking in from the outside.
Leilua was dubbed a bad boy growing up in Hurstville in Sydney, he struggled to find his feet at the Newcastle Knights after moving there from the Sydney Roosters.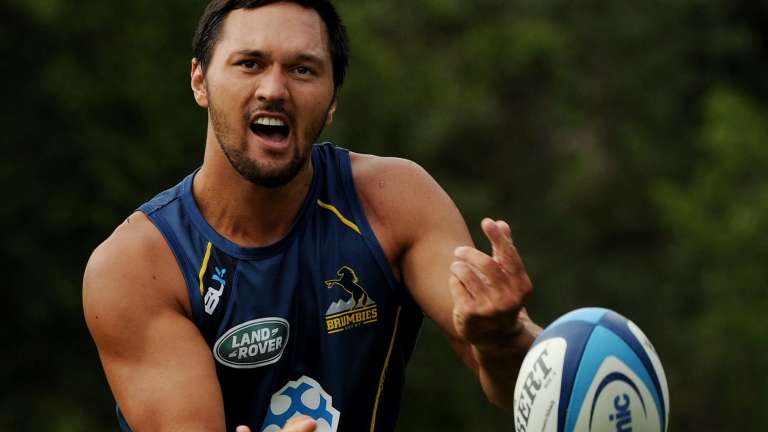 Rapana, on the other hand, was born in Wellington before moving to the Gold Coast as a young boy.
He made his NRL debut with the Titans, but then embarked on his Mormon mission before trying to break into Super Rugby with the ACT Brumbies.
"Even though we come from different parts of life we're probably very similar in our upbringings. We're both from big families, which are very family orientated, our families are very close," Rapana said.
"We're very similar personalities and very similar cultures."
The pair's careers have blossomed at the Raiders and Leilua admitted their friendship played a role in him settling in the nation's capital.
"I had a couple of good mates [in Newcastle] but most of them had family, their own crew up there that they'd already established up there," he said.
"I didn't have anyone to support myself and then when I came here everyone welcomed me. Ever since I met [Rapana] we just had a nice bond and we've stayed tight ever since.
"We've had our ups and downs, arguing and stuff ... but we always have each other's back and that's the best thing about us."
David Polkinghorne covers the Canberra Raiders, local rugby league, Canberra Cavalry, racing and cycling, along with every other sport, for The Canberra Times.