HUNTER SPORTS GROUP chief executive Troy Palmer will meet Knights Members Club directors on Monday night to tell them Nathan Tinkler will not walk out on Newcastle's NRL team.
Palmer, Tinkler's right-hand man, said on Sunday that the embattled tycoon had invested too much into the Knights and the A-League's Jets to consider handing back the NRL licence to the members club.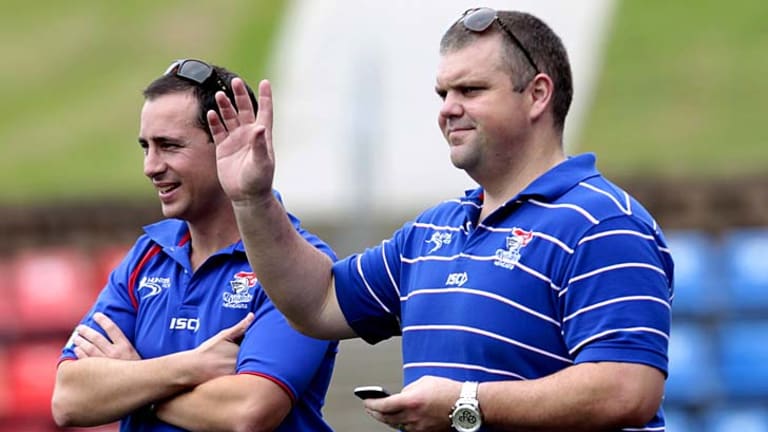 Palmer said Tinkler was in much better financial shape than reported, that a $3.19 million tax bill would be paid to the Australian Taxation Office in the next ''seven to 10 days'', all of HSG's creditors would be paid and that an audit report into the Knights' financial operations would reveal HSG met all requirements.
''We're not going anywhere,'' Palmer said. ''We haven't done all this work and made this investment in Newcastle and brought a lot of good people to this town to walk away. We're 100 per cent committed to this.
''Yes, there's things we can do better and things we should apologise for, if we've impacted on people, but we have not let Newcastle down. We have never once let Newcastle down and no one has ever benefited Newcastle more than Nathan has, and I think people forget that.''
Former Knights chairman Rob Tew, who brokered the original deed of sale signed on August 5 last year, warned the members club would be inviting risk by changing key dates in that privatisation agreement.
Knights chief executive Matt Gidley and members club chairman Nick Dan agreed in principle last Wednesday to change the audit date from December 15 to January 21, and extend the $20 million bank guarantee that underpins the agreement from December 31 to January 31.
Legal representatives from HSG and the members club have swapped several drafts of that amended document, and Dan said it would be discussed by directors on Monday night.
''The Knights Members Club board is currently considering heading down a different path to that which was originally agreed and contracted with Hunter Sports Group on behalf of the Newcastle Knights members, and I believe the current directors of the Knights Members board need to consider their decisions and the consequential impacts of their actions very carefully,'' Tew said.
Dan, who had work commitments in Sydney last week, said it was the first chance the board had to meet since Fairfax Media reported last Thursday that the ATO had moved in the Federal Court to liquidate eight companies linked to Tinkler, including the Knights, Jets and HSG.
''I guess all options are on the agenda,'' Dan said. ''This is a chance for us to catch up and particularly look at the developments that happened last Thursday, which was out of the blue to us.
''There are major ramifications in terms of what happens next, and I know some people are concerned that things aren't getting better from the Hunter Sports Group.''
Two of Tinkler's private companies - Patinack Farm Administration and Mulsanne Resources - have been put in liquidation, and his private jet and helicopter repossessed.
Palmer, who met Dan last Thursday, said he was unaware of any plans by the members club to ask Tinkler to hand back the NRL licence. Tinkler, who lives in Singapore, will not attend the meeting.
''I'm open and transparent on all the issues and have no concerns at all to meet with the members club,'' Palmer said.
Although he conceded Tinkler's empire had faced short-term cash flow issues, Palmer said it was in better shape than had been reported.
''I can assure you of the strength of the group financially. It's a diverse group, with a diverse amount of assets, and we've got a very strong financial position. That doesn't say you don't have your problems along the way but, with the size of the group, they're easily fixed.''
Morning & Afternoon Newsletter
Delivered Mon–Fri.