Former Canberra Raider Todd Carney is resurrecting his playing career in the Queensland Cup after the Raiders board took a stand for club culture and rejected the controversial playmaker's return.
Carney was a groomsman at Raiders captain Jarrod Croker's wedding and the players approached coach Ricky Stuart about a possible return to the club where he played 71 NRL games.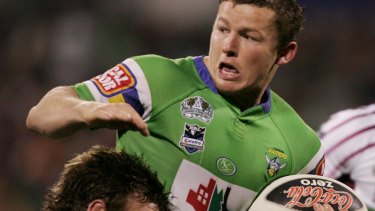 Stuart raised it at the Raiders' board meeting in Boorowa a week ago, but it was quickly quashed by the powerbrokers.
The Green Machine fired him for off-field offences in 2008 and he's since played for the Sydney Roosters and Cronulla, as well as English Super League clubs Catalans and Salford.
He reportedly knocked back lucrative offers to stay in the Super League, with reports of a $1.2 million deal to play for Hull KR - Raiders hooker Josh Hodgson's old club.
Carney wanted an NRL return instead, but no club was willing to offer him a contract and he's signed a three-year deal to play for the Northern Pride - Cairns' Queensland Cup team.
They're a feeder team for this year's grand finallist North Queensland, opening the NRL door slightly.
Raiders chief executive Don Furner said they were happy with their halves stocks, after Sam Williams returned to Canberra to join Blake Austin and Aidan Sezer.
But it's believed the 31-year-old's troubled past, where all three NRL clubs he played for sacked him, played a role in the decision.
"We've got our halves in place, we've got Sammy Williams back. I think the board were happy," Furner said in regards to Carney.
"That's a long time ago [when he was at the club] and we've moved on and we're happy to leave it that way."
Raiders back-up hooker Kurt Baptiste is likely to leave the club in search of greater game time and has been linked to several Super League clubs including Warrington.
His loss will be covered by the return of former rake Adam Clydsdale, who played 15 games for the Raiders before joining the Sharks midway through the 2017.
The 24-year-old played just two games for Cronulla.
Canterbury fullback Brad Abbey has been in Canberra finalising his move as part of a player swap for Clay Priest.
It's expected the Raiders will announce Ryan Carr as their NSW Cup affiliate Mounties coach next week.
Carr was the South Sydney under-20s coach this season, having played under-20s for North Queensland and also for Redcliffe in the Queensland Cup.
Former Raiders strength and conditioning coach Matt Ford has returned to the club as football manager, replacing the outgoing John Bonasera.
"Possibly Baptiste might leave so then Clydy [would be back-up for Hodgson]. We had a bit of a luxury in 2016 with Clydy and Baptiste, we were lucky," Furner said.
"There's a couple of places left [in the squad]. There'll be no big signings because everyone's signed up, but some players might get squeezed out of other clubs.
"You just don't know. We have all the way up until March, we'll just keep an eye out."
While the Raiders missed out on hosting a home game at Wagga Wagga next year, Furner said they'd held preliminary discussions with the Wagga Wagga council and the ACT government about taking a game there in the future, possibly as early as 2019.
The Raiders will play St George Illawarra away at Mudgee in round 11 and went to Bathurst for a Penrith home game this season.
"We're the only inland team in the NRL and when you think about it that way, that is our region," Furner said of playing in the Riverina.
"A lot of clubs are doing it now, we've played as the away team, but this would be us taking our home game away, but we've got to talk to the ACT government about that as well."
David Polkinghorne covers the Canberra Raiders, local rugby league, Canberra Cavalry, racing and cycling, along with every other sport, for The Canberra Times.