ARL Commission chairman John Grant says the shortlist of candidates for the vacant chief executive role has been cut to three - and that list does not include the interim boss Shane Mattiske.
Grant remained tight-lipped about the commission's eagerness to hire the AFL's chief operating officer Gillon McLachlan, to the point of not even admitting that he was one of the candidates remaining on the shortlist. But Grant did say the appointment was still several weeks away, which means it is almost certain the new chief executive will not be in the chair until after this season finishes, given the likelihood of a notice period needing to be served.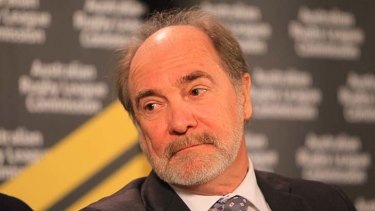 ''It's going to be a few weeks away at least,'' Grant said.
''This is a difficult process because it involves people considering their own career, let alone us considering what is right for us. You can't rush it. We'll just see.''
Despite speculation the commission had targeted McLachlan, Andrew Demetriou's No.2, Grant maintained no offer had been made to any candidate. Asked about McLachlan, he said: ''I can't confirm whether I've spoken to anyone. It's not appropriate.''
But he was happy enough to suggest that McLachlan is well-credentialled. ''I think the AFL's been very successful.'' Grant said. ''If Gill McLachlan has contributed to that, then he's done a good job.''
With McLachlan potentially baulking at the prospect of taking charge of the NRL for little or no pay increase, Grant said that the recent billion-dollar broadcast rights deal would have no impact on the search. The commission, he said, had already budgeted for having extra money at its disposal and was preparing to pay accordingly. ''I think the commission's in the position to pay the right amount of money for the right person,'' Grant said.
Racing NSW boss Peter V'landys is believed to be another candidate still on the shortlist.
But Grant said that Mattiske, who has replaced David Gallop as the interim boss, was not. ''Shane didn't apply for the job,'' Grant said. ''He's done a good job.
Glenn Jackson is a Rugby League Writer for The Sydney Morning Herald