He is about to tick a NRL debut off his bucket list and Canberra youngster Paul Vaughan has his sights set on snaring a starting World Cup spot with Italy.
There is no better audition than his battle with North Queensland's all-Australian front row Matt Scott and James Tamou on Saturday.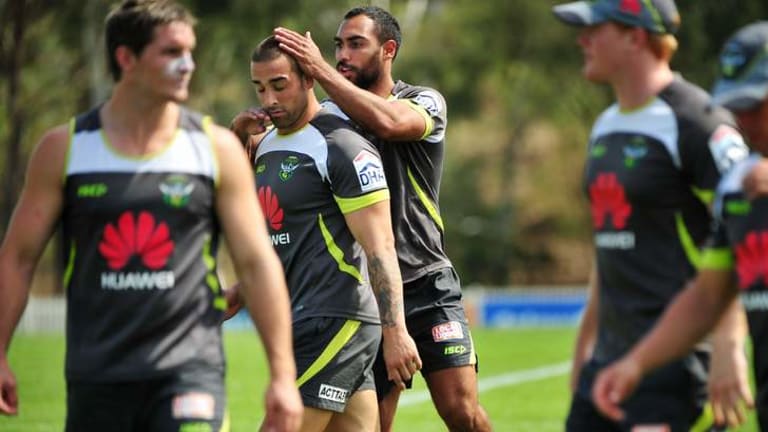 He was named to make his debut in Townsville, initiations don't come any tougher than the game's best prop combination.
Vaughan replaces prop David Shillington after he damaged his ribs in the Raiders' last opening win over the Warriors.
To fill the shoes of a representative prop is daunting enough, but Vaughan is looking forward to pulling on a national jersey of his own in October.
Rather than be intimidated by Tamou and Scott, the Gungahlin junior views the confrontation as the best possible preparation.
''I'll be a little bit nervous but more excited, I think. I just want to get out there and have an early touch,'' he said.
''I played a couple of games for Italy last year, and this is the first year we've qualified for the World Cup.''
The world No.13 Italians could field a gun line-up, with Anthony Minichiello, Craig Gower, James Tedesco and Cameron Ciraldo keen to represent the Azzurri.
Vaughan, who qualifies via his Italian-born grandmother, hopes Raiders teammates Terry Campese and Shaun Berrigan will follow suit.
''Even this weekend playing alongside Campese will be exciting for me, and later on in the World Cup would be nice,'' Vaughan said.
On Tuesday, the morning of Vaughan's 22nd birthday, Canberra coach David Furner told him he would be making his NRL debut.
The prop has watched on as others he has played alongside in juniors, such as Jarrad Kennedy, Mark Nicholls and Sam Mataora, have hit the big time with Canberra.
He enjoyed ''a few Cokes'' in a double celebration with his family on Tuesday night.
Just three weeks ago Raiders centre Jarrod Croker, also 22, toasted his 100th game.
Vaughan laughed that it put his wait into perspective.
''[Croker's milestone] is ridiculous. If I can get a couple of games I'll be happy, if I get 100 I'll be over the moon,'' Vaughan said.
''It's huge, I've been here at the club since I was 16.
''This is the best birthday present I've ever had, and it probably will be forever.''
SATURDAY
NRL round seven: North Queensland Cowboys v Canberra Raiders at 1300SMILES Stadium, Townsville, 5.30pm.
TV Time: Live on Fox Sports 1

Jon Tuxworth is a sports reporter at The Canberra Times.
Morning & Afternoon Newsletter
Delivered Mon–Fri.