Watene-Zelezniak brothers ready for NRL battle as Penrith Panthers face Tigers
Like any kid who idolised his older brother, Dallin Watene-Zelezniak grew up wanting to be just like Malakai.
But this story, about two joined-at-the-hip brothers preparing to play against each other for the first time, would never have been told if it wasn't for the fact big brother actually wanted to be just like Dal.
Sitting in the stands of Pepper Stadium on April 5, 2014, 22-year-old Malakai watched on as his teenage brother made his NRL debut against Canberra.
"I would have been the most proudest person there ... other than my dad," Malakai recalls.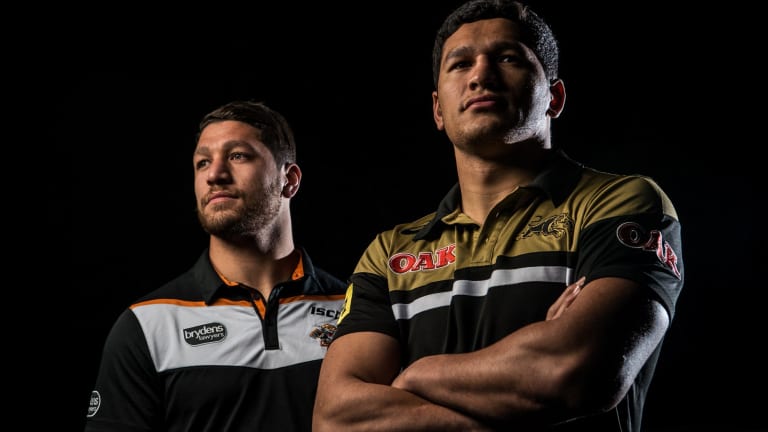 You wouldn't blame Malakai, who also came through the Panthers lower grades, for feeling envious – even if he was beaming with pride. After all, he was the one who inspired Dallin on his rugby league journey that has seen him don the Kiwi jumper. But this wasn't a moment to ponder an opportunity lost.
"If anything it gave me more drive and inspiration to try and crack into first grade and be alongside Dal," Malakai said. "They were the feelings I had. I had itchy feet sitting there thinking, 'Damn, I want to be out there playing with him'. It was more of an inspiration than a, 'Damn, I missed my window'.
Growing up in their Erskine Park backyard, Dallin thought he was Rhys Wesser. Speed to burn.
Malakai, on the other hand, he wanted to be a centre. So you would often hear the names "Mark Gasnier" or "Matt Cooper" beaming out of the Watene-Zelezniak residence when he would take on Dallin and other brother Jayden in some brutal battles of backyard footy over the years.
"I was a bit bigger as we were growing up, so I used to be the backyard bully," Malakai said. "I'm sure now he's a bit bigger he might try and get the bully back on me. Dal and I have been talking about it, but he knows that I'm going to smash him when we're out there [on Sunday]. There's no hesitation there. But he'll smash me so it'll work both ways. We're family before the game and we're family after, but as soon as you cross that line we're opponents."
So Dallin's Panthers go up against Malakai's Tigers. The family has custom made half Tigers and half Panthers jerseys for the special occasion, but Dallin knows where the family's allegiances lie.
"Mal's the favourite so they'll probably be going for the Tigers," Dallin said. "He gets away with everything." This Sunday's clash is filled with milestones.
Ivan Cleary will coach against son Nathan in the first father-son duel in 30 years. The Watene-Zelezniak's have their own family feud to worry about, but you'd have to go back a long time to find a pair of brothers to play with and against each other in the same season.
That night, when the Watene-Zelezniak boys strolled on to Pepper Stadium together for the first time, was the realisation of a life long dream.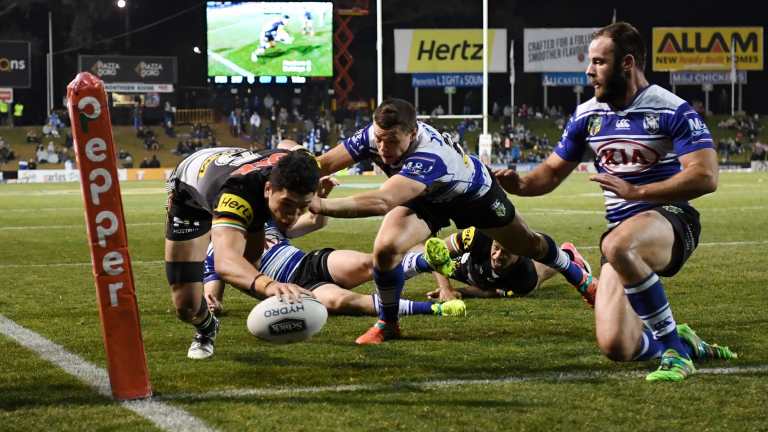 "Growing up I don't think I missed a game of his in 20s, Harold Matts and SG Ball," Dallin said of Malakai. "I was going with my parents every time and watching them (Malakai and Jayden) play and wanting to be like them and play for the Panthers in the Harold Matts and SG Ball and make my way through. For me, seeing him sitting in the grandstand [when I made my debut], I knew it was a dream of his to play.
"I don't know what the feeling was. I wanted him to feel what I was feeling at that time.
"Once he made his debut it took a lot of stress away just knowing he was living the dream too and he was experiencing what I had experienced a few years before that. I was just stoked for him."
Unlike Dallin, Malakai never burst on to the scene with the reputation as the game's hottest young talent. In fact, he gave up on his dream when he pulled the pin on his time with NSW Country Eagles in the National Rugby Competition.
But Dallin wouldn't rest until his brother had experienced the adrenalin rush of running out to the bright lights of NRL football.
"I said 'I'm done, it's time to hang the boots up and find another career'," Malakai recalls.
"Then Dal just kept pushing me and telling me to come back for Penrith and finish the season strong. You never know what happens. I had Dal on my back for two weeks, telling me 'you have to come back, you have to'.
"I'm grateful that he pushed me to come back to league because I'm here today living my dream."
As Malakai says, "once I got a taste of first grade, I wanted more".
Unfortunately, he knew that was highly unlikely to happen at Penrith with his brother established, Kiwi international Peta Hiku at the club and Australian winger Josh Mansour coming back from a knee injury. So Ivan Cleary, who had plenty to do with the Watene-Zelezniak family during his time at the Panthers, kick-started Malakai's career when he offered him a deal to join the Wests Tigers mid-way through this season.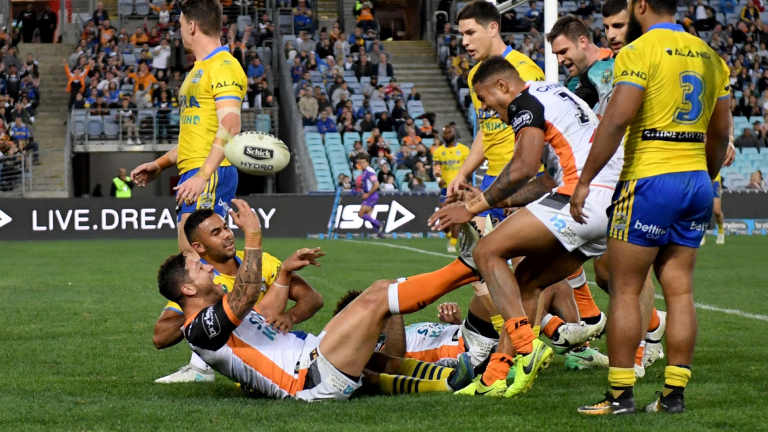 But not even Cleary, who during his time at Penrith thought Malakai wouldn't get a taste of first grade such was the talent coming through the system, expected him to feature so heavily for the Tigers since joining the club.
"He was at the phase where he was too old for 20s and then that young crew came through, including his brother. So he got pushed out," Cleary said.
"Back then I thought he'd miss the boat. When we signed him, I never thought he'd play so much. He's really improved.
"He's improved on some fundamental stuff and each game he's improved. I'm sure Dal is happy for him. It's kind of cool how they played together.
"That's an interesting story. Now they're marking each other all in the same year. You couldn't meet better people."
Dallin, who can't hide his happiness when speaking of his brother's achievements, knew they had to split up if they were both to continue "living the dream". "This is exactly what I wanted, for him to play week in week out," Dallin said.
"I watched him in Harold Matts, SG Ball, 20s, so I knew he had what it takes to play NRL. That decision was a no-brainer for him.
"It would have been good for us to still be together, but he's playing football week in week out and he's living his dream we've had since we were kids playing in the backyard against reach other.
"Who knows, kids might be calling out our names in the backyards now," Dallin added
Michael Chammas is a sports reporter with The Sydney Morning Herald