Why Wests Tigers fullback James Tedesco has to battle his natural instincts
Wests Tigers fullback James Tedesco says he is painfully aware the injuries that have frustrated his career are a result of his fearless approach, but telling him to replace his flair with caution is akin to expecting a lion to go against its natural instinct to hunt.
The 23-year-old, whose horrific 2012 first-grade debut made some of his battle-hardened teammates tear up when they saw his devastation at suffering a season-ending anterior cruciate ligament injury, understands why people close to him have suggested he occasionally considers tiptoeing his way through the rough stuff. But he's not wired for that.
"I probably copped some of those injuries because I was fearless," says Tedesco ahead of Monday's game against Parramatta. "I'm trying to be a bit more cautious of that because people are saying I'm going to run my body into the ground.
"I try to get involved in everything, sometimes a bit too much. I get in one play, climb up and try to get involved in another one and, while it drains my energy a bit, I want to get my hands on the ball as much as I can because I love running [it] and I love trying to set up the outside backs.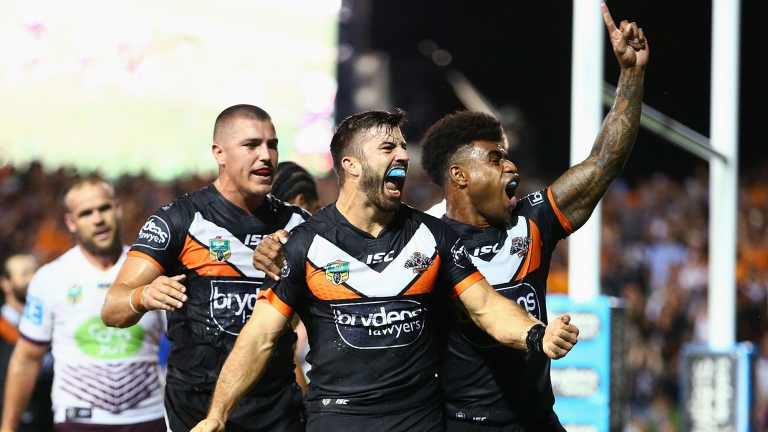 "I'm enjoying it and, while I'm trying to be careful not to run my body into the ground, it's a bit hard when I want to get involved in the game all the time. That idea to have a go has been with me from a young age and it is hard to change."
Teammate Mitchell Moses says, while Tedesco's start to the season has been inspiring, there's also an argument the Tigers are relying on him too much and expecting him to pull off the extraordinary.
"James has been outstanding for the first three weeks and hopefully he can keep that up this week, but we probably played to him a bit too much on the weekend [in their season's first loss to Gold Coast]," Moses says. "We'll look to vary his touches and things like that but, when you've got a player like that, you try to get the ball to him as much as possible."
His early season form has everyone talking: Wests coach Jason Taylor describes him as one of the best finishers in the NRL, teammate Jordan Rankin says he has the confidence to try things others baulk at, Kevin Naiqama loves that he can make something from nothing and St George Illawarra No.1 Josh Dugan calls him the "complete package".
It's high praise for a player who, as a child, had his own football field – complete with goal posts – on his family's 100 hectare property at Menangle in Sydney's south west, but struggled to break into the Western Suburbs junior representative teams.
"Yeah, I was a late bloomer," Tedesco says. "I played on the wing in Harold Matthews and SG Ball – David Nofoaluma was our fullback in SG Ball – but, when he moved to the centres and they chucked me in at fullback, I gained plenty of confidence.
"I made the Australian Schoolboys and I learnt to just have confidence in my own ability. I realised it was there – that I had a bit of talent – I just needed the confidence to show it."
While coach Taylor has said his fullback is ready to step up to the Origin arena a year after telling the selectors he needed more time to develop, Tedesco recalls his first taste of senior representative football in 2013 for City Origin as one time when his confidence was tested.
He was called up after only four first-grade games and, while he thought it was a joke, even when coach Brad Fittler spoke to him on the phone, he quickly realised he had been pitchforked into a tough man's world.
"It was a bit tough," he says. "I probably didn't think I was ready for it, a few injuries and the late call-up. Looking back, I thought it was a great experience with Brad Fittler as the coach because he was someone I looked up to as a kid.
"But going in there with those experienced guys was a bit of a shock, I think. However, last year I thought I was ready and this year I feel even more ready."
And there are plenty willing to support that claim, including Jordan Rankin, who made his top-grade debut for the Gold Coast in 2008 as a 16-year-old schoolboy, but was crippled by the anxiety that stemmed from the expectations he felt were on him to be a star.
Rankin can't help but marvel at Tedesco's disregard for any fear of making a mistake in a game that demands perfection.
"He does many things out on the training field that not many other people can," says Rankin, who joined Wests Tigers from the English Super League. "It's freakish in itself. But then he goes and does it in a match. He's at the stage that we aren't surprised by what he does out on the field because he does it all at training.
"He's confident in his abilities and what he can do and he's not afraid to try things. I think that's the mark of a great NRL player, because, when I was coming through, I was scared to play my natural game because I thought, if I stuffed up, I'd be dropped. It's a high-pressured game, it's the situation you're in and some handle it better and 'T' [Tedesco] handles it well."
Naiqama says one of the toughest jobs in supporting a player such as Tedesco is knowing the magic moments can disappear if you switch off for even a split second.
"He always pops up in the right places, like a good fullback should," Naiqama. "He anticipates the play and what I've learnt from playing off the back of him is you can't ever give up on him.
"If you give up on him, that is when he pulls a play off ... staying alive is the key because he is one player who can make something from nothing."