Shattered Canberra Raiders winger Edrick Lee has earned widespread praise from his teammates after playing on with a broken arm against Brisbane which could sideline him for three months.
Lee copped a knock to his right arm in Monday's 30-18 win over the Broncos, but was unaware it was broken until X-rays confirmed his worst fears on Tuesday.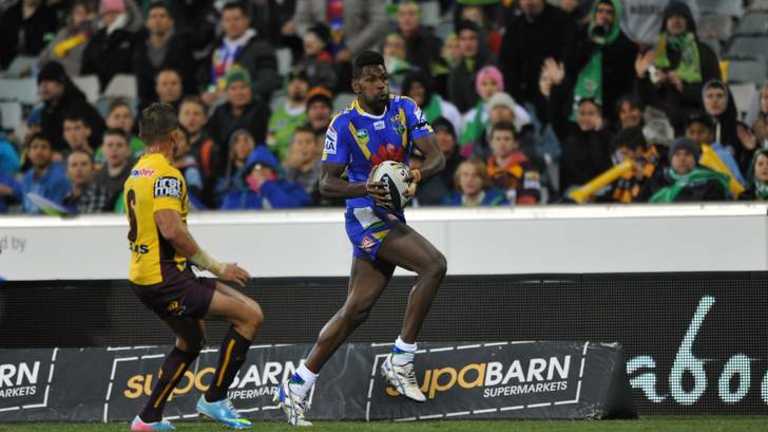 Initially of the belief the injury wasn't serious, Lee played under duress for the final 15 minutes of the game.
His long-term absence is a huge blow for Canberra after his outstanding display against Brisbane, where he scored a try and set up another for teammate Jarrod Croker.
Having been in and out of the side early in the year, Lee had only entrenched himself in Canberra's first-choice line-up in recent weeks.
He will undergo surgery on Thursday and is set to be out of action for eight to 12 weeks.
Raiders halfback Josh McCrone lauded the 21-year-old for his bravery. ''It's a pretty courageous effort to keep playing a game of footy with a broken arm,'' McCrone said.
''I was on the bench when they were checking it all out, I knew he had an issue but am surprised it's that bad.''
Fellow youngster Jack Wighton is likely to shift from right wing to left to fill Lee's void, with Sandor Earl to earn a recall on the right flank.
Wighton can empathise with Lee after sitting out a huge chunk of last year with a serious toe injury sustained in a trampoline mishap.
''He was in red hot form Eddy, it's going to be hard to replace the big fella at the moment because he was bringing so much to our team,'' Wighton said.
''It was massive [to play on]. I would have went off sooking, but the big fella stuck it out and did well for the team.''
Lee told the Raiders web site he is hell-bent on returning for a potential finals campaign later in the season.
''It's shattering, but hopefully I'll be back at the end of the season,'' Lee said.
''As soon as it happened I just thought it was a normal knock to the arm, I played on and didn't think about it too much.
''When the adrenaline wore off that's when it became sore.''
The injury will give Earl an opportunity to return to first grade, after he'd been squeezed out following the emergence of Lee and Wighton and the return of Croker from injury.
Earl will leave the Raiders at season's end to link with French rugby side Pau.
Jon Tuxworth is a sports reporter at The Canberra Times.