Oakley's road to London was no dream ride
When para-equestrian rider Rob Oakley says it's been a long road to get to London, he means it.
Since November, Oakley, his horse, Statford ''Manny'' Mantivani, and groom, Faye Mendez, have together driven 20,000 kilometres to attend qualifying events for the London Paralympics.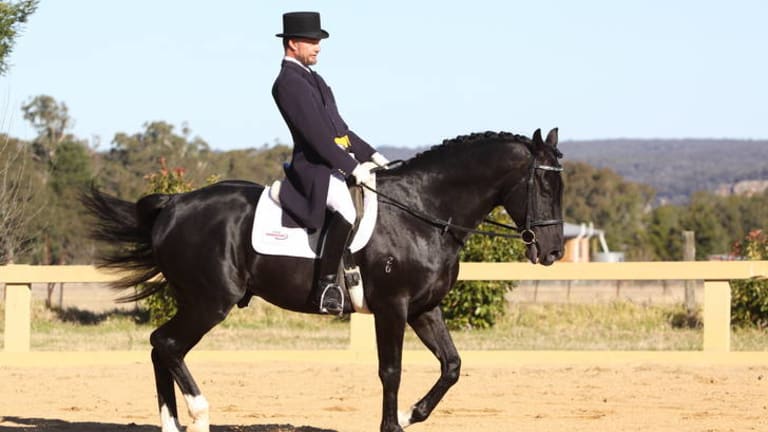 That doesn't count the 1440km Oakley notches up each week travelling from his property near Bungendore to Marulan, where he trains six days a week with ''master horseman'' Jose Mendez.
''There'd be plenty of people here in Canberra who do the same competitions that I do that go 'well yeah, we all do that','' he said. ''If you're in a horse sport, you travel, it's the nature of what it is. It's like a lifestyle more than anything else.''
At the end of this road for Oakley is the chance to finally represent Australia at the Paralympics.
''I've been at it for a fair while and missed out on two sets of Paralympics and a couple of world championships for one reason or another,'' Oakley said
''The hard work, the perseverance has all paid off, and this is an opportunity - there's been talk about what a long road it's been to get here, but we're here now, so it's all good.''
Oakley, who has muscular dystrophy, has been doing horse sports of some kind or another since he was a teenager.
''I played a lot of polocrosse in Canberra, and just with the degenerative disease I've got, polocrosse just got too much for me, and I was just looking around for something else that I enjoyed, and that was dressage, yeah I've been doing it ever since - probably 10 years.''
Part of the challenge has been adapting to his disability. Paralympic dressage has five classifications, of which he is in the most disabled, 1a, category.
But Oakley hasn't let his degenerative condition hold him back.
''My disability is I don't have any muscle bulk, but I do, in theory, have a whole range of movement,'' he said. ''But that has been diminished because I haven't had the strength to make it work properly.
''I have the ability to ride as normally as possible, with a lot of hard work in the gym, and that's what I'm aiming to do … just trying to maintain my motor skills as much as I can.''
Oakley is a scholarship holder at the ACT Academy of Sport, where he's been working to that aim.
''We started out looking at some research about people with muscular dystrophy, and we've pretty much gone so far past all the recorded stuff, that it's not even worth worrying about - each week we work and push a bit further.
''It's a little bit like trying to hold back the tide, but so far we're going pretty well.''
Adapting has meant a change in horse just two years ago after Oakley's previous competition partner, a ''big powerful horse'' became too much for him.
''It's a degenerative disease, I don't want to sound too defeatist, [but] it got a bit past me.''
So now he rides Manny, a horse which has had to adapt to the hectic travel schedule.